China Cruise Ship Disaster: Bodies Pulled From Eastern Star As Grim Search For Survivors Continues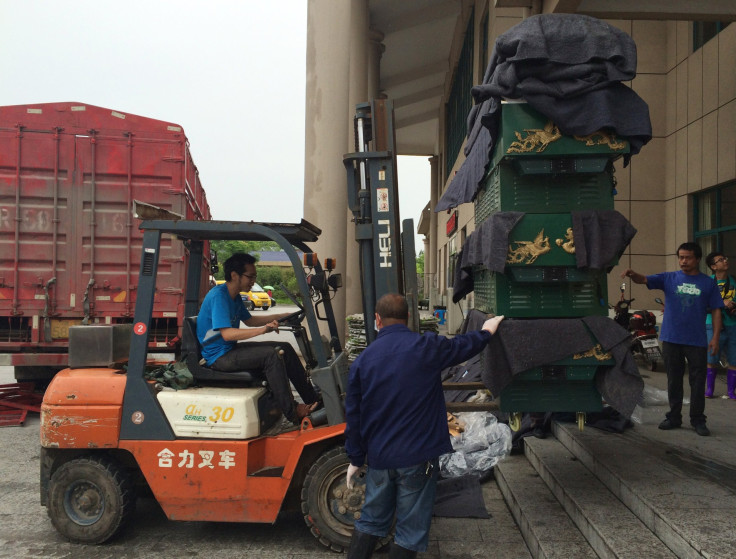 SHANGHAI -- On the second morning after what may turn out to be China's worst boat disaster for more than 60 years, state television showed the grim scene as military and police frogmen continued to pull bodies from the hull of the Eastern Star, which now lies upturned just a few dozen meters from the bank of the Yangtze in central Hubei province. One body was shown on live TV, lying partially covered on the hull of the boat.
State media also showed pictures of Premier Li Keqiang and other officials, who had arrived at the scene on Tuesday, bowing in respect to the bodies of two victims as they lay covered on the deck of a nearby boat. Previously, reports said, Li had held meetings "throughout the night," as the increasingly desperate attempts to find survivors continued. By Wednesday evening, China Central Television (CCTV) was reporting on its Twitter feed that 26 bodies have been recovered, including a number of bodies found further downstream the previous day.
Officials said there were now more than 200 frogmen at the site; many worked overnight under floodlights from a nearby salvage vessel, and holes have been cut in the hull to facilitate access. The water level on the river has also been lowered by about 20 inches, CCTV reported, by closing sluice gates on the giant Three Gorges Dam upriver, in an attempt to make working conditions easier.
Zhang Jianxin, deputy head of the rescue department of China's Transport Ministry, told CCTV that the divers were taking turns to swim through the boat's corridors, going from cabin to cabin in the hope of finding someone alive trapped in an air pocket. Officials said they were also considering using salvage vessels to right the ship, but suggested that this would not happen until it was clear there were no further survivors.
Experts quoted by state media acknowledged that more than 36 hours after the boat capsized, the chances of finding more survivors was getting slimmer – but officials said rescue attempts would continue: "We will not give up until we are sure there is no hope [of finding anyone alive]," Yin Jie, director of the General Office of China's Maritime Search and Rescue Center, told CCTV.
TV reports also emphasized that six nearby hospitals had prepared beds for possible survivors, while earth-movers had cleared roads to the river bank to make it easier to move anyone found onboard. Searches by boat and helicopter were also continuing on a 137-mile stretch of the river downstream.
State TV also showed an interview with Zhang Hui, a tour guide from the company that organized the group of 406 mainly elderly passengers on the boat, in which he described how he had jumped from the boat and floated downstream for nine hours, before finally being washed ashore.
Meanwhile speculation has continued as to how the boat, a 76.5-meter luxury cruise ship, overturned so quickly that its crew apparently did not have time to issue a distress signal -- and most passengers did not have time to jump into the river. Reports say the ship was hit by a tornado and capsized within little over a minute. There are also reports that the boat may have tried to turn around on the river, in an attempt to anchor as the storm got worse.
But some Chinese media have questioned whether a renovation of the ship's upper cabins may have affected its center of gravity. Internet users have also asked questions about why the ship's captain and first engineer were among the small number of confirmed survivors: some accused them of deserting the ship -- though state TV said it was possible they had gone out on deck to check what was happening and had simply been thrown into the river, though it said this had not been confirmed. Both officials are being held by police for questioning.
Meanwhile, following angry scenes at a local government office in Shanghai on Tuesday, when family members of those on board demanded more information from the government after finding the travel agency's offices closed, officials set up a temporary center for relatives to get more information in an old railway depot. However, local officials said they had no plans yet to take family members to the scene of the accident, as some had demanded, saying it was more important to focus on rescue work, according to Shanghai's Dragon TV.
The government of Nanjing, the capital of Jiangsu -- the home province of about half those on board -- appears to have responded faster: on Tuesday evening the deputy secretary general of the municipal government and other officials held a meeting for family members at a local hotel, at which its deputy head Xu Ming responded to sometimes angry questions from relatives, and arranged places for those from out of town to stay the night, according to Dragon TV. Officials said the city had made preparations to take family members to the scene, and said this would happen -- but they had to wait until authorities at the scene gave them permission.
However, on Wednesday afternoon, the state-run shipping company that operated the boat was reported to have arranged to transport 80 relatives of the boat's crew from Chongqing, where the company is based, to a town in Hubei close to the scene of the accident. A number of foreign journalists were also given access to the site of the accident on Wednesday afternoon -- after some were reportedly prevented from getting close to the scene on Tuesday by police.
© Copyright IBTimes 2023. All rights reserved.