China Cuts 2012 GDP Target to 7.5%, an 8-Year-Low
Beijing aims to create nine million jobs this year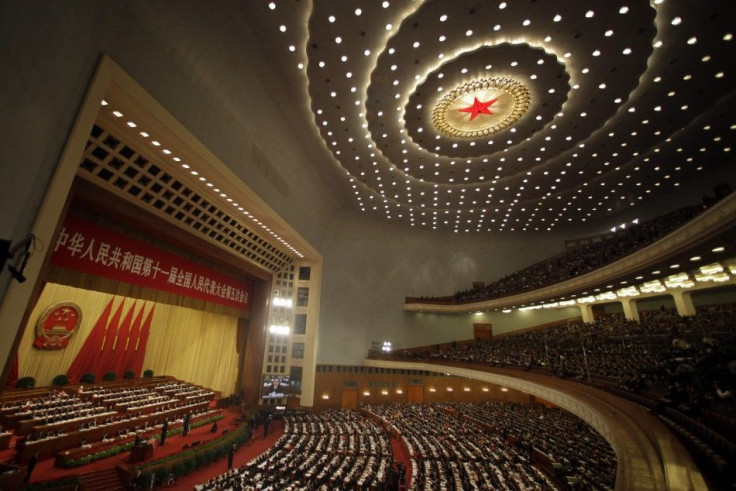 China cut its economic growth target to an eight-year low of 7.5 percent from an 8 percent goal in place since 2005, a signal the country's leaders are determined to scale back the reliance on external demand and foreign capital in favor of domestic consumption.
To achieve steady growth, we will continue to expand domestic demand and keep foreign demand stable, Chinese Premier Wen Jiabao said Monday in his annual work report to the Fifth Session of the 11th National People's Congress (NPC), China's annual parliamentary session.
Wen cut his nation's longstanding annual 2012 growth target -- a move anticipated by investors -- in face of global turbulence and a pressing demand to tame high inflation and accelerate economic structural improvement.
Here I wish to stress that in setting a slightly lower GDP growth rate, we hope to make it fit with targets in the Twelfth Five-Year Plan, and to guide people in all sectors to focus their work on accelerating the transformation of the pattern of economic development and making economic development more sustainable and efficient, so as to achieve higher-level, higher-quality development over a longer period of time, Wen told about 3,000 lawmakers at the annual meeting.
China's economy expanded by 9.2 percent in 2011 to 47.16 trillion yuan ($7.48 billion) from a year earlier after it grew 10.4 percent in 2010. The Asian powerhouse's GDP growth decelerated to 8.9 percent in the last three months of 2011.
We are keenly aware that China still faces many difficulties and challenges in economic and social development, Wen said.
He also noted that internationally, the road to global economic recovery will be tortuous as the global financial crisis is still evolving and some countries will find it hard to ease the sovereign debt crisis any time soon.
The International Monetary Fund has lowered its forecast for China's GDP growth to 8.2 percent from 9 percent projected in September and warned that this projected growth rate could be cut by nearly half if Europe's debt crisis tips the world economy into recession.
Balance Inflation and Growth
Domestically, Wen said, it has become more urgent and difficult to solve institutional and structural problems and alleviate the problem of unbalanced, uncoordinated and unsustainable development.
In addition, China's economy is encountering new problems, Wen said, referring to the downward pressure on economic growth and the hike in prices.
China will have a change in leadership later this year and the government has set the main theme of this year's economic and social development as make progress while maintaining stability.
Officials aim to hold this year's consumer price index, a main gauge of inflation, at around 4 percent, unchanged from the 2011 goal.
In projecting a CPI increase of around 4 percent, we have taken into account imported inflation, rising costs of factors of production, and people's ability to absorb the impact of price increases, while leaving room for the effect of price reforms, Wen said.
China's CPI rose 5.4 percent year-on-year in 2011, exceeding the government's full-year target of 4 percent due to an 11.8 percent hike in food prices and a 16.5 percent jump in farm produce prices.
To soak up liquidity and fight inflation, the country's central bank raised banks' reserve requirement ration 12 times to a record high of 21.5 percent between 2010 and 2011, while also raising interest rates five times since October 2010.
China's CPI is expected to fall below 4 percent and dip further in the coming months, according to economists at HSBC.
Since the last round of tightening, the People's Bank of China reversed course and lowered RRR twice to fuel lending and sustain growth.
Despite January's spike in (consumer price index), Beijing policymakers clearly believe that the balance of risks for the economy remains biased towards growth risk, HSBC economist Qu Hongbin said in a Feb. 19 research note.
Wen said China will continue to follow a proactive fiscal policy and a prudent monetary policy in 2012, carry out timely and appropriate anticipatory adjustments and fine-tuning, and make policies more targeted, flexible, and anticipatory.
We will continue to balance maintaining steady and robust economic development, adjusting the economic structure, and managing inflation expectations, Wen said in his report.
Increase Exports, Imports
China, the world's largest exporter and second-largest importer, aims to increase the volume of total exports and imports by around 10 percent year-on-year in 2012 to further improve its international balance of payments.
This target reflects a sharp slowdown from last year when China's imports and exports rose 22.5 percent year-on-year to $3.64 trillion.
We will consolidate traditional markets in the United States, Japan, and Europe and open up emerging markets, Wen said, adding China will limit the export of goods whose production is energy intensive and highly polluting.
Job Creation, Unemployment
China's officials vow to create more than 9 million new jobs in towns and cities in 2012.
Employment is of great importance to China's development and the people's well-being, Wens said at the NPC. We will continue to face great employment pressure this year and governments at all levels must continue to follow the strategy of giving top priority to employment and more actively implement employment policies.
According to Wen's government work report, China will give high priority to supporting new service industries, innovative high-tech enterprises, and small and micro businesses that employ large number of people so as to create more jobs.
We will encourage the creation of new business to stimulate employment, Wen said.
China created 12.21 million urban jobs in 2011 and the country is determined to keep this year's registered urban unemployment rate at or below 4.6 percent.
Wen also addressed the still very serious income distribution problem.
We will quickly reverse the trend of a widening income gap, said Wen, adding that the government will take further steps to adjust taxes for high-income groups, strictly standardize supervision of pay and bonuses for senior management in state-owned enterprises and financial institutions.
Global markets fell on news that China cut its growth target for the year.
Hong Kong's Hang Seng Index dropped 1.38 percent, while Japan's Nikkei fell 78.44 to 9,698.59.
The S&P 500 edged lower to 1,366.24 and the Dow Jones Industrial Average lost 17.63 points to 12,959.94.
© Copyright IBTimes 2023. All rights reserved.