China Debates Ban On Infant Formula Advertising To Promote Breastfeeding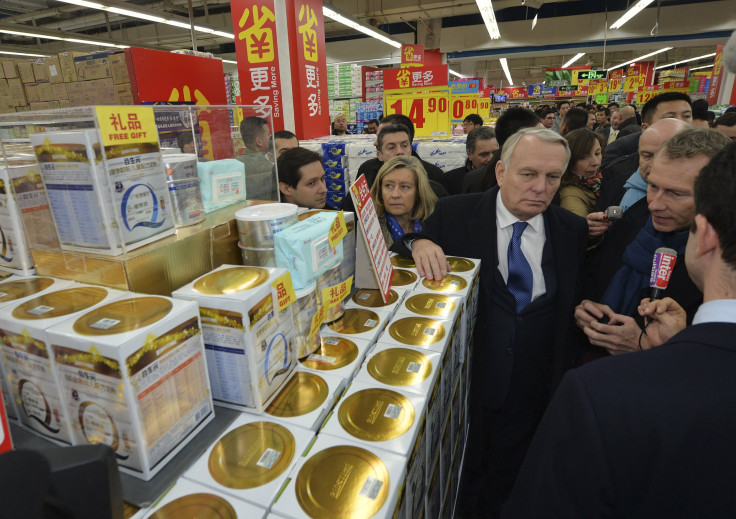 SHANGHAI -- China's legislature is reviewing a draft amendment to the nation's advertising law that would effectively ban the promotion of infant formula. The draft law says that advertising for products that "claim to partly or completely substitute mother's milk shall be banned from mass media or public venues," and anyone violating the law could be fined up to 1 million yuan (around $160,000).
China's government is seeking to increase the number of babies that are exclusively breast-fed during the first six months of their lives to 50 percent by 2020, according to the official Xinhua news agency. It quoted figures from the United Nations Children's Fund (UNICEF) as showing that the rate was only 28 percent in 2008, below the world average of around 40 percent. Xinhua added that breastfeeding was widely believed to be the healthiest form of nutrition for babies, strengthening their immune systems and lowering the risk of obesity in adulthood.
The move marks a radical turnaround in a country where advertising for infant formula has been widespread on television and in other media over the past decade -- and where many women say that doctors or nurses in hospitals frequently advise mothers to feed their children formula rather than breastfeed them.
UNICEF's China office has previously warned of "a hyper-aggressive push to get the emerging market hooked on infant formula," and there have been reports that formula manufacturers have paid hospitals and doctors to promote their products. There are currently 1,900 varieties of formula available in China, according to Xinhua, with some experts estimating that the market could be worth $30 billion a year by 2017 -- up from less than a billion dollars in 2006.
Imported foreign milk powder is particularly popular among China's middle class, especially since 2008, when six children died and over 50,000 were taken to hospital in a scandal involving domestically produced formula, which had been intentionally diluted with melamine to increase profits.
Such is the demand that in 2012, so many Chinese people bought formula in Hong Kong, where it is cheaper, to take back to the mainland that the Hong Kong government had to introduce a rule limiting each traveler a maximum of two cans of the product, with stiff punishments for offenders.
China's legislature is also reviewing a new draft food safety law, which would require formula manufacturers to register their products with the country's Food and Drug Administration.
The legislature's standing committee is also considering a proposal to tighten rules banning tobacco advertising, so that promoting the product "via mass media and in public places" would be illegal, Xinhua said. Tobacco companies are reported to have found ways around the existing ban but experts say the government now appears to be more serious about taking action on smoking because of health concerns -- despite the power of an industry that employs as many as 15 million farmers and generated about 6 percent of China's tax revenue in 2013.
Two years ago, the government banned officials from smoking in public places; Peng Liyuan, wife of China's President Xi Jinping, is now an anti-smoking ambassador for the Chinese Association on Tobacco Control. Around a million people are estimated to die from smoking-related illnesses in China each year.
© Copyright IBTimes 2023. All rights reserved.