China Economic Slowdown: Could It Bring Jobs Back To The US?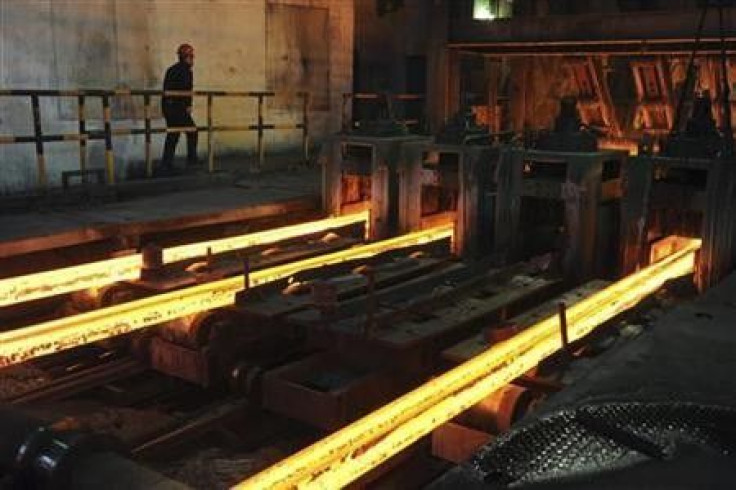 The global markets tumbled this week, due in part to concerns about China's slowed economic growth. There are several reasons, however, why China's economic slowdown could actually benefit the U.S., despite the market's immediate reaction. One is the possible return of jobs to the United States' manufacturing sector.
Earlier this week, China Premier Wen Jiabao brought to a halt three decades' worth of rapid economic expansion in one day. Jiabao scaled back the Chinese government's economic growth outlook to 7.5 percent, which would be the slowest pace in 22 years.
There is still strong growth, but it is a change from the torrid expansion of China's economy over the past 25-plus years. In 2007, China's GDP growth soared at 14.2 percent. Just two years ago, GDP growth amounted to 10.4 percent. For the last seven years, the government has projected at least 8 percent growth. And the government expects further reductions in the coming years.
This caused a shudder in Wall Street and beyond. On Tuesday, the Dow Jones Industrial Average sunk 203.66 points, its largest loss this year and its biggest since Nov. 23 last year. Meanwhile, the Nasdaq Composite fell 40.16 points, and the Standard & Poor's 500 dropped 20.97 points. All were declines of at least 1.4 percent.
At the same time, capital-goods companies like Alcoa, Caterpillar, Merck & Company and General Electric all saw deep dips in shares on Monday.
But slower growth in China could be beneficial to the U.S. in a few crucial areas -- including prices of commodities like oil and overall job growth.
On one hand, Chinese demand for commodities like oil and iron ore have driven prices sky high. A slowdown could ease China's thirst, driving down prices and possibly contributing to more exploration of alternative energy sources. And on another, it could mean more jobs in the manufacturing sector shifting back to the United States.
The latter theory is based on research from Harold Sirkin and Michael Zinser at The Boston Consulting Group, who suggest that the insourcing phenomenon could start around 2015.
The research claims that by 2015, wages and benefits for the average Chinese factory worker will jump between 15 percent and 20 percent. Thus, there would be fewer incentives for U.S. employers to ship jobs overseas.
What could that mean? Sirkin and Zinser expect the effect to be substantial, in the form of between 2 million and 3 million jobs added in the U.S. by the end of the decade. That would increase the U.S. GDP by $100 billion, lower the non-oil U.S. trade deficit by 20 percent to 35 percent and shrink employment percentages by 1 to 1.5 points.
As companies think through their plant networks, many will see the benefit in building new plants in the United States to serve the U.S. and western export markets, while retooling plants in China to make goods for the Chinese and Asian markets, Sirkin and Zinser write in a summary of their research.
Other economists like Victoria Lai, an economist at the Economist Intelligence Unit, say this is an overly rosy theory.
Those reports are a bit optimistic, Lai said in a phone interview Friday. In fact, China is still taking up more market share in more sectors of manufacturing exports than it did before.
Lai said that areas of cheap manufacturing have been most hard-hit by continual rising wages -- areas like textiles, footwear, cheap plastic goods. But manufacturing in those areas has not, and will not, shift to the United States. Cheaper destinations like Vietnam and Bangladesh have been increasingly popular with companies, Lai said.
And even with manufacturing of electronic devices -- such as the Apple iPad and iPhone -- companies have simply shifted inland. When President Barack Obama asked the late Apple CEO Steve Jobs when jobs would be moved back to the United States, Jobs said they would not, according to his biography, by Walter Isaacson.
And Lai questioned whether those were the types of jobs the U.S. would want to move back overseas.
The question remains: Do we want the manufacturing of things like iPads to move back to the United States, or do we want more of the design engineering, the sales and the higher-value services jobs that don't require midnight manufacturing shifts? Lai said.
Sirkin and Zinser acknowledge in their research that apparel, footwear and textiles will likely continue to be manufactured in China. Other sectors, they said, could remain there because of manufacturing clusters across Asia. Where there could be a shift is in sectors in which wages only make up a small slice of total production costs -- and sectors in which shipping costs and time are critical.
That means the U.S. auto industry, including the aftermarket, could see the benefits. Sectors like furniture, fabricated metal products, appliances and electrical equipment could see the benefits. And this gives the U.S. an opportunity.
While the politicians have many proposals for recharging the U.S. economy and growing the pie, it's time to put aside partisanship and come together on a common agenda that will accelerate and amplify the insourcing trend and grow the pie for all Americans, Sirkin and Zinser wrote.
© Copyright IBTimes 2023. All rights reserved.