China Going After Foreign Auto, Tech, Pharma, Food Companies It Says Are Gouging Chinese Consumers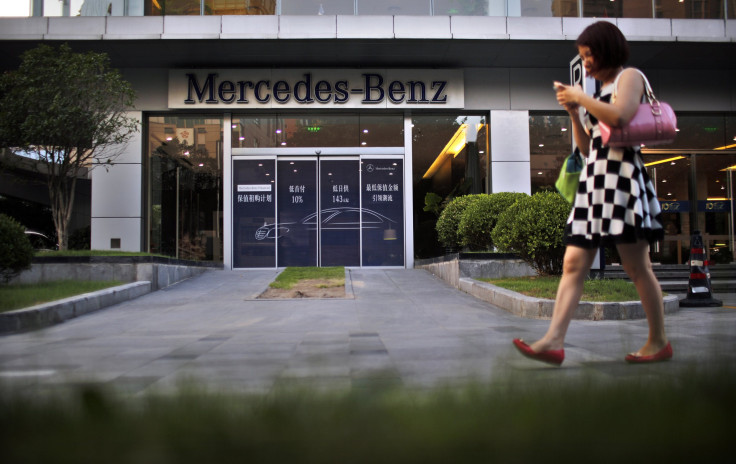 Chinese officials are increasing scrutiny of a broad array of foreign companies in what they say is an effort to crack down on anti-competitive practices and price-gouging. The most recent target is a carmaker, Shanghai GM, the massive automotive joint venture between General Motors Co. (NYSE:GM) and SAIC Motor, China's largest auto company; but Beijing isn't restricting itself to just one industry.
GM confirmed to Bloomberg on Monday that it has "actively responded" to requests from the National Development and Reform Commission, one of three regulatory agencies responsible for monitoring anti-consumer activity in the country. Shanghai GM makes Chevrolets, Buicks and Cadillacs for the Chinese market. Since the crackdown on foreign auto makers began about a month ago, at least seven auto companies have cut prices on parts.
The issue is part of an ongoing drive by Chinese authorities to go after foreign firms that have swooped in to profit from the world's fastest growing consumer market. A six-year-old antitrust law is being used as leverage against outside corporations, executives have said.
"China's not moving towards a free market, but it's moving towards a wider palette of regulatory tools," Scott Kennedy, director of the Research Center for Chinese Politics & Business at Indiana University, recently told the New York Times.
Last summer five foreign companies were accused by the reform commission of fixing prices for infant milk powder. One of the firms, Mead Johnson Nutrition Co. (NYSE:MJN) of Glenview, Illinois, agreed to pay $33 million last year without contesting the decision, which knocked 12 cents per share off the company's 2013 earnings. British packaging giant Tetra Pak Ltd. was also scrutinized by Chinese officials for "abusing its market dominance."
The National Development and Reform Commission (NRDC) searched the Shanghai offices of Daimler AG (FRA:DAI), the German owner of Mercedes-Benz, last week and said it would fine Audi and Chrysler Group LLC for allegedly fixing prices on auto parts. Audi is owned by the German car giant Volkswagen AG (FRA:VOW), which set up a joint venture with China's third-largest auto maker FAW Group to manufacture Audis and other models. Volkswagen is the largest auto company in China while Audi is the most popular luxury brand in the country.
China's State Administration for Industry and Commerce earlier this month warned Seattle-based software company Microsoft Corp. (NASDAQ:MSFT) that it "should strictly abide by Chinese laws" after local officials raided the company's Shanghai offices looking for evidence that the U.S. company is not disclosing certain security features that could compromise computers, according to the Wall Street Journal. Recently China also barred government procurement of Apple Inc. (NASDAQ:AAPL) products.
Here's a list of other foreign companies who have recently drawn the ire of Chinese authorities for alleged anti-consumer practices.
Daimler AG
The maker of Mercedes-Benz cars said it would reduce the price of its spare parts in China by 15 percent starting in September. Last year parent company Daimler became the first foreign automaker to buy a stake in a Chinese auto company, BAIC Group. The two make three Mercedes models under the name Beijing Benz Automotive Co.
Bayerische Motoren Werke AG (FRA:BMW)
The German automaker makes the BMW 3 Series and other cars with Brilliance Auto under the name BMW Brilliance Automotive Ltd., based in Shenyang, China. The company agreed to lower prices of thousands of its parts by as much as 20 percent starting Aug. 11.
Jaguar Land Rover
Last month, the British carmaker owned by India's Tata Motors Ltd. (BOM:500570) cut prices on two land Rover SUVs and one Jaguar sports car in China by 19 percent as a pre-emptive move after the NDRC threatened to mandate price cuts. The company does business in China with Chery Automobile Co. Ltd. under Chery Jaguar Land Rover.
Toyota Motor Corp. (TYO:7203)
The world's largest automaker agreed to reduce prices of its spare parts in China last week. Toyota operates a joint venture with GAC Group, China's sixth-largest automaker, under the name GAC Toyota.
Honda Motor Co. Ltd. (TYO:7267)
Japan's second automotive company also agreed to reduce the price of its spare parts. Honda does business in China with GAC Group under the name Guangqi Honda Automobile Co. Ltd.
Nissan Motor Co. Ltd. (TYO:7201)
Nissan, which faces the same allegations as Toyota and Honda, has yet to announce a response to Chinese government concerns. Japan's third-largest automaker does business in China with Dongfeng Motor Corp., China's No. 2 automaker, under the name Dongfeng Nissan.
Qualcomm Inc. (NASDAQ:QCOM)
The San Diego-based semiconductor manufacturer faces a $1 billion fine over Chinese allegations it holds a monopoly on important wireless technologies amid a licensing dispute against an unnamed Chinese device manufacturer, according to the Wall Street Journal.
GlaxoSmithKline PLC (LON:GSK)
The British drugmanker is facing an investigation for allegedly bribing doctors to use its products. In May, Chinese authorities accused Mark Reilly, the former head of the company's Chinese operations, of managing the operation that led to $150 million in illegal revenue. GSK is also under investigation by Britain's Serious Fraud Office for the same allegations.
InterDigital, Inc. (NASDAQ:IDCC)
The Wilmington, Delaware-based company was being investigated by the NDRC for alleged monopolistic practices, but in May the probe was suspended when the wireless technology patent developer agreed to lower its prices. The probe lasted nearly a year, according to Reuters.
Danon SA (EPA:BN)
The French dairy company, along with Mead Johnson Nutrition, was fined for alleged price-fixing activities. The other three foreign food companies who paid a combined record penalty in China for violating the country's anti-monopoly laws are Abbott Laboratories (NYSE:ABT), Royal FrieslandCampina NV and Fonterra Cooperative Group Ltd. These companies were fined last year for allegedly fixing prices on infant milk powder.
© Copyright IBTimes 2022. All rights reserved.
FOLLOW MORE IBT NEWS ON THE BELOW CHANNELS