China Had The Biggest Nuclear Weapons Increase Since 2022, Russia Comes Second [Infographic]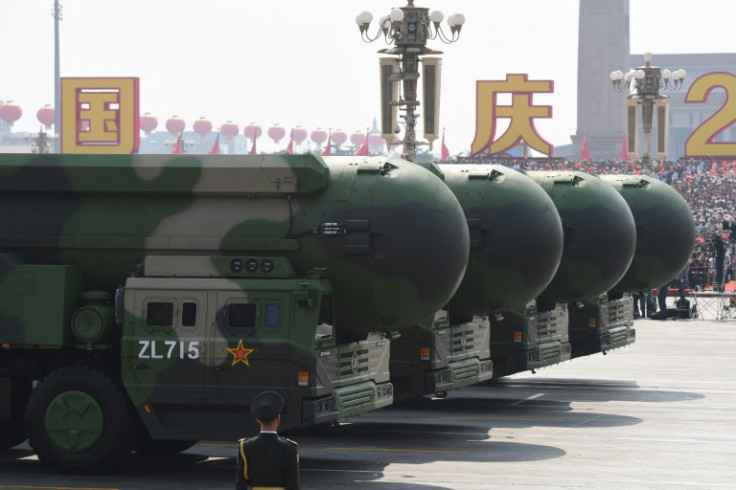 KEY POINTS
China leads all major military powers in number of new nuclear warheads
SIPRI predicts China would continue expanding its nuclear arsenal
Russia, the world's biggest nuclear power, added 12 new nuclear warheads in 2022
China, the world's third-biggest nuclear power, had the largest expansion of nuclear stockpile among major military powers last year.
In this infographic by Statista, citing data from the Stockholm International Peace Research Institute (SIPRI) think tank, China added 60 new nuclear warheads to its arsenal between January 2022 and January 2023.
Russia came second with 12 new nuclear warheads during that period. It was followed by Pakistan and North Korea with five each and then India with four.
According to the think tank, China is believed to have 410 warheads currently in its stockpile, up from 350 in January last year.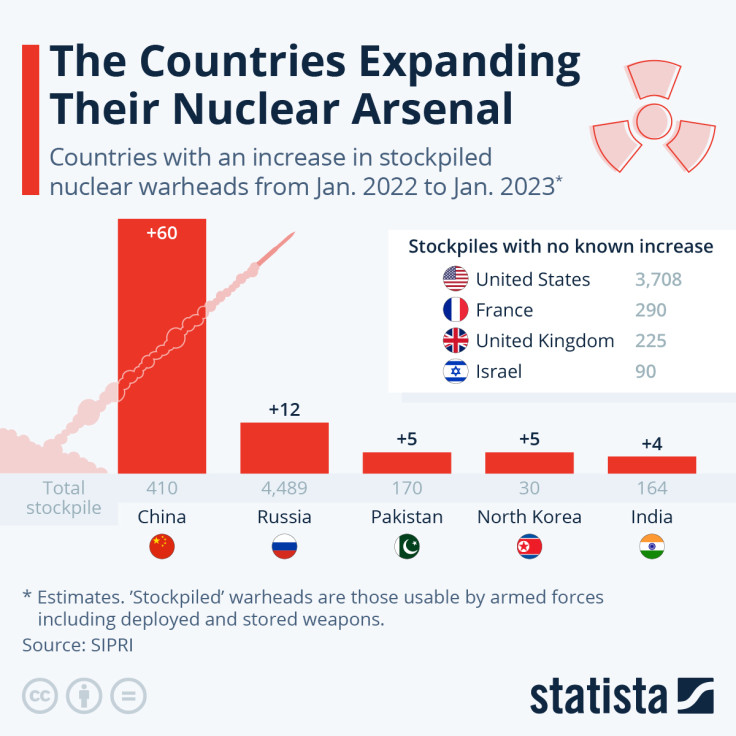 Hans Kristensen, an associate senior fellow with SIPRI's weapons of mass destruction program, predicted that China would continue expanding its nuclear arsenal. However, it is not expected to surpass the number of nuclear weapons held by Russia and the U.S.
"China has started a significant expansion of its nuclear arsenal. It is increasingly difficult to square this trend with China's declared aim of having only the minimum nuclear forces needed to maintain its national security," Kristensen said.
Meanwhile, Russia still leads all major military powers in terms of number of nuclear weapons with 4,489 in its stockpile.
Russia has 781 more nuclear weapons than the U.S., which currently has 3,708 nuclear warheads and no recorded increase.
However, Russia and the U.S. still account for 90% of all nuclear warheads globally. The two countries also hold nearly 2,000 operational warheads.
In its latest report, SIPRI estimated there are now 12,512 nuclear warheads in the world.
Of the 12,512 nuclear weapons, the think tank estimates that 3,844 are deployed with missiles and aircraft, while 9,576 are in "military stockpiles for potential use."
Dan Smith, a director at SIPRI, warned about the continued expansion of the global nuclear stockpile, saying that the world is "drifting into one of the most dangerous periods in human history."
"It is imperative that the world's governments find ways to cooperate in order to calm geopolitical tensions, slow arms races and deal with the worsening consequences of environmental breakdown and rising world hunger," Smith said.
SIPRI also lamented the reduction in the level of transparency among major nuclear powers after the war in Ukraine broke out. The think tank noted that Russia, the U.S., and the U.K. became less transparent in reporting their nuclear stockpiles.
In February, Russian President Vladimir Putin announced the suspension of his country's participation in the last remaining nuclear arms control pact with the U.S., the New START treaty, as the invasion of Ukraine marked its first anniversary.
The treaty, signed in 2010 by the two countries, aims to cap the number of strategic nuclear warheads that the U.S. and Russia can deploy.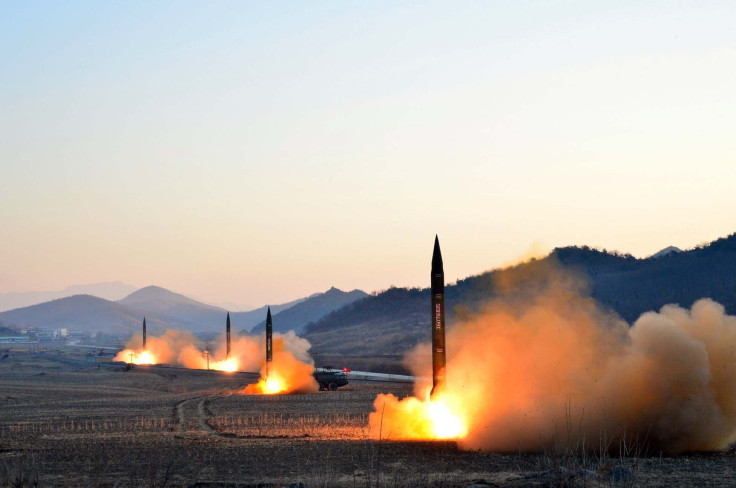 © Copyright IBTimes 2023. All rights reserved.