China To Invest $193 Billion On Internet Networks, But Will Tightening Controls Harm Creativity And Scare Investors Away?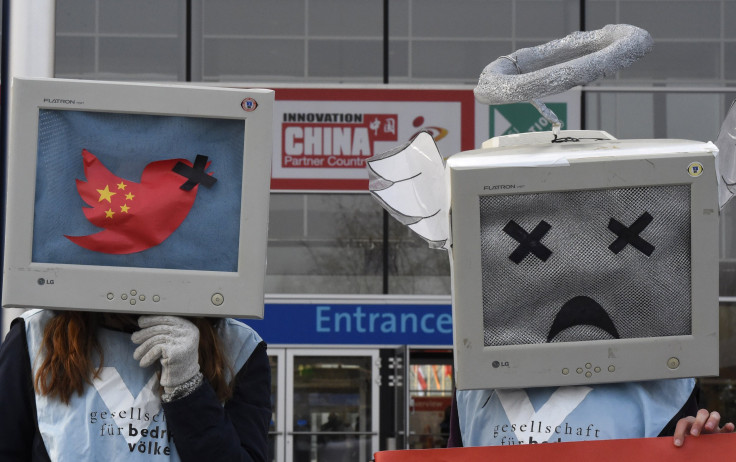 SHANGHAI -- China's Internet is a place of often confusing extremes. On the one hand, this week the government announced an investment of nearly $200 billion to boost Internet connection speed with fast optical broadband in major cities and 4G networks in remote rural areas. Yet the vision of a creative new economy is being undermined, some experts say, by the Communist Party's recent tightening of controls on the content of the Internet.
The Internet investment is part of Premier Li Keqiang's grand plan to link more people, from farmers to start-up entrepreneurs, more tightly to the Web, to form what he calls the "Internet Plus" economy. Li says this could unleash the creativity of hundreds of millions of people -- and keep China's economy competitive, as it confronts slowing manufacturing exports and rising wages.
There are certainly good role models: China's big Internet companies, flush with cash from massive IPOs like e-commerce giant Alibaba's in New York, seem to be everywhere at the moment. Alibaba is investing in Web-connected cars and along with search engine operator Baidu has put money into private car-ride apps. Social media giant Tencent has bought into companies that make mobile games.
But there are fears the party's mistrust of open discourse on the Web could damage the economic development so vital to its claim of legitimacy.
There's no question the Internet, despite ongoing efforts to control it, currently plays an influential role in public life in China, as it has throughout the last decade. This month alone, a string of cases has again demonstrated the power of social media to bring to a wide audience events that would once have been covered up. Internet users have spread images of clashes between police and demonstrators over a high-speed rail line, demanded -- and got -- an investigation into a police shooting, and stirred up public debates that have led to the outing of corrupt officials, dangerous drivers and people who beat dogs.
But there also have been criticisms of online attitudes as too negative toward the system. A woman who first won public sympathy as a victim of road rage ended up having to appeal to Internet users to stop persecuting her after they dug into her past and labeled her a serial dangerous driver and bully. State media warned of the dangers of an "online kangaroo court." And China's army newspaper has published several thunderous attacks recently, denouncing the Internet as a cesspool of foreign ideas, which hostile foreigners are using to undermine the ruling Communist Party. It described China's liberal Internet users as traitors brainwashed by the West, and said the nation needed an online great wall to keep out such ideas.
So where does the Communist Party really stand on the Internet? On the one hand, the military's angry rants may be partly aimed at winning a bigger share of China's Internet budget for itself, said Willy Lam, a specialist on Chinese politics at the Chinese University of Hong Kong. "The military has a vested interest in trying to get more money for cyberwarfare," he said. At the same time, according to Lam, President Xi Jinping "basically shares these ultra-conservative views -- he's also railed at Western ideas like 'universal values.' "
There's no doubt since Xi became its head in 2012, the party has further tightened its grip on the Web: it's set up a powerful national Cyberspace Administration, blocked Gmail, ordered online media not to report news from foreign or independent sources, pledged to boost the online influence of traditional state media -- and has called for 10 million volunteers to report "unhealthy" Web content. Authorities have also detained a number of people for online comments. Last week, one of China's most famous civil rights lawyers, Pu Zhiqiang, was charged with stirring up ethnic hatred and "picking quarrels" because of comments he made on WeChat criticizing various officials.
For China's leaders, there is no contradiction in this, Lam said. The leadership wants "an Internet economy, but they also see it as a double-edged sword," he said. "They know the Internet and social media is a potent weapon, so they want to censor it."
The question is: What will be the end result? Will China's Internet bring forth the creativity and economic boost Premier Li seeks or will tightening restrictions make it harder for Chinese companies to innovate and discourage foreign businesses from investing in the country?
The latter question is one that's been asked more often in recent months. Several foreign chambers of commerce in China have expressed concern about the impact of China's "Great Firewall," the country's filtering software that makes selected foreign websites -- including big social media sites like Facebook and Twitter, media such as the New York Times and Wall Street Journal, and online tools like Google Scholar -- inaccessible from China to those who do not have a Virtual Private Network.
In February, a survey by the European Chamber of Commerce in Beijing concluded restrictions on domestic Internet access isolate China from the world, and risk turning "its domestic networks … into an intranet." Businesses complained simple tasks such as undertaking market research online, or making flight and hotel bookings on foreign websites, were slow and difficult, while 86 percent of respondents said Internet controls had a negative effect on their businesses, and 80 percent said this had worsened since controls were tightened in January.
The new restrictions also led companies to defer research-and-development investment or "become unwilling to set up R&D operations in China," the chamber said, adding Internet controls were also "discouraging much-needed foreign talent from relocating" to China.
"Restricted Internet access strongly deters foreign companies from undertaking R&D investment in China," chamber's President Joerg Wuttke said in comments emailed to International Business Times.
Indeed, the type of businesses that could contribute to creating the kind of knowledge economy China says it wants to promote could be the first to be hit by controls on the Internet. "These restrictions are not going to stop people making plushy toys," said Richard Brubaker, visiting professor of management at the China Europe International Business School in Shanghai. "But if you're thinking of building a technology platform here, or hiring a tech team, they certainly could have an impact. Google, Yahoo, Microsoft -- they've all been closing operations in China."
Some would argue keeping foreign technology companies out of China has helped speed the rise of some of the country's biggest indigenous tech firms. But growing up in a controlled environment could also make it harder for Chinese companies to compete globally, as the government wants them to do, Brubaker said. "These companies are … not used to taking the biggest risk because they're so used to being slapped back: But when you go abroad, if you have a company culture in the innovative space where you're playing it safe, you're going to struggle."
Web entrepreneur Isaac Mao has seen these limitations in action. A long time campaigner for a more open Internet in China, he decided to base his new tech start-up in Hong Kong and the U.S. -- and though he's hired engineers from China, he's noticed the impact of Internet restrictions on their knowledge of new technologies.
"These people are very smart, very innovative. Most of them came back to China after studying overseas," he said. "But when we talked about some details, I found their knowledge base has shrunk very much after living in China for several years, because the Internet context is quite different: Their access to new knowledge -- for example on new developments and technology related to cloud computing -- is quite constrained because they can't access some documents beyond the Great Firewall."
The rise of companies like Alibaba and Tencent, and their products, such as Taobao and WeChat, does show "consumer and incremental innovation" is possible in China, said Duncan Clark, founder of BDA China, one of the country's earliest Web and ICT consulting firms, and an adviser to Jack Ma in the early days of Alibaba.
"There's always been a contradiction between the government's embrace of the Internet to develop the economy and its fear of the side effects on society," he said. However, while such controls in the past have been "one of those things, like pollution, that you have to work around if you want to be present in China," more companies are now looking at the country "with a more critical eye of late."
The key question now is how far the Chinese government will go in its control of the Internet. David Bandurski of the China Media Project at Hong Kong University identified mixed signals: "It sounds trite, but it really is a time of crisis and opportunity," he said. "The party is serious about innovation -- but they imagine a vibrant internet space where commerce is happening, and people do talk, but there is no destabilizing dissent. At the same time, some of the interesting commentary that's disappeared from newspapers is migrating to WeChat, we're seeing interesting discussion groups and people launching their own publications on these platforms, so there are discussions happening."
However, the advantage for the government, Bandurski said, is that most debates on WeChat are more like those on Facebook – mainly among private circles of friends, and therefore easier for the government to tolerate "without losing control of the agenda." The heated, very public, debates on Sina Weibo, China's equivalent of Twitter, have cooled significantly over the past couple of years, since the authorities began detaining some celebrity "Tweeters" for being too outspoken.
In a further sign of the government's confidence that it can strengthen its grip on online debate, President Xi this week called on the party to reach out to "outstanding intellectuals from new media organizations," and encourage them to "make contributions to purifying cyberspace" and promote "positive online energy," one of his favorite slogans.
Chinese politics expert Lam, however, said the recent continuation of public debate online suggests China's leaders are "prepared to tolerate a certain amount of online whistleblowing, as long as it's aimed at local government, or is on less political issues, like the environment. That way Xi can claim to be a man of the people -- and he can put the blame for problems on the local authorities."
There's a clear limit, though: "If it's too political, aimed at the central government, or they see dissidents behind it, then they'll show zero tolerance," Lam said, adding authorities were confident they could "achieve the apparently contradictory objectives" of reining in the Web and continuing to promote an innovation economy.
Li Keqiang's high-profile visits to China's tech hubs, such as Beijing's Zhongguancun district, suggest he has a "personal interest in IT," said Lam. "Apparently he thinks they can square the circle, they can have it both ways."
Since the Internet arrived in China two decades ago, it has raised contradictions for the authorities, bringing great economic possibilities and significant social challenges. As the power of the Web, and the number of users, continues to grow, squaring that circle is likely to become even more challenging -- and even more important to the Chinese government.
© Copyright IBTimes 2023. All rights reserved.
FOLLOW MORE IBT NEWS ON THE BELOW CHANNELS