China Invites South Asian Nations To Board Its 'Express Train' For Economic Growth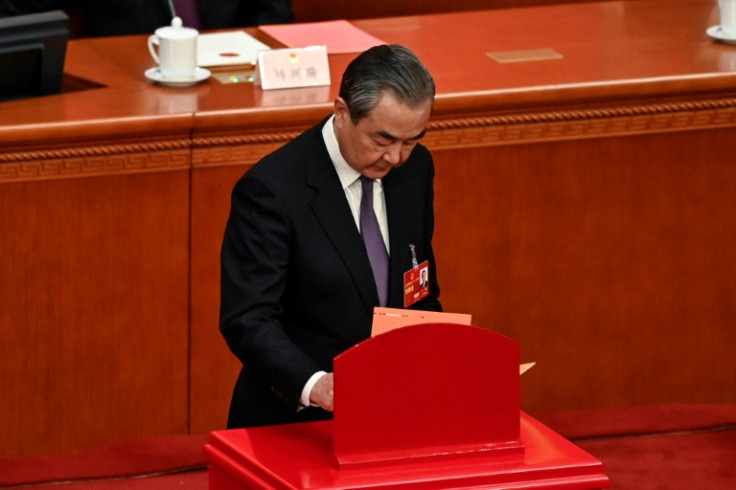 China is seeking closer ties with South Asian countries as it urged them to board its "express train" and "share the benefits" of its growth and infrastructure push in the region.
China's Foreign Minister Wang Yi called on South Asian countries to further deepen strategic trust and enhance mutual support on matters of regional and international interest.
"[We should] join hands to advocate an open regionalism, build closer regional cooperation, jointly safeguard the interests of developing countries and jointly defend international justice," he said, as per SCMP, while addressing the opening ceremony of the 7th China-South Asia Expo in Kunming, the capital of southwest China's Yunnan Province, last week.
The China-South Asia Expo saw more than 30,000 exhibitors and representatives from 85 countries and regions, including international organizations. The expo promoted 338 projects and a total investment of 404 billion yuan (about $56.1 billion) for the participants.
Wang underlined the significance of Beijing's flagship Belt and Road Initiative to strengthen the economic bond between China and its southern neighbors to enhance the interconnectivity between the nations.
"China welcomes South Asian countries to get on board the express train of China's development and share in the dividends of China's development," Foreign Ministry spokesperson Wang Wenbin quoted Wang Yi as saying. "We stand ready to work with South Asian countries to seize historic opportunities, enhance solidarity and coordination, grow new dynamism for development, build a community of development and contribute to the long-term peace, stability and prosperity in the region."
Wang Yi expressed China's readiness to work with South Asian countries to foster new development drivers and build a community of development. He also proposed four areas of cooperation: strategic mutual trust, connectivity, economic and trade cooperation, and people-to-people exchanges.
China has emerged to be the primary trade partner for South Asian countries, with Pakistan and Bangladesh seeing Beijing as their largest trading partner. South Asian countries have increased the export of aquatic products, nuts, tea, and other goods to China.
Over the past 10 years, China and South Asia have witnessed closer ties, with the trade volume significantly doubling over the decade, said the country's Ministry of Commerce. In 2013, the trade volume between China and South Asian countries amounted to less than $100 billion. However, the trade volume reached approximately $200 billion last year, with an average annual growth rate of 8.3 percent, it added.
This comes as China's central bank cut one of its key interest rates for the second time in three months in an attempt to counter the post-Covid growth slowdown. The People's Bank of China reduced its one-year loan prime rate to 3.45% from 3.55%. Most Asian markets fell after China's move to cut interest rates failed to reassure investors. Beijing has been grappling with a slow post-pandemic economic recovery in the wake of sinking demand for the country's exports.
The GDP of the world's second-largest economy reached 59.3 trillion yuan (about $8.3 trillion) in the first half of 2023, Global Times reported, citing the National Bureau of Statistics (NBS) data in June.
© Copyright IBTimes 2023. All rights reserved.