China Ivory Trade: Xi Jinping's Entourage Smuggled Ivory From Tanzania In 2013, Report Claims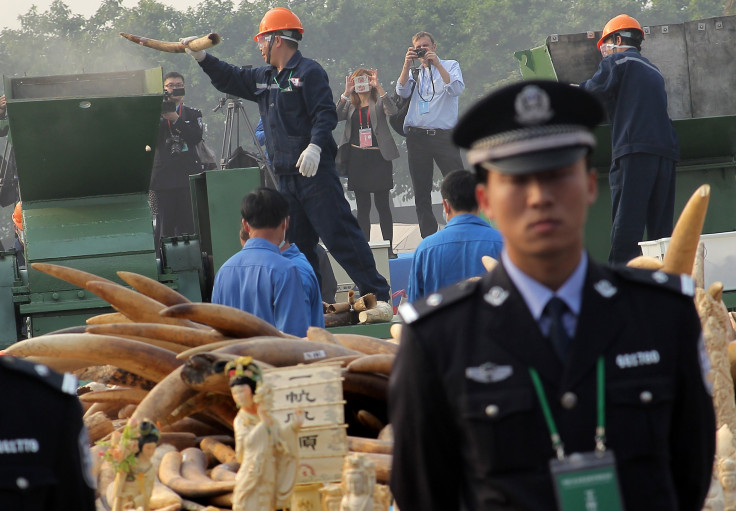 High-level Chinese officials bought huge amounts of illegal ivory on a state visit to Tanzania and smuggled much of it back to China in diplomatic bags, according to a report from a London-based nonprofit.
The report, entitled "Vanishing Point: Criminality, Corruption and the Devastation of Tanzania's Elephants," from the Environmental Investigation Agency, or EIA, said that a March 2013 visit to Tanzania by Chinese President Xi Jinping, who was accompanied by a Chinese government and business delegation, caused the price of black-market ivory to double to around $31,800 a pound.
The report cited interviews with two ivory traders from the Tanzanian city of Mwenge, who said that in the weeks leading up to the visit, Chinese buyers began purchasing huge quantities of ivory, which they allege was sent back to China in diplomatic bags. The organization's investigators state that they have reports from ivory traders dating back to 2006 claiming that Chinese embassy staff in Tanzania were the major buyers of their illicit product.
Tanzania's elephant population has suffered from poaching more than in any other African country, according to the report, with 10,000 killed in 2013 alone -- an average of nearly 30 animals a day. Half the country's elephant population has been killed off in the last five years, according to the Associated Press.
The report also outlined how an enhanced enforcement regime in Tanzania was affecting illegal ivory syndicates, many of which are reportedly controlled by Chinese criminal gangs.
A December 2013 visit by Chinese naval vessels to the Tanzanian port of Dar es Salaam prompted a surge in ivory trade in the city, with a single ivory trader telling the organization's investigators that he had sold ivory worth $50,000 to Chinese personnel. Yu Bo, a Chinese national, was reportedly detained at the time while attempting to deliver 81 elephant tusks to two Chinese naval officers who were part of the visiting crew. Yu was subsequently jailed for 20 years in the country, after being unable to pay a $5.6 million fine.
Earlier, in November 2013, three Chinese nationals were arrested after Tanzanian authorities raided a house in Dar es Salaam, where 706 ivory tusks were found.
Mary Rice, executive director of the EIA told the Guardian: "This report shows clearly that without a zero tolerance approach, the future of Tanzania's elephants and its tourism industry are extremely precarious.
"The ivory trade must be disrupted at all levels of criminality, the entire prosecution chain needs to be systemically restructured, corruption rooted out and all stakeholders, including communities exploited by the criminal syndicates and those on the front lines of enforcement, given unequivocal support."
Meng Xianlin, executive director general of China's endangered species trade authority, reportedly denied that Chinese officials were involved in the illegal ivory trade. Speaking to the New York Times, Meng called the EIA report "highly irresponsible" for "spreading rumors and damaging China's image without any evidence," and described the EIA as a "dodgy organization."
China is the world's largest destination for illegal ivory, according to the report. Ivory is in great demand in China, and is used in the manufacture of jewelry and ornamental items. The country even gifted a large ivory sculpture to the United Nations when it became a permanent member of the Security Council, which can still be seen in the organization's New York headquarters.
© Copyright IBTimes 2023. All rights reserved.