China New Auto Sales 2013: Chinese Consumers Bought Over 20 Million Vehicles In 2013 As Foreign Automakers Jockey For Market Share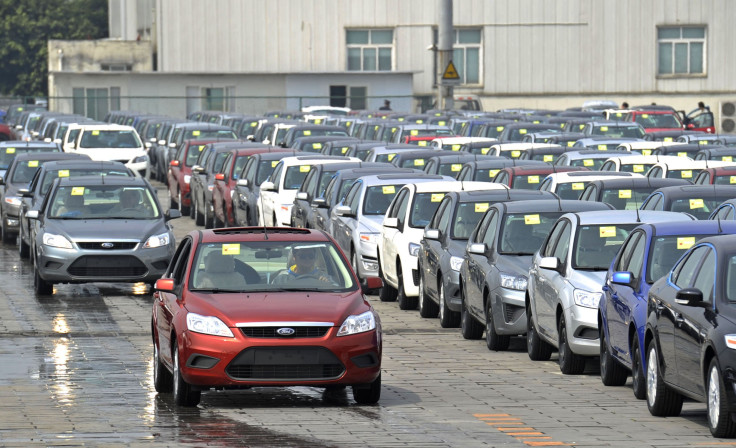 If you're wondering why so many global automakers are scrambling to expand their footprints in mainland China, consider this chart: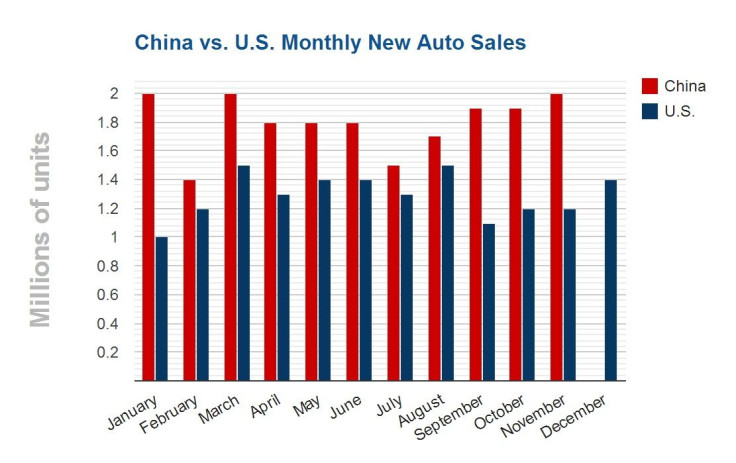 China's 2013 auto sales figures are incomplete until next week, when the December figures will be released by the China Association of Automobile Manufacturers. But as of November, Chinese have exceeded U.S. sales in every month of 2013 by as much as double the number of vehicles purchased in the world's second-largest auto market.
Figures released Friday show that U.S. consumers bought 15.6 million vehicles last year, but in November China was about 100,000 vehicles shy of breaking 20 million units for the year, and considering the trend, China could have easily topped 21 million units last year.
This is great news for the world's top automakers, especially considering that Chinese automakers themselves are losing market share. In November, for example, just over 40 percent of all new vehicles sold in China were from domestic manufacturers, such as SAIC, Dongfeng and FAW (the country's top three), but that share was 3.6 percent smaller than it was the previous year — not a good trend considering the growth in China sales seen by General Motors Co. (NYSE:GM), Volkswagen AG (FRA:VOW), Ford Motor Co. (NYSE:F), Toyota Motor Corp. (TYO:7203) and Honda Motor Co. Ltd. (TYO:7267).
Toyota and Honda both said on Monday they broke sales records in China last year through their joint ventures with domestic manufacturers. Toyota sold nearly 918,000 units through Sichuan FAW Toyota Motor Company, and GAC Toyota Motor Co., Ltd., the two joint ventures the world's largest automaker has with domestic manufacturers. That's a 9.2 percent increase from 2012, when Japanese automakers suffered a consumer backlash over the territorial dispute with Japan over the Senkaku/Diaoyu islands that Japan controls but China claims.
Honda, too, has bounced back from the consumer backlash that sent sales of Japanese car plummeting at the end of 2012. It sold almost 757,000 vehicles, or 26 percent more than it sold in 2012.
But by far the winners of the year are Volkswagen and Ford, the former because it is expected to edge past General Motors as the No. 1 foreign automaker in China. Final numbers aren't out yet, but the German automaker was ahead of its Detroit competitor by about 70,000 units as of November. Both companies have surpassed 3 million unit sales in China, which will be a record for both. GM was the No. 1 automaker in the U.S. last year by sales volume at about 2.8 million cars, but softer sales in December in China suggest that Volkswagen may have surpassed it in the other major auto market.
Ford could be the best success story for any car company in China, because though it's arriving relatively late to the scene it has already managed to comfortably surpass the Japanese in China, selling almost 936,000 units last year, an impressive 49 percent increase thanks to the company's line of new and revamped offers, especially the Mondeo, the Chinese version of the Ford Fusion sedan. Foreign automakers in China manufacture most of their vehicles domestically through an often complex web of joint ventures. GM, for example, has a dozen joint ventures with domestic manufacturers, which are allowed to partner with more than one foreign company simultaneously.
© Copyright IBTimes 2023. All rights reserved.