China Now Has More Than 260 Million Migrant Workers Whose Average Monthly Salary Is 2,290 Yuan ($374.09)
China's migrant workers exceeded 260 million at the end of 2012, with an average monthly salary of 2,290 yuan ($374.09), according to a report by the National Bureau of Statistics of China.
The bureau published the 2012 Investigational and Monitoring Report of Chinese Migrant Workers on Sunday, according to Xinhua News, China's state-owned news agency. At the end of 2012, the number of migrant workers in China increased by 3.9 percent to 262.61 million, and the average salary of migrant workers rose 241 yuan ($39.37) to 2,290 yuan per month.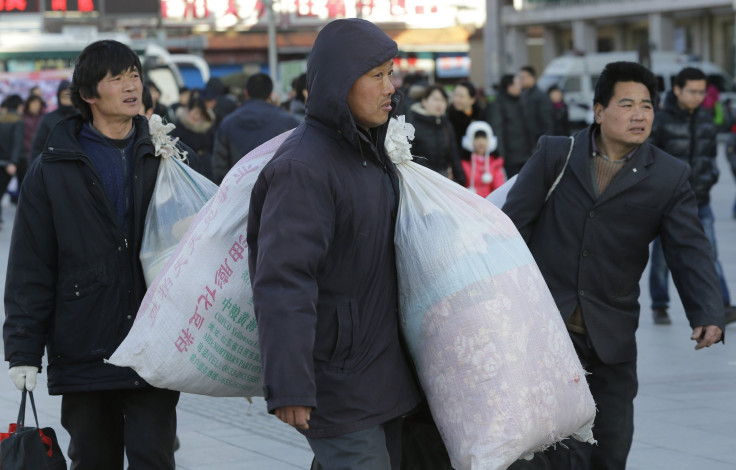 Migrant workers were previously farmers or were farmers ancestrally, and as China has modernized have chosen to seek more profitable, most often industrial work, in urban centers across the country. Many – 160 million in 2012 – choose to migrate to metropolitan cities farther away from their home regions.
In terms of income, average monthly salary rose 11.8 percent to 2,290 yuan for Chinese migrant workers in 2012. Workers in Hong Kong, Taiwan and Macau as well as foreign countries make significantly more – 5,550 yuan ($906.63) per month. Workers engaged in transportation and construction work have higher-than-average monthly salaries, 2,735 yuan ($446.78) and 2,654 yuan ($433.55), respectively.
Most migrant workers have not completed more than middle school- level education. In 2012, 1.5 percent of migrant workers were illiterate, 14.3 percent completed elementary school, 60.5 percent middle school, 13.3 percent high school, and 10.4 percent completed higher education. Younger workers and workers who went abroad have relatively higher education levels.
Migrant workers' average age is increasing as well. In 2008, 70 percent of all migrant workers were below 40 years of age, and in 2012, only 59.3 percent were below 40. Accordingly, the average age increased from 34 to 37.3.
Significantly, many of these migrant workers were not working under contract, and were therefore not entitled to any form of social security. In 2012, 43.9 percent of migrant workers signed employment contracts, a similar percentage compared to previous years.
Meanwhile, 0.5 percent of migrant workers were not paid on time or at all, due to the lack of contracts. Only 14.3 percent received retirement benefits, 24 percent work-related injury insurance, 16.9 medical insurance, 8.4 percent unemployment and 6.1 percent maternity benefits. More than 40 percent of employers of migrant workers did not provide housing or housing subsidies, Xinhua News reported.
© Copyright IBTimes 2023. All rights reserved.