China Pollution: As China Struggles To Keep Pace Feeding Its Growing Population, Much Of The Land It Hopes To Use Is Too Toxic For Planting
While it's old news that China's cities have some of the worst man-made pollution on the planet, the government recently released more sobering news: An area the size of Taiwan that the country had hoped to use for crop-growing is too polluted for the purpose.
China's rapid urbanization and its citizens' growing taste for a more land-intensive diet (think: more meat and the grains it takes to produce it) have driven the country's reserve of arable land to 135.4 million hectares. That's only slightly above the 120 million hectares that the government says is necessary for the nation's food security, according to the website chinabystander.com.
Hence China is looking beyond its own borders for solutions. In September China inked an agreement with Ukraine for enhanced crop and pork production on as much as 3 million hectares of farmland, or about 5 percent of Ukraine's total area, in what will be China's biggest overseas agricultural project to date.
As of April 2009, China had just over 2 million hectares of overseas farmland, which means this new Ukraine venture is "a very big project," according to Ding Li, a senior researcher in agriculture at Anbound Consulting in Beijing.
China has made substantial agricultural investment abroad as a way to keep pace with its increasing consumption. Although domestic grain output has grown for 10 straight years, demand for imported grain has also grown. China imported nearly 14 million metric tons (15.43 million tons) of cereal and cereal flours last year, an increase of more than 150 percent from 2011.
ChinaBystander.com quoted China's vice-minister for land and resource, Wang Shiyuan, as saying that "tens of billions of yuan" is being spent to rehabilitate polluted land and adjacent water sources in an effort to help meet the nation's goal of creating 50 million hectares of new farmland by 2020.
How badly polluted is the land? Well, according to the report,
"Officials are particularly concerned about toxic metals getting into the food chain. This Bystander has heard reports of rice being sold in Guangzhou that contains dangerous levels of cadmium. Once in the ground, such metals can persist for years, and government land surveys are still turning up traces of pesticides banned in the 1980s."
The infographic below lays out the problem as well.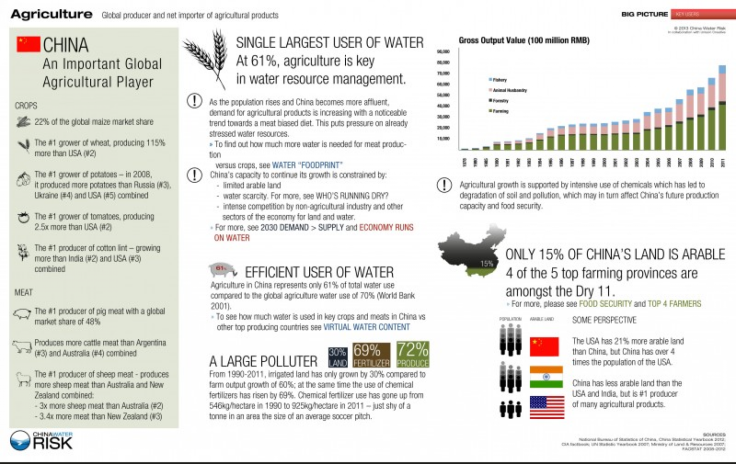 © Copyright IBTimes 2023. All rights reserved.
FOLLOW MORE IBT NEWS ON THE BELOW CHANNELS