China Propaganda Ministry Censors News Of Wenzhou Train Crash Anniversary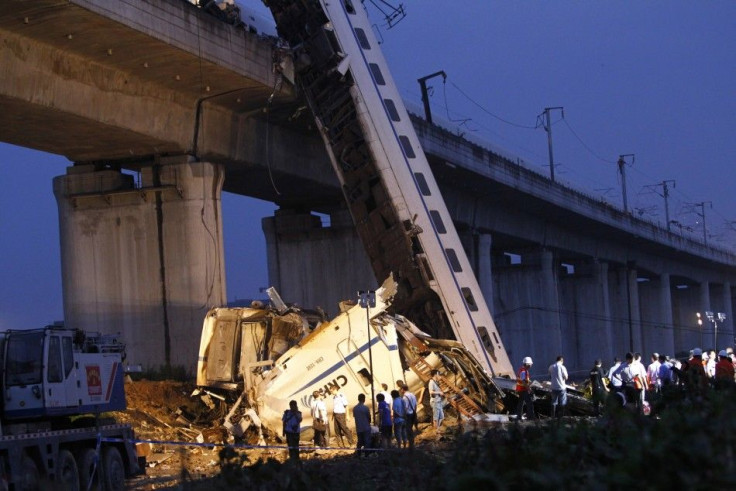 China's Central Propaganda Department has blocked all coverage of the first anniversary of the high-speed train crash in Wenzhou, which killed 40 people and injured nearly 200 more a year-ago Monday.
The censoring of news is not new in China. As pointed out by the Wall Street Journal, the Chinese government tried to literally bury the visible reminder of one of the world's worst high-speed rail accidents when it happened by pushing into a dirt pit the ruins of a wrecked rail car left from the deadly Wenzhou train crash.
Now, a year later, not much has changed. According to the International Federation of Journalists, China's Ministry of Railways contacted media organizations and forbade them to report on the anniversary. Additionally, police physically barred people from visiting the site of the crash, including one Wenzhou survivor and two bloggers who were taken into custody for trying to enter the area.
There is nothing we can do because the local government and the Railways ministry do not want the accident to be revisited, unnamed Chinese journalists told Japan's Asahi Shimbun.
Additionally, Internet searches for Wenzhou or high-speed train were censored from the Chinese internet, according to the Telegraph.
The anniversary comes at a sensitive time for China -- the government is about to undergo its decennial leadership transition -- and it likely wants to avoid criticism, especially around the Wenzhou incident and other train disasters, since China has made high-speed rail travel one of its top priorities.
According to the China Digital Times, a bilingual paper based in California that has been blocked in mainland China, the state may double its investment in railway infrastructure, despite outrage from Chinese citizens.
The Wenzhou crash in July 2011 was officially blamed on a signal failure, and Railway Minister Liu Zhijun was eventually sacked over a corruption probe stemming from the incident.
The state-owned China Daily did report on the anniversary; reporter Wang Hongyi filed a story about the recovery of 3-year-old Xiang Weiyi, who suffered a serious injury during the crash, but whose leg was saved from amputation by Shanghai doctors. The IFJ noted that some official news agencies were granted permission to mention the accident.
© Copyright IBTimes 2023. All rights reserved.
FOLLOW MORE IBT NEWS ON THE BELOW CHANNELS