China Real Estate: Bubble's Burst Could Propel A Hard Landing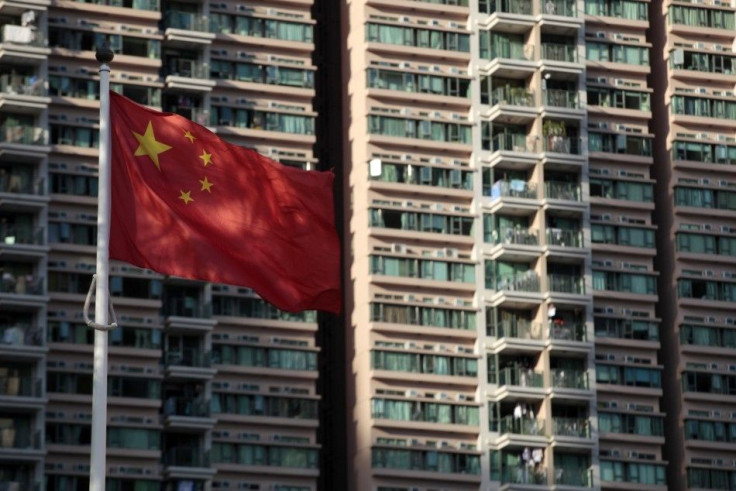 There are vast stretches of Florida, Arizona and Nevada -- prime property on the water's edge or facing serene, stark desert vistas -- where since 2008 the For Sale signs outnumber the residents. Enlarge this picture three, four or even five times over and you'll get an idea of what the real estate market in China is starting to resemble.
After five straight months of falling home prices in almost every city and town, a spate of overleveraged developers, far fewer buyers and local governments bemoaning depleted revenue from land sales, the question is this: Has the bubble in the Chinese real estate sector already burst?
If it has, experts warn, China's economy may be on a downward trajectory from which recovery will be difficult.
The risk of China having a hard landing has clearly increased, said Srinivas Thiruvadanthai, an economist with The Jerome Levy Forecasting Center, using the common term for a rapid turn toward recession. It may be starting already in the real estate sector.
In February, prices of new homes fell in 45 of the 70 Chinese cities monitored by the official National Bureau of Statistics. Average property prices dropped 8.1 percent year-on-year in the first two months of 2012, compared with a 6.9 percent rise for all of 2011, according to data compiled by the Shanghai-based E-house China Research Development Institute. And inventories are expanding rapidly: There were 46 percent more homes listed for sale in China at the end of last year than in 2010, according to annual reports of 48 real estate companies that issue A shares, which are traded by Chinese citizens and specially permitted foreign investors.
Times are equally tough for developers. The average ratio of debt to assets for publicly traded property-development companies rose to 72.3 percent, the highest level in 10 years, according to regulatory filings. Generally, a debt-to-asset ratio above 50 percent indicates liquidity problems.
Total debt for these companies hit 521.6 billion yuan ($82.7 billion) in 2011, up 37.8 percent from the previous year. Nearly half of this debt load must be repaid in 2012, and that could trigger even more abrupt price declines, if cash-strapped developers are forced to sell inventory to cover their repayments.
Chinese real estate is facing such deep woes largely because government policies have encouraged market domination by speculators. This has driven prices out of reach for everyone except the rich. Even with prices tumbling, a typical Chinese family can't afford to buy a home in most parts of the country.
For example, the price of a 1,100-square-foot apartment in Shanghai is equivalent to about 30 years of disposable income for a middle-income Chinese family. In second-tier cities such as Chengdu, an economic center and transportation hub in western China, homes run about 20 times annual wages after taxes. The United Nations' price-to-income ratio deems property affordable if it can be bought with three to six years' worth of disposable income -- a level more in line with the real estate market in the United States.
The price-to-rent ratio, which compares the cost to buy a house with what a renter would have to pay annually to live in it, fares no better in China. Generally, economists say, a ratio of 200:1 to 300:1 indicates a healthy real estate market. But China's first-tier cities have left the desirable range far behind. In the past six years, Beijing's price-to-rent ratio soared to as high as 1,200 to 1.
Making matters worse for Chinese homeowners -- dubbed mortgage slaves by some -- the benchmark interest rate for home loans is over 7 percent, about twice the rate in the United States. A typical Chinese couple in their 30s can expect to set aside more than half of their monthly household income -- about 8,000 yuan ($1,268) before taxes -- for the mortgage payment.
China's real estate investment boom was fueled by the lack of property taxes and the government's failure to keep inflation in check. Last year, consumer costs rose more than 5 percent while 10-year government bonds yielded just 3.5 percent and interest rates on longer-term bank deposits barely topped inflation. Moreover, between 2004 and 2010, bank-deposit interest rates came in below inflation. Meanwhile, China's stock market is still in its developmental stages and has been volatile over the past few years.
Interest rates are really low, there's no point to put it in the bank, said Victoria Lai, an economist at the Economist Intelligence Unit. You might as well put it in a shoebox.
Many Chinese investors had another idea. With its potential to grow in the double digits, real estate seemed the perfect place to park their money. The deeper that sentiment took hold, the higher real estate prices climbed. Home prices in first-tier cities including Beijing, the capital, soared by more than 200 percent between 2000 and 2009.
Evidence of speculation on a mass scale is everywhere: A 2010 survey found that 18 percent of Beijing homeowners owned two or more properties. A separate survey of all cities determined that 40 percent of home purchases were for investment, not residency by the buyer.
In response, the government may be going too far in trying to halt runaway property prices and ward off speculators. To hit the brakes decisively, strict rules were promulgated that bar residents of major cities from buying second or third homes; raise the down payment on mortgages; and impose property taxes in Chongqing and Shanghai.
These and other new policies have had an impact, as seen in rapidly declining prices. The ultimate outcome, however, could be to squeeze speculators and overleveraged developers so hard they walk away from properties they own, rather than to push down prices to a level at which average Chinese can buy.
In fact, it appears would-be homeowners in China are shifting to a wait-and-see stance even as prices drop; they reason they may be able to find a better deal later. Only 14.1 percent of Chinese residents plan to buy a home in the second quarter, the lowest level since 1999 and unchanged from the same period a year ago, according to a survey conducted by China's central bank. Moreover, high-net-worth households are the least inclined to buy property now, while the interest in megacities, such as Beijing and Shanghai, has slipped to a record low of 9.4 percent.
Amid all this, developers are worried that scenarios such as the 80 percent property-vacancy rate on Hainan, a popular tourist island, will be with them for a long time. One local political adviser recently proposed a vacancy tax on such units.
Long-term troubles in Chinese real estate would directly affect the national economy in several ways. Since 1998, when the government ended its practice of allocating housing units -- in effect giving rise to the country's real estate market -- property investment has jumped by more than 1,700 percent, according to the National Bureau of Statistics. Chinese real estate investment amounted to 6.17 trillion yuan ($978 billion) in 2011, or 13 percent of GDP. In contrast, real estate transactions in the United States accounted for about 6 percent of its economy.
China's GDP growth is already slowing down, to 8.9 percent in the last three months of 2011, compared to 9.8 percent in the previous year's fourth quarter. And in early March, China cut its economic growth target for 2012 to an eight-year low of 7.5 percent.
Most of the falloff has been the result of uncertainty in the global economy. Exports to the European Union, China's biggest trading partner, fell to just 7 percent year-on-year in December after growing by 22 percent last August.
Real estate is poised to take its toll as well. That will leave only domestic consumption and government spending as the two main drivers of the Chinese economy -- and the main things standing between prosperity and a hard landing for China. Over the past decade, though, household purchases -- accounting for over 70 percent of U.S. GDP -- amounted to only about 35 percent of China's total output of goods and services.
China's real estate woes are also weakening other key parts of the economy. For example, in the steel industry, return on sales plunged from 6.25 percent in 2005 to 2.42 percent in 2011, according to the China Steel Industry Association, mostly because of the decline in housing construction.
And creditors are feeling the pinch. According to the International Monetary Fund, real estate accounts for about 18 percent of Chinese banks' lending portfolios. Even more importantly, as credit demand boomed during the property market's rapid expansion, an unsupervised, unprotected black market banking system arose to fulfill it. So the Chinese financial system as a whole may be much more vulnerable to capsizing property prices than data on conventional banking would suggest.
The problem is when this credit system has gone outside of the traditional banking and into shadow banking, the Chinese government's ability to manage the fallout is obviously reduced, said Thiruvadanthai, the New York-based economist.
Local Government
In addition, municipalities in China are already reeling from the deteriorating property market. According to a Chinese central government study, provincial administrations, which had to borrow heavily to finance the 2009 stimulus spending ordered by authorities in Beijing, depend on land sales for 40 percent of their revenues. Land sales in 13 major cities came in at 66 billion yuan ($10.5 billion) in January and February, down 47.5 percent from the first two months of 2011, according to Hong Kong-based real estate firm Centaline Group.
In Beijing alone, the value of land sales fell by 30 percent in 2011, a dismal performance that's expected to be repeated this year. The local Finance Bureau expects the city's revenue from land sales to hit 90 billion yuan ($14.3 billion) in 2012, representing another 30 percent decline.
If land sales do drop significantly, as in plummet, local government financing will take a hit, said Lai, of the Economist Intelligence Unit.
Looking On The Bright Side
Not everyone foresees a hard landing for Chinese real estate. Some economists say the current slowdown is to a large extent government-induced, the result of measures meant to tackle inflationary pressures. They're encouraged by forecasts from the EIU and others that China's urban population will grow by about 160 million in eight years and keep expanding until at least 2039.
That's a lot of people, so the underlying demand for a lot of the housing that's being built, not necessarily in the next two or three years but over the long term, is quite strong, Lai said. So we basically don't anticipate a crash.
To others, that view stretches too far to find a silver lining in a sky full of dark clouds. Given its myriad challenges, the last thing China's economy needs is one more eroding sector.
© Copyright IBTimes 2023. All rights reserved.