China Releases Confession Of Japanese War Criminal Accused Of Killing Civilians And Using Chemical Weapons: Xinhua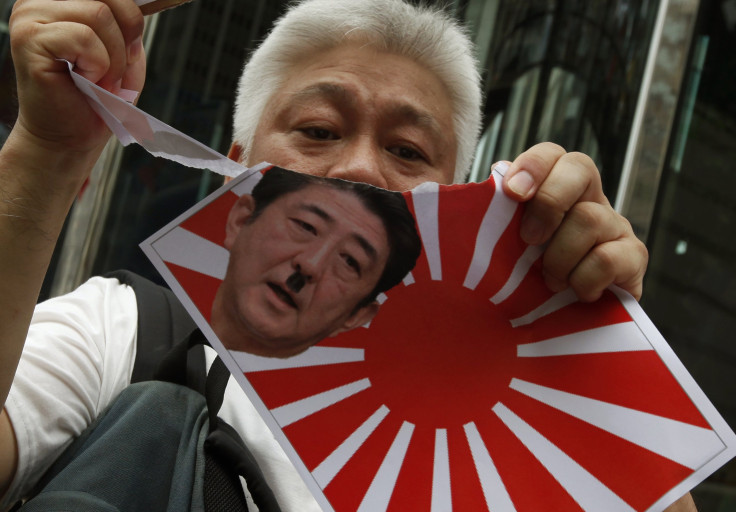 China has released more archived documents said to contain confessions of Japanese war criminals accused of killing Chinese civilians and of using chemical weapons during World War II, state-run Xinhua reported Tuesday.
The latest documents, made public as a part of China's commemoration on Monday of the beginning of the Chinese People's War of Resistance Against Japanese Aggression, reportedly include the confession of Kenjiro Funaki, a military official who reportedly ordered the use of chemical weapons and enslaved Chinese laborers, Xinhua reported. Earlier in the week, China had released the confession of Tsutomu Nagashima, a military commander, who is said to have ordered his troops to kill nearly 1,000 civilians between April 1942 and July 1945.
"There were several cases when my battalion was instructed by the division commander to destroy the villages," Funaki reportedly said in his confession released Tuesday, Xinhua reported. "Our battalion was not issued the poison gas, but was issued the red-colored canisters. A Battalion Armament Department office told me that the red-colored canisters were categorized as poison gas weapons."
On Monday, Xinhua's report cited Nagashima as stating in his confession: "Besides shooting, other extremely cruel killing methods such as bayoneting, hacking, beheading, exploding, burning, hanging and sending to gas chamber were also used during the battles."
China's State Archives Administration has been releasing, since last Thursday, full texts of confessions made by 45 Japanese World War II criminals.
"Again, Japan's ruling officials have failed to face up to its history of aggression," Hong Lei, a spokesperson for China's foreign ministry, said according to Xinhua, adding: "To mend its relations with its neighbors, Japan should face up to and reflect on its history of aggression and make a clear distinction with militarism."
Meanwhile, a Chinese newspaper Tuesday published a map of Japan showing mushroom clouds rising above Hiroshima and Nagasaki, triggering a protest from Tokyo.
"As foreign minister of the only country that has suffered nuclear attacks, and as a politician from Hiroshima, I cannot tolerate this," Fumio Kishida, Japan's foreign minister, said, according to Reuters, adding: "I issued an instruction to check the facts with the paper in question speedily through the consulate in Chongqing and, if it turns out to be true, to lodge a stern protest."
Sino-Japanese relations are fraught with tensions over economic competition, maritime disputes in the East China Sea, as well as accusations made by both sides about wartime wrongs committed on the other throughout history.
© Copyright IBTimes 2022. All rights reserved.
FOLLOW MORE IBT NEWS ON THE BELOW CHANNELS