China-Russia Alliance: Relations Stronger Than Ever, President Putin Says Ahead Of His China Visit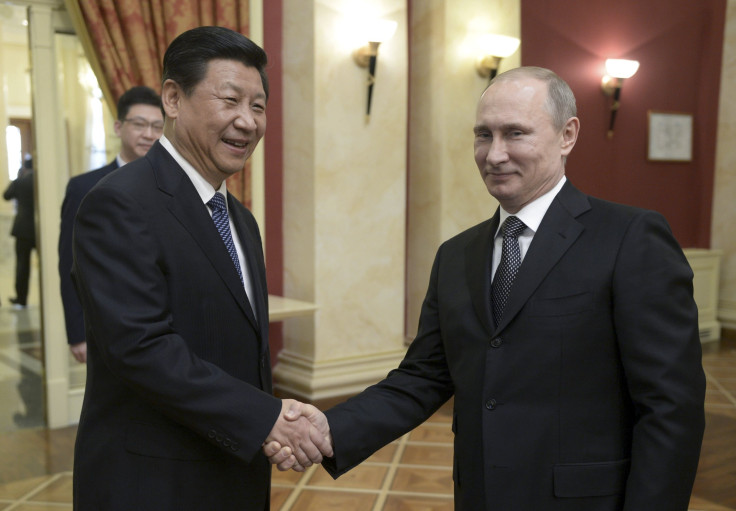 Relations between China and Russia are stronger than ever, Russian President Vladimir Putin said ahead of his visit to Shanghai, which begins Tuesday.
Slapped with sanctions from Western countries on Russian companies and individuals because of its aggressive actions in Ukraine since December, Russia has rushed to bolster ties with its neighbor to the south. On Monday, one day before his trip, Putin said in an interview with the Chinese media that Russia sees relations with China as a priority and their ties now are the best ever, according to the South China Morning Post.
Negotiations for a natural gas pipeline from Russia to China that could eventually send 61 billion cubic meters of natural gas to China per year are expected to be concluded during Putin's trip, whereas Russia currently sends the bulk of its gas to Europe, an export link now in danger of being shut off amid the crisis in Ukraine.
"In the context of the turbulent global economy, the strengthening of mutually beneficial trade and economic ties, as well as the increase of investment flows between Russia and China, are of paramount importance," Putin said, the South China Morning Post reported.
Putin also said that Russia would welcome more Chinese investments like the pipeline deal, in particular in a free-trade zone being built in the far eastern port of Vladivostok.
The two formerly Communist countries developed their modern "strategic partnership" after the 1991 collapse of the Soviet Union. Russia has supplied sophisticated weapons to China, and the two have carried on joint military drills.
"Obviously, we are interested in Chinese businessmen making use of these opportunities and becom[ing]one of the leaders here, since both Russia and China will benefit from an accelerated development of the Russian Far East," Putin said, according to the South China Morning Post.
© Copyright IBTimes 2022. All rights reserved.
FOLLOW MORE IBT NEWS ON THE BELOW CHANNELS