China Sandstorm 2021: NASA Satellite Image Shows Massive Dust Plume Over Beijing
KEY POINTS
A massive sandstorm hit China on Monday
A satellite image shows the dust and sand plume over China's northern provinces
Beijing was one of the places affected by the sandstorm
A NASA satellite captured the image of a massive sandstorm that covered northern China on Monday. It is said to be the worst sandstorm to affect the region in a decade.
China's National Meteorological Center issued a warning Monday about the sandstorm, which spread across several northern regions, South China Morning Post (SCMP) reported.
NASA's Aqua satellite captured a natural-color image of the sandstorm. In it, one can see the massive plume of sand and dust traveling thousands of kilometers from the Taklamakan Desert in northwest China toward northern China, NASA Earth Observatory explained.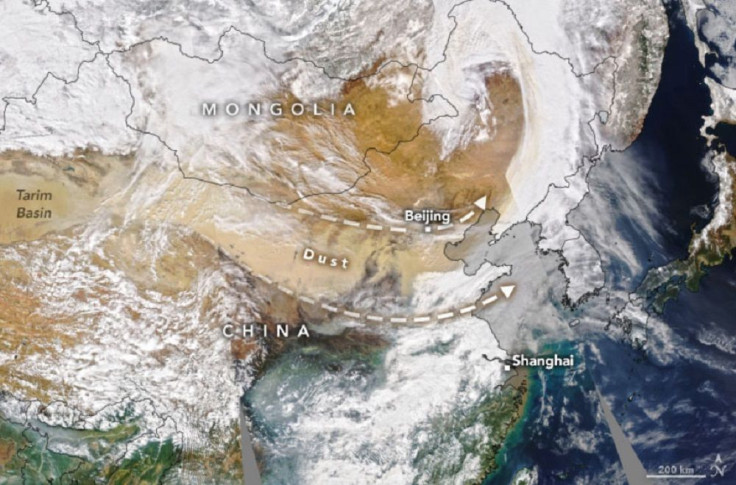 The image, which was captured by the satellite's Moderate Resolution Imaging Spectroradiometer (MODIS), shows Beijing among the places affected by the sandstorm.
The sandstorm is not only the "largest and strongest" to affect the region in a decade, it also grew so fast, which is "uncommon," said Hiren Jethva, of the Universities Space Research Association (USRA).
Satellite images that were taken a day before the massive storm didn't even show any signs of dust transport.
'Worst' sandstorm in a decade
Although such events are said to be quite common in Asia during the meteorological springtime, Monday's sandstorm reportedly was the widest in the last 10 years, blanketing 12 provinces. Beijing, for instance, was covered in yellow dust as the air quality index reached a "hazardous" level of 500 Monday morning.
This prompted the cancellation of flights, schools and other outdoor events. Residents were also advised to use goggles, hairnets and masks to protect themselves.
Sandstorms used to occur more frequently in Beijing, but reforestation and efforts to improve air quality have reduced the frequency of such events in recent years, SCMP reported.
However, the ground was dry due to lack of rain or snow, which made the sandstorm "very fierce," environmental health expert Pan Xiaochuan told AFP.
"If there is less moisture, more dust will be scraped up," he said.
Increased industrial activities are also reportedly contributing to the bad air quality in Beijing.
The storm is expected to weaken as the week progresses. Mongolia's National Emergency Management said Monday that six people died and 81 went missing after the severe sandstorm hit the nation, SCMP reported.
© Copyright IBTimes 2023. All rights reserved.