China Sends 30 Warplanes To Taiwan's Air Defense Zone As US Senator Makes Surprise Visit
KEY POINTS
Senator Duckworth met with Taiwanese President Tsai Ing-wen on Tuesday
The planes entered Taiwan's ADIZ between Dongsha and Taiwan islands
The fighters also practiced the seizure of air superiority and aerial strikes
China's People's Liberation Army (PLA) sent 30 aircraft to Taiwan's Air Defense Identification Zone (ADIZ) Monday, the same day a U.S. delegation led by Senator Tammy Duckworth arrived on the island for a three-day visit.
Taiwan's Ministry Of Defense recorded nine types of People's Liberation Army (PLA) aircraft, including a rarely-seen jet. This was also the highest number of aircraft sent by the PLA since January 23, when 39 aircraft made similar flights, reported the South China Morning Post.
The aircraft included two Su-35 fighters, two KJ-500 early warning and control aircraft, four Y-8 electronic intelligence aircraft, one Y-8 electronic warfare aircraft, one Y-8 anti-submarine aircraft, six J-16 fighters, eight J-11 fighters, four J-10 fighters, and two Su-30 fighters. They entered Taiwan's southwest ADIZ between the Dongsha Islands and the Taiwan island.
According to Chinese state-backed news media Global Times, the aircraft, the majority of which were fighters, also practiced the seizure of air superiority and aerial strikes in the area. This "simulation of reunification-by-force" was a warning to the U.S. and Taiwan that China could launch a "lightning-quick assault" in the event of an invasion.
"Drills like this tell the island that when the PLA makes a real move, it will likely be a sudden attack that can put an end to the Taiwan question once and for all," Zheng Jian, director of the National Taiwan Studies Association, told the Global Times.
Taiwan responded by scrambling a combat air patrol, sending radio warnings, and deploying defense missile systems to track the PLA planes. This was also the first time in recent times that the PLA Air Force's Su-35 made a public reappearance. China bought 24 Su-35s from Russia to deploy for South China Sea patrol.
The PLA sorties also coincide with the drills held by U.S. Navy in the adjacent waters. U.S. aircraft carriers USS Abraham Lincoln and the USS Ronald Reagan reportedly held drills last weekend in waters to the southeast of Okinawa. This region, according to Chinese experts, is a strategic location if the US militarily intervenes in a possible conflict across the Taiwan Straits.
Meanwhile, Senator Duckworth met with Taiwanese President Tsai Ing-wen Tuesday wherein the duo discussed the close economic, political, and security relations between Taipei and Washington. The senator also told Tsai that she wanted to "emphasize our support for Taiwan security."
"I do want to say that it is more than just about the military. It's also about the economy," Duckworth reportedly told Tsai.
The visit was not welcomed by China and its embassy in the US and the foreign embassy in Beijing protested against the trip.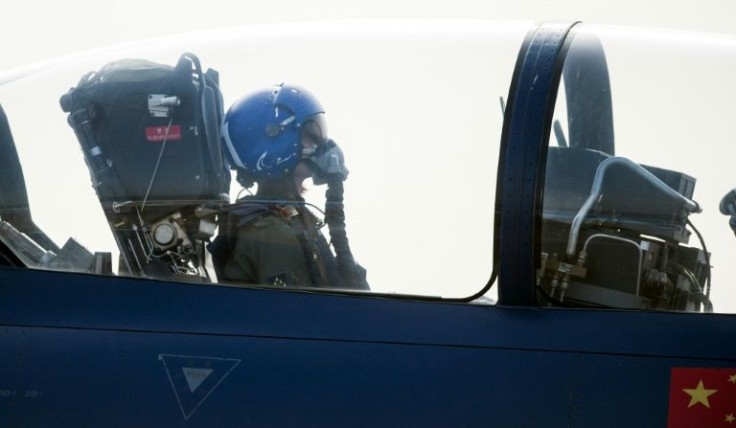 © Copyright IBTimes 2023. All rights reserved.
FOLLOW MORE IBT NEWS ON THE BELOW CHANNELS