China Shows Off New 'Carrier-Killer' Missile; YJ-21 Can Keep U.S. Ships Away From Taiwan
KEY POINTS
Footage shows the missile being "cold-launched" from a PLA destroyer
The weapon is dubbed "aircraft carrier killer" due to its massive hitting power
This makes the Type 055 the most heavily armed surface combatant ever
China has released a video showing the test-fire of a mysterious missile, thought to be hypersonic YJ-21, from one of its huge Type 055 destroyers. And, military analysts believe the rare and daring show of power is a warning to the U.S. and its allies to keep away from Taiwan.
The footage, which went viral on Chinese social media, showed the weapon being "cold-launched" and then boosted into the air. The payload has a long conical-like shape with small fins at its base, reported The Drive.
While there is no official confirmation about the weapon used, defense analysts like H I Sutton believe the missile is a YJ-21, or Eagle Strike-21 hypersonic missile, which can be carried by ships or warplanes. According to Sutton, the missile is dubbed "aircraft carrier killer" due to its massive hitting power. The report by the U.S. Department of Defense mentioned that China may put anti-ship ballistic missiles on its new cruisers.
The YJ-21s is estimated to have a range between 1,000 to 1,500km (600 to 930 miles) and its deployment on the Type 055 destroyer makes the PLA Navy cruiser arguably the most heavily armed surface combatants in the world.
However, the missile seems to have used a "thinner, more elongated, conical-shaped maneuvering reentry vehicle compared to the one found on the YJ-21," and experts believe the design is modified to fit inside the tight confines of the ship's Vertical Launch System cells. The Type 055 has 112 vertical launch cells and is a multipole warship with air-defense, anti-missile, anti-ship and anti-submarine weapons.
This is the first time China has released such footage. According to Beijing-based naval analyst Li Jie, arming Type 055s with YJ-21 missiles was intended to deter foreign ships from getting involved in the event of an attack on Taiwan. "The matching of Type -55 and YJ-21 missile was designed for anti-access and area-denial to counter America's maritime hegemony in the region," Li told South China Morning Post.
Zhou Chenming, a researcher from the Yuan Wang military science and technology think tank in Beijing, agrees. He thinks the unprecedented demonstration is aimed at warning both Washington and Taipei that the PLA has many options for anti-access and area-denial strategy.
"Beijing is worrying that the unlimited U.S. military assistance to Ukraine and a recent American congressional group tour to Taiwan might make Taipei believe Washington may provide the same help in the event of a conflict between the mainland and Taiwan," Zhou said.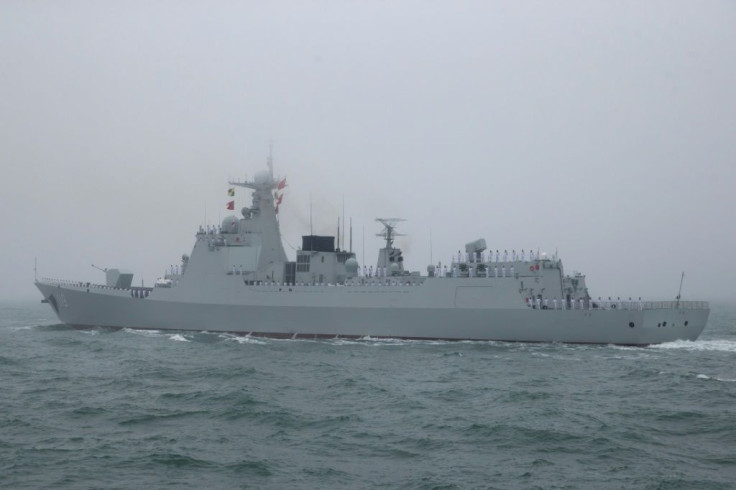 © Copyright IBTimes 2022. All rights reserved.
FOLLOW MORE IBT NEWS ON THE BELOW CHANNELS