As China Slows, Hong Kong Faces Up To New Economic Challenges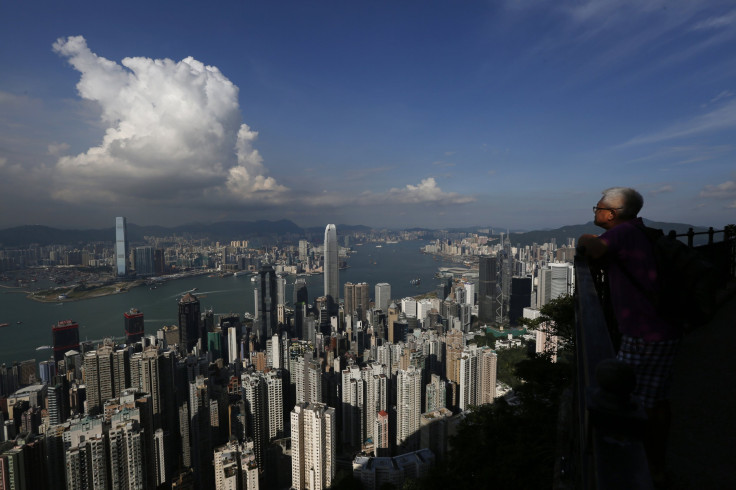 HONG KONG — When China catches a cold, Hong Kong sneezes. That's the theory, at least, with the former British colony — which remains a separate customs and political territory — heavily dependent on China's economy, both for its tourism and trade, much of which is re-exports from China's manufacturing hub, Guangdong, across the border.
Hong Kong's financial services, too, are closely bound to China. With China's growth falling to its slowest rate in a quarter century — 6.9 percent in 2015 — concerns about Hong Kong's economy have inevitably increased, with some experts seeing the knock-on effect hitting the city hard. Since the beginning of the year, Hong Kong's stock market has followed China's downward, though at a slower pace. In the second half of January, the Hong Kong dollar also briefly fell to its lowest rate against the dollar in eight years, prompting speculation about its three-decade-old peg to the U.S. dollar, against which it trades in a narrow band.
There is also no doubt that gross domestic product growth is falling. Housing sales were down more than 30 percent year-over-year in November — house prices also fell, and retail sales were down.
Some experts say Hong Kong is strong enough to weather the storm, and some even see a silver lining in falling property prices. But few would disagree that the city is likely to face new challenges in the coming years. Political tension has not completely dissipated following 2014's Occupy Central pro-democracy protests, and the city has already seen its role as a gateway and service provider to China partly eroded by the growing openness of China's economy.
Just how closely Hong Kong is linked to China's economy is not hard to spot: At the gleaming Apple store in the swanky IFC mall in Hong Kong's Central district, the staff speaks the Mandarin dialect of the mainland as well as their native Cantonese so that they can advise Chinese shoppers on potential purchases. On a recent evening, staff debated with a Shanghai man eager to know whether an iPad bought here would be covered by warranty if he took it home. But such requests may be less frequent these days. Apple chief financial officer Luca Maestri said last week that slowing greater-China sales growth was particularly pronounced in Hong Kong. "We are starting to see something that we have not seen before," he told Reuters.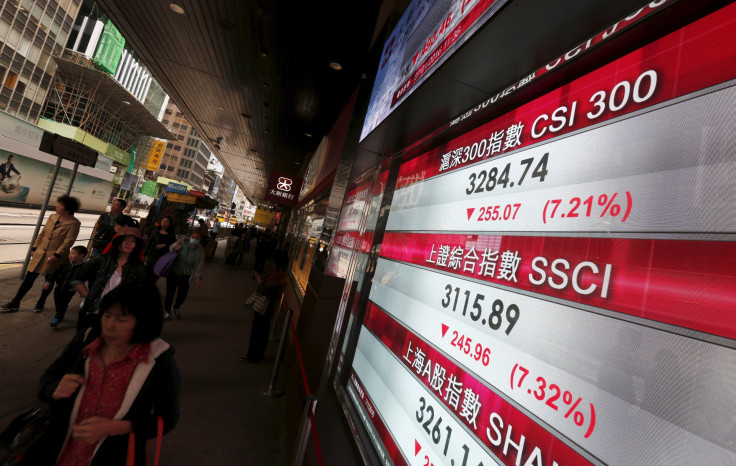 Analysts say Apple's Hong Kong sales to mainlanders may have been partly hit by the fact that, unlike a couple of years ago, the company's latest products are now launched in China at the same time as elsewhere. But a fall in mainland visitor numbers is likely to blame too.
"China's decelerating economy is hitting Hong Kong hard: Arrivals from China plunged 15.4 percent year-over-year in November after having decelerated sharply through 2015," Alessandro Theiss, a Hong Kong analyst at Oxford Economics, says. "This is also driving the fall in overall arrivals, since visitors from the mainland account for 80 percent of the total." As a result, he says, total new visitor arrivals were down 10.4 percent in November.
In a city that has prided itself on being one of the world's most popular visitor destinations, this has seriously "adverse implications for Hong Kong's retail trade," as Theiss puts it. "Retail sales volumes fell by 6 percent year-over-year in November, with sales of clothing, shoes, jewelry, medicines and cosmetics [all categories of goods popular with Chinese visitors] especially weak," he says.
The decline in mainland tourism can be ascribed to a number of factors. The political tension with China following 2014's pro-democracy protests led some tour groups to cancel trips to Hong Kong. Subsequent protests against mainland shoppers by Hong Kong political activists, and the killing of a Chinese tourist by people allegedly linked to a tourist scam last year, have also led to reduced visitor numbers.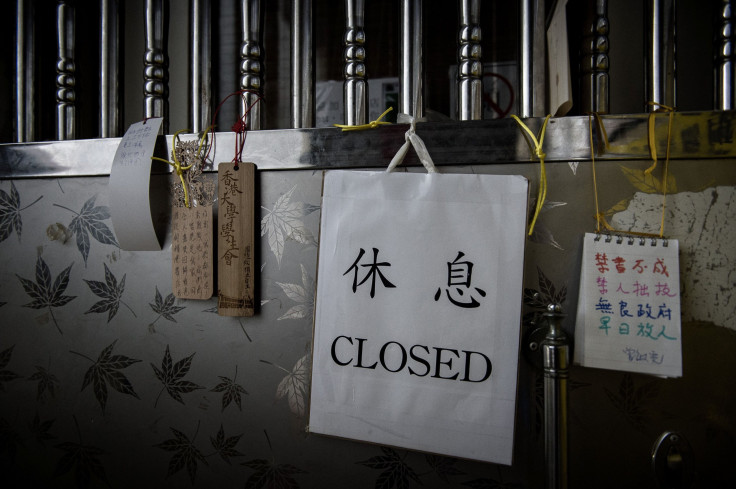 The fall in the value of the Chinese yuan — down more than 5 percent against the U.S. dollar since last August — has had an impact, too. For many years, Hong Kong was not only convenient for Chinese visitors but also cheap. Now, with the Hong Kong dollar pegged more tightly to the U.S. dollar, that's no longer the case.
"Mainland tourists come to Hong Kong to buy Prada and Chanel, clothes and watches — and these items suffered severely in the last year — there's been a double-digit contraction," Raymond Yeung, a senior Economist at ANZ Bank in Hong Kong, says. The strong dollar has affected inbound tourism by visitors from other countries, too, Yeung says, while its neighbors, and rivals, are attracting more people from China and beyond.
"The strong Hong Kong dollar has encouraged more Chinese people, and local Hong Kong residents, to go to Japan, Korea and Taiwan, which are all cheaper," he says. "In terms of competitiveness, the yen's become pretty cheap — so if I'm considering to buy a camera, why don't I just go to Japan for my holiday and buy a Japanese-made one there rather than buy it in Hong Kong?"
Easier access to visas has also made it easier for Chinese people to travel further afield for shopping and leisure in recent years.
In many ways, Hong Kong is caught in the middle of economic forces — as an entrepôt for both China's exports, hit by international economic factors, and China's imports, hit by slowing domestic demand.
Hong Kong GDP Per Capita Growth Over Time | FindTheData
"Hong Kong is subject to China's slowdown and the global slowdown too," Yeung says. "The sluggish demand in the U.S. and Europe are reflected in cross-border trade between mainland and the rest of the world." As a result, he says, growth, which has been almost 3 percent over the past decade, "will be slow this year and next year — this year 2 percent is already pretty optimistic."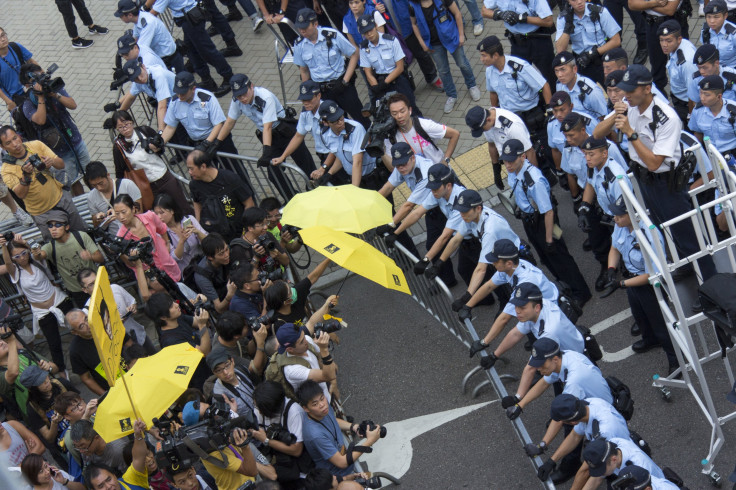 And while Hong Kong's more mature stock market has not plunged as fast as its mainland counterpart, which fell some 23 percent in January, its 10.2 percent drop last month still represents a significant fall, as some local investors have been exposed to risks via funds invested in mainland markets.
"The financial volatility will obviously have some negative effect on the spending appetite of local residents," Yeung suggests. "Overall sentiment is not good — that's for sure — because of the drop in the stock market." And he says it's likely to discourage companies from launching new listings for the time being.
Amid all this turbulence, the relatively high value of the Hong Kong dollar — resulting from its peg to the strong U.S. dollar — against most global currencies "could be at odds with an economy and financial system that is under pressure from slowing demand from China, and falling property and equity prices," Marie Diron, senior vice president of Moody's Sovereign Risk Group, told Chinese media recently.
Yet despite these pressures, many analysts say a devaluation of the Hong Kong dollar is unlikely — noting that the Hong Kong Monetary Authority (HKMA) was quick to step in the third week of January, when the dollar fell to just short of 7.83 against the greenback, its lowest level since 2008.
"We do not expect any change in the currency board in the foreseeable future," Theiss says. "The HKMA are at pains to insist that there are no plans to change the peg, which remains well-defended and managed. Any change in it at the current trajectory would be a huge confidence shock and reputational loss."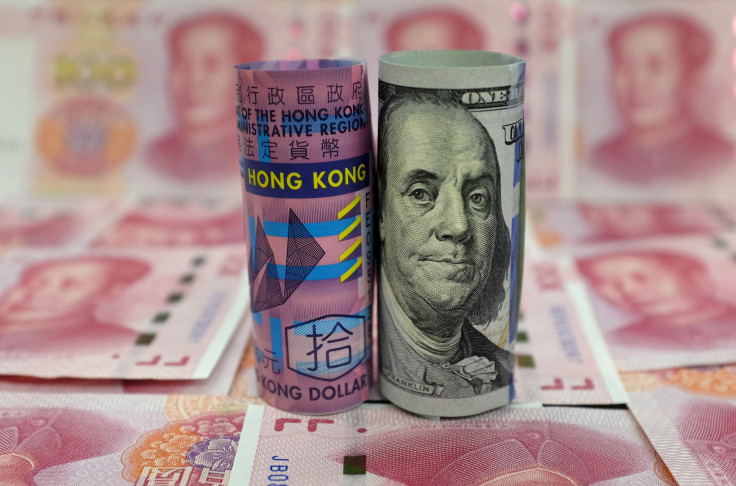 Yeung says fear of a spillover effect from a falling Chinese yuan is misplaced. In fact, he says, it's only a few months since the HKMA was actually having to intervene to stop its currency getting too strong — in part due to yuan weakness.
"The yuan depreciation pushed the Hong Kong dollar to the strong side, because a lot of people were converting yuan into Hong Kong dollars," Yeung notes. "Some people talk about the [yuan] risk contagion and see that as reason for the currency's recent weakness — but the same factors drove the dollar up in the second half of last year. Why would they change direction to weaken the dollar now?"
Yeung says it may not be not a bad thing if the Hong Kong dollar falls to the lower side of its band against the dollar, since it has been so strong against other foreign currencies. But he emphasizes that the recent falls in the value of the dollar were "purely based on global factors … The Hong Kong dollar is quite sensitive to global equities market, and the week it fell there was a global sell-off, coupled with some speculative calls in the London sessions and the New York sessions."
Nevertheless, Yeung says the currency was still some distance from the weak end of its band of 7.75-7.85 against the dollar. And he notes that the peg has not shaken in the past, "even in the worst times in Hong Kong" — after the international sanctions against China following the Tiananmen crackdown in 1989 or when the SARS respiratory epidemic hit the region in 2003.
"There have never been worries about a fundamental capital flight situation," Yeung says. "If you look at the balance of payments, Hong Kong is still running a surplus. I'm not saying growth is not slowing … but as long as the overall confidence in the HK economy remains stable I don't think any speculative pressure will move the peg."
Yeung agrees that the peg to the U.S. dollar has been core to Hong Kong's international credibility for 33 years and should not be changed lightly.
"In terms of the transparency of the whole system, the currency peg is good for a small open economy like Hong Kong," he says. "We build our confidence in central bankers on their reputation, their credibility — and the peg means the currency will be free from any political influence. The HKMA takes a very passive role in money creation, so we don't need to worry about any policy risk introduced by central bankers."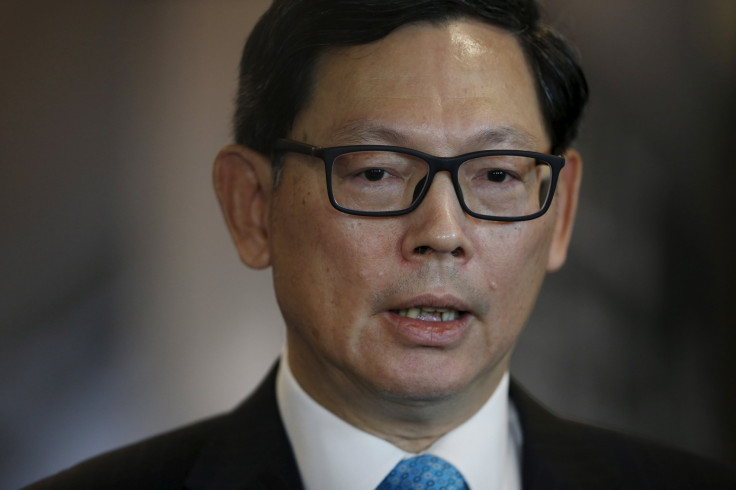 The other aspect of the peg to the U.S. dollar is a link to U.S. interest rates, which means Hong Kong recently also raised its rates, following the first hike by the U.S. Federal Reserve in nearly a decade. That means more-expensive mortgage rates in the city, Yeung says, which might sound like bad news for citizens. But in a city where high property prices have been a contentious issue in recent years, it could be good news for some — not least unpopular pro-Beijing Hong Kong Chief Executive C.Y. Leung.
Yeung says Hong Kong's previously low rates (in line with the Fed's) "caused a massive liquidity flush in Hong Kong over the past few years — and the very low mortgage rate made Hong Kong one of the most expensive cities worldwide. [The Hong Kong] community has been complaining about the high property price for a number of years. Now if we have a reversal of that cycle, it could help C.Y. Leung to address the housing needs of the people — so now I think the U.S. is doing him a favor."
Clearly, for some who have invested in sky-high property, there are risks, with a small number of cases in which loans have exceeded market value reported, after property prices fell 3 percent from October to November last year.
However, Oxford Economics' Theiss says he does "not expect a hard landing," and the falling stock market may not pose a long-term challenge to the health of Hong Kong's economy.
"Once the current market uncertainty fades, Hong Kong's stock market should benefit from its currently very low valuation multiples," he says. Observers have also noted more Chinese funds flowing into Hong Kong-listed stocks via the Shanghai-Hong Kong Stock Market Connect mechanism as mainland investors seek safer havens for their investments.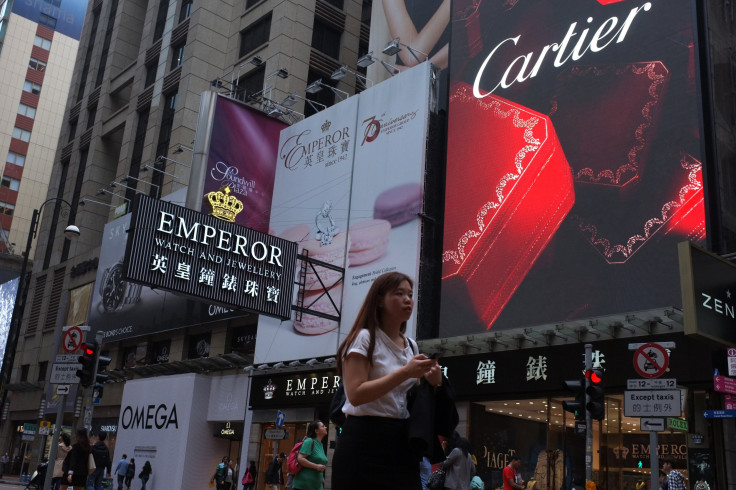 Yeung says he is "not very optimistic" about the short term, but he does not believe there will be a "severe contraction" in Hong Kong's economy. He predicts signs of recovery in 2018 and average growth of 2.5 percent over the next five years.
And Yeung says the city will be helped by its developed service industry, which has helped it maintain something close to full employment.
"The overall wealth level of Hong Kong people remains pretty affluent by international standards — and importantly the unemployment rate is still pretty low, just below 3.3 percent," he says. "There will be some upward pressure on unemployment, but not a massive layoff immediately. Actually Hong Kong is still running into an undersupply situation for low-skilled job segments — restaurants are still hiring."
At the same time, Yeung argues that Hong Kong's services still need to see an improvement in quality, and the city must "uplift its status as a service economy" if it is to retain its "edge" as an international city.
"If you come to HK and want to use a credit card in a taxi, can you do that?" he asks. "No … If Hong Kong really wants to become an innovative city, it needs to do a lot more — to improve electronic payment services and the penetration of e-commerce, improve environmental standards."
Others agree that innovation is vital. Regina Ip, veteran pro-establishment member of Hong Kong's Legislature, told International Business Times last year that the city had placed too much emphasis on attracting mainland tourists, leading to some of last year's tensions. She said the city needed to focus more on education and promoting creative industries.
The recent mainland slowdown, coupled with the political tensions with China over the past two years, also means that some in the city see this as a moment when Hong Kong should focus more on improving its own skills and becoming less reliant on China.
"Now you see a lot of slogans in universities and other centers of activism saying, 'Hong Kong is our own city — we should save it ourselves!'" Vi Wong, a local columnist, notes.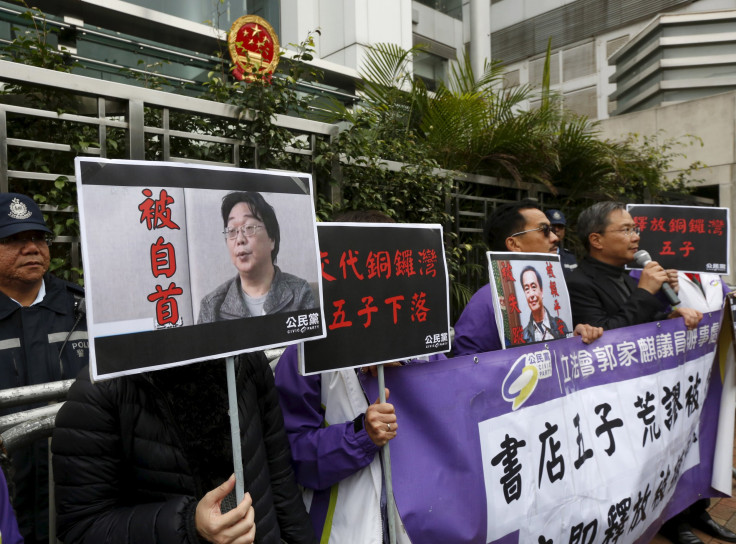 The city has invested significant sums in technology incubators and developing its strengths in fields such as culture: After a number of delays, the major new West Kowloon Cultural District, including a planned world-class art museum, M+, is due to open in the next two to three years.
Some have praised Hong Kong for its innovation. Tesla founder Elon Musk, who was in Hong Kong in late January, heralded the city, one of his bigger markets, as a "beacon city" for its efforts to promote electric cars. "It will be the leader of the world."
That is one area that could be one of the city's strengths, Yeung says. However, he notes many Hong Kong government policies aimed at rejuvenating the economy have been held up due to a political stalemate in the city's Legislature. Members of Hong Kong's opposition 'pan-democrat' parties have been delaying government bills in protest of China's refusal to compromise on its plans for elections for Hong Kong's next chief executive, which democrats say would guarantee victory for a pro-Beijing candidate.
Even as Hong Kong seeks to develop its own economic strengths in order to escape the ravages of the slowdown across the border, the influence of China still casts a long shadow.
FOR FREE to continue reading
✔️ Unlock the full content of International Business Times UK for free
offer available for a limited time only
✔️ Easily manage your Newsletters subscriptions and save your favourite articles
✔️ No payment method required
Already have an account?
Log in
© Copyright IBTimes 2023. All rights reserved.