China And Taiwan Leaders Talk After Seven Decades, 'We Are Brothers,' Says Xi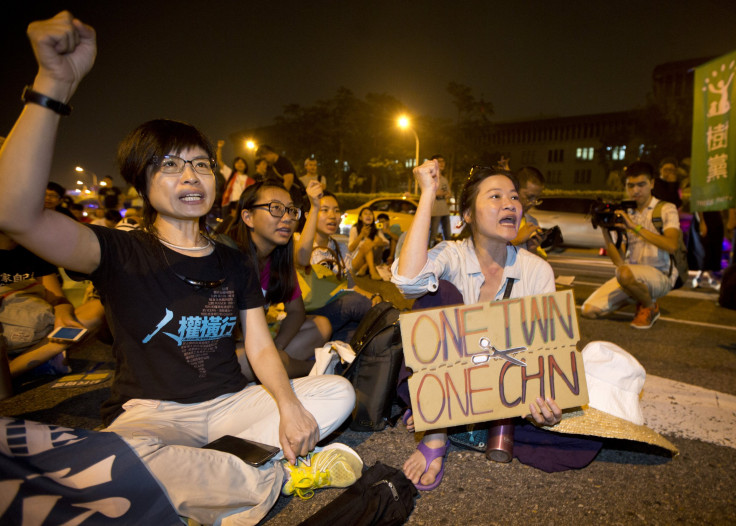 UPDATE 1:40 p.m. EST: The U.S. State Department issued a statement, supporting Saturday's meeting.
The United States welcomes the meeting between leaders on both sides of the Taiwan Strait and the historic improvement in cross-Strait relations in recent years. The United States has a deep and abiding interest in peace and stability in the Taiwan Strait, and we encourage further progress by both sides toward building ties, reducing tensions, and promoting stability on the basis of dignity and respect. The United States remains committed to our one China policy, based on the Three Joint Communiques and the Taiwan Relations Act.
Original post:
The handshake between the leaders of Taiwan and China had been awaited for more than six decades -- since the Chinese Communist Party defeated Taiwan's ruling Nationalist Party (the Kuomintang, or KMT) in the Chinese civil war in 1949. So it was perhaps no wonder that when China's President Xi Jinping and Taiwanese President Ma Ying-jeou met in a Singapore hotel, each seemed reluctant to let go of the other's hand.
After a handshake that lasted some 90 seconds, in front of more than six hundred journalists, the symbolic gestures continued as the two men began formal talks: "We are brothers who are still connected by our flesh even if our bones are broken..., [and] family members linked by blood ties," President Xi told his counterpart. It was a "very special day," he said, adding that the meeting showed that the two sides were determined not to let "the tragedies of the past recur."
Ma said peace was the basis of the two sides' development, and stressed that the meeting -- which has attracted controversy in Taiwan -- was for the benefit of the next generation. And both men stressed that their people were all descendents of the same historic Chinese ancestors, and said they were seeking the "renaissance of the Chinese race."
Yet other aspects of symbolism on display provided a reminder of the divisions between the two sides: President Xi's red tie and Ma's blue tie echoed the traditional colors of their parties, which fought each other bitterly for some two decades. And the complexities of the relationship meant that the two men addressed each other simply as "Mr." -- since neither formally recognizes the other's presidential status. Chinese television, meanwhile, did not show Ma's news conference after the meeting, and also blurred the Taiwan flag on his lapel badge, according to some reports.
Economic links between mainland China and Taiwan, an island of 23 million people off China's south-east coast, have boomed over the past decade, particularly since Ma took office in 2008. Bilateral trade is now worth some $200 billion a year, and an estimated one million Taiwanese now work on the mainland. Yet the political stand-off between the two sides has never been resolved: China still claims Taiwan as part of its territory, and reserves the right to use force to prevent the island ever declaring formal independence from the mainland. China also blocks its diplomatic partners from recognizing Taiwan as a sovereign state.
Taiwan, meanwhile, is still officially known as the Republic of China, though in recent decades it has downplayed its previous insistence that the government in Taipei is the rightful government of all of China. And polls say that a majority of Taiwanese citizens oppose reunification with China under the rule of the Communist Party.
The meeting has also been hugely controversial in Taiwan. Ma's critics have accused him of arranging it to secure his own legacy before he steps down in a few months' time – and of seeking to boost the KMT, currently lagging in the polls, in January's election to choose his successor. Meanwhile, a group of activists, who want Taiwan to declare independence from China, tried to storm the island's legislature Friday night, in protest against the meeting.
In an apparent attempt to win over his critics, Ma stressed that "both sides should respect each other's values." And at a news conference after the talks -- and before the two leaders met again for dinner -- he said he had told Xi that the Taiwanese people were worried about China's missile deployments aimed at Taiwan. "At least I brought it up," he said, adding that Xi had reassured him that the weapons were "not directed at the Taiwanese people."
President Xi also said that when it came to their different social systems -- an oblique reference to Taiwan's democracy -- the two sides should "respect each other's choices." Nevertheless, Xi made it clear that China would oppose any attempts to "split Taiwan" from China. He did, however, appear to hint at some compromise on Ma's call for Taiwan to be allowed to take part in international events -- something Beijing has frequently prevented in the past. Xi said China understood Taiwanese people's desire to take part in such events, and was willing to "make reasonable arrangements" as long as they did not affect Taiwan's political status, according to a Chinese spokesman.
China's president also proposed that the two sides should set up a hotline to "avoid misunderstandings and deal with emergency issues." And Ma stressed in his news conference that the talks had been "very friendly" and "very positive", describing the Chinese president as "very pragmatic, flexible and frank."
Analysts said the Chinese leader's relatively conciliatory tone was clearly designed to win over Taiwanese public opinion. And a commentary in China's official Global Times newspaper said the meeting was a "historic breakthrough, creating huge new spaces for the cross-Straits relations."
However, it remains to be seen whether the meeting will leave a long-term legacy. Ma said this week that the meeting could serve as a bridge to establish regular contacts between the leaders of the two sides. But it is by no means certain that such talks would continue if Ma is succeeded by the current frontrunner in Taiwan's election campaign, Tsai Ing-wen. Tsai's Democratic Progressive Party (DPP) is viewed with great suspicion by China, due to its traditional links to Taiwan's independence movement -- though Tsai herself has stressed she will maintain the status quo if elected president.
Some analysts say Beijing may hope that the meeting will boost Ma's KMT party, and help it to defeat the DPP in the election. However a Chinese spokesman denied that the talks were designed to "interfere in Taiwan's elections." And attempts by Chinese leaders to influence Taiwan's often boisterous democratic politics have not always achieved the desired affect: In 1996, China conducted live-fire missile exercises in the Taiwan Strait, in what was seen as an attempt to warn Taiwan's voters not to reelect then President Lee Teng-hui, who Beijing viewed with suspicion -- though he eventually won a landslide victory.
Nevertheless, whatever the outcome of the elections, observers said the first direct talks between the leaders of the two sides since the 1940s might at least help prevent a recurrence of similar tensions in the immediate future.
FOR FREE to continue reading
✔️ Unlock the full content of International Business Times UK for free
offer available for a limited time only
✔️ Easily manage your Newsletters subscriptions and save your favourite articles
✔️ No payment method required
Already have an account?
Log in
© Copyright IBTimes 2023. All rights reserved.