China, Taiwan To Seek Cooperation As Heads Of Ruling Parties Meet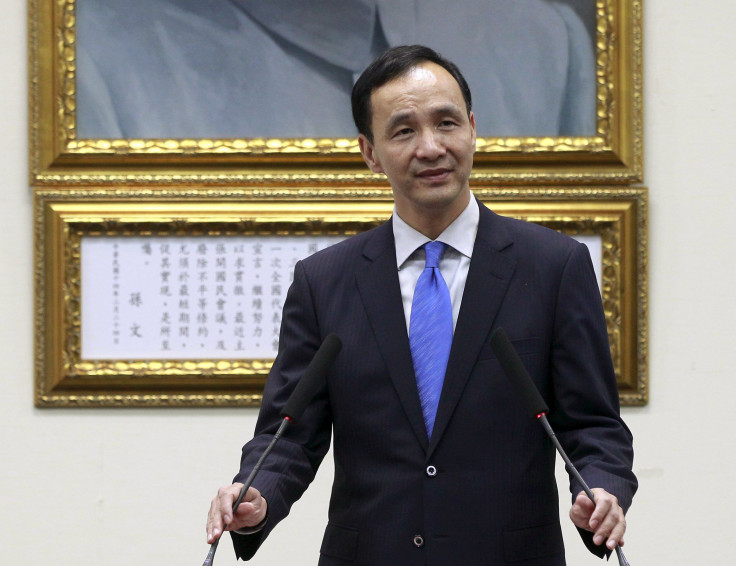 SHANGHAI (Reuters) - The leader of Taiwan's Nationalist Party will sit down with Chinese President Xi Jinping in Beijing on Monday in the first meeting between the heads of the ruling parties in the two rival states in more than 60 years.
Xi, as head of China's ruling Communist Party, will host Taiwan's Chu in the first meeting of its kind since defeated Nationalist forces fled to Taiwan at the end of the Chinese civil war in 1949.
Chu told an opening ceremony in Shanghai on Sunday cross-strait ties must be addressed with a positive attitude.
"The 21st century is a time of cooperation, not a time of resistance," he said.
"We must use a healthy attitude, a positive attitude to welcome the age of cooperation between our two sides."
China regards democratic Taiwan as a renegade province, to be brought under Beijing's control by force if necessary. Chu's Nationalists are viewed as pro-China, although the opposition Democratic Progressive Party is widely seen as leaning towards independence.
Business ties between Taiwan and China have improved to their best level in six decades since Taiwan President Ma Ying-jeou took office in 2008.
However, deep suspicions remain and there have been no political talks. Taiwan's pride in its democracy helps reinforce the unwillingness of many to be absorbed politically by China.
China remains steadfast in its view of Taiwan.
"The biggest threat to the cross-strait relationship is the separatists who are fighting for Taiwan's independence," said Yu Zhengsheng, chairman of the National Committee of the Chinese People's Political Consultative Conference.
Chu said on Friday he would talk to Xi about Taiwan joining global organizations such as the China-led Asian Infrastructure Investment Bank (AIIB) and the Regional Comprehensive Economic Partnership, a proposed East Asian free trade deal.
China last month rejected Taiwan's bid to become a founding member of the AIIB, though said it was welcome to join as an ordinary member if it used an appropriate name.
(Writing by Faith Hung; Editing by Paul Tait)
© Copyright Thomson Reuters 2023. All rights reserved.