China Tops List Of Countries With Highest Forex Reserves - IBT Graphics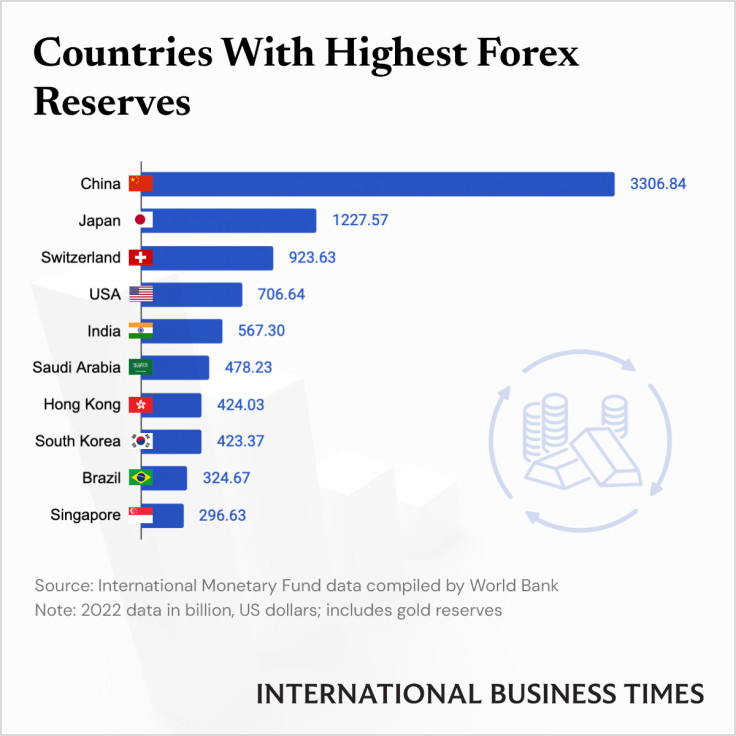 Foreign currency reserves are crucial to the economic well-being of a country. In the absence of sufficient reserves, a nation may not be able to remunerate for essential imports, such as crude oil.
Last year, China retained the largest foreign reserves, including gold, in the world at $3.30 trillion, according to the International Monetary Fund (IMF) analyzed by the World Bank. The other two countries with over a trillion U.S. dollars in reserves last year include Japan and Switzerland.
The average foreign exchange reserves in 122 countries in 2022 were $106.09 billion, with China having the highest value at $3.30 trillion and Burundi the lowest at $0.16 billion. Furthermore, the U.S. dollar was the most common currency in foreign exchange reserves in 2022, followed by the Euro.
The total reserves consist of holdings of monetary gold, special drawing rights, reserves of IMF members held by the IMF, and holdings of foreign exchange under the control of monetary authorities.
© Copyright IBTimes 2023. All rights reserved.