5 Of The World's 10 Busiest Airports Are In The US - IBT Graphics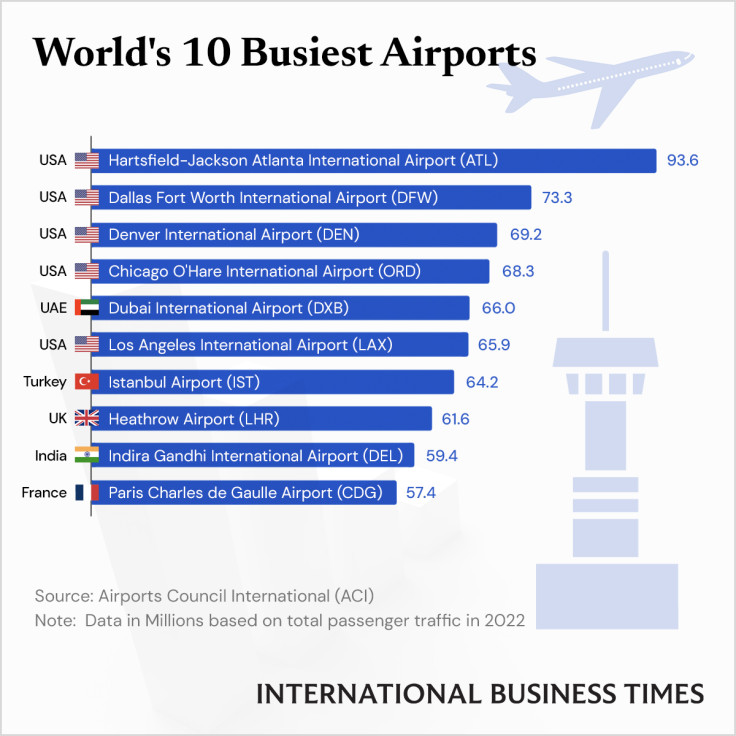 In a spectacular recovery, air travel has returned to pre-pandemic levels, as several of the world's busiest airports saw a significant surge in passenger traffic in 2022.
With the resumption of international travel globally, worldwide passenger traffic reached close to 7 billion in 2022. There was a 53.5% increase from 2021 and a 73.8% recovery from 2019 results, according to data from Airports Council International. The top 10 airports, representing 10% of global passenger traffic in 2022, witnessed a gain of 51.7% from 2021. Half of the world's busiest airports are in the U.S., with their numbers largely driven by domestic travelers.
Hartsfield-Jackson Atlanta International Airport (93.7 million passengers, +23.8%) continues to hold the 2021 ranking at the top position, followed by Dallas Fort Worth Airport (73.4 million passengers) and Denver Airport (DEN, 69.3 million passengers).
While Atlanta's airport saw the highest number of passengers at almost 94 million, London's Heathrow Airport witnessed the highest annual passenger traffic growth at over 217%.
© Copyright IBTimes 2023. All rights reserved.