China's Exports Fall Again, Though More Slowly; But Plunging Imports Fuel Worries About Economy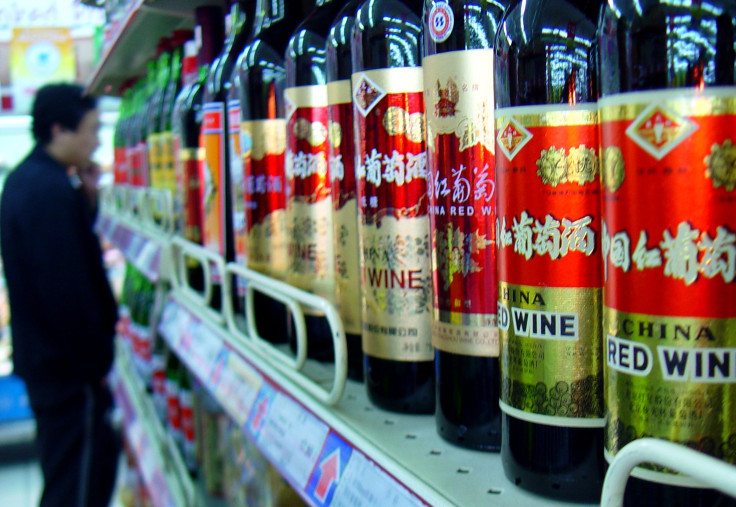 SHANGHAI -- Chinese exports continued to decline in September, though at a slower pace amid some signs of improving foreign demand. However a sharp decline in the value of the nation's imports highlighted continuing concerns about the slowdown in domestic demand in the world's second largest economy.
China's September exports were down 3.7 percent year-on-year in dollar terms, less than the decline of 5.5 percent in August, and significantly better than some predictions. Analysts polled by Reuters, for example, had expected a 6.3 percent fall. But imports fell more than the predicted 15 percent, declining 20.4 percent in dollar terms, after falling 13.8 percent in August, and Asian stock markets were generally lower in Tuesday trading as the figures dragged market sentiment down.
Some economists said the export figures hinted at reviving demand, which would boost China's economy in the coming months. In yuan terms the figures looked more promising, with exports down just 1.1 percent year-on-year, compared to 6.1 percent in August, and 8.9 percent in July. (China's devaluation of its currency in August partly explains the difference between the yuan and dollar figures.) Exports to the U.S. and ASEAN rose sharply last month, by 6.7 percent and 6 percent respectively in dollar terms, while the fall in exports to EU countries slowed significantly too, and some observers noted that Chinese exports outperformed those from neighboring economies such as South Korea and Taiwan.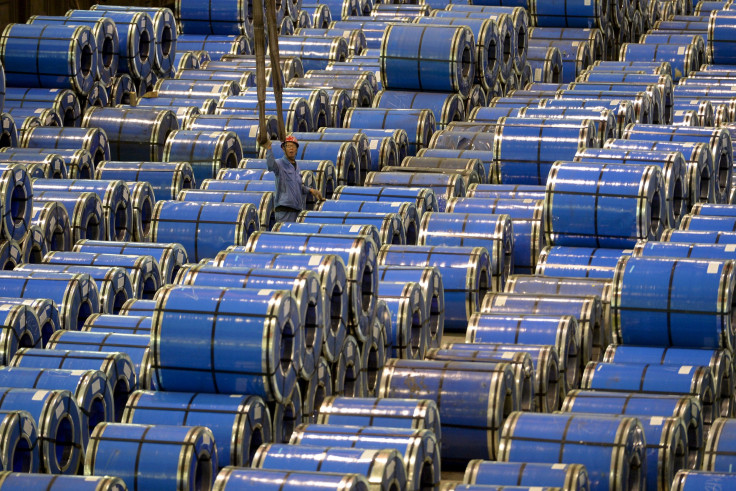 However some analysts said one-off and seasonal factors could be behind the improvement. Li-Gang Liu, Chief Economist for Greater China at ANZ Bank, said in a note to International Business Times Tuesday that the global launch of new smartphone models -- including Apple's iPhone 6S -- in September was likely to have boosted export figures.
And the eleventh straight monthly fall in imports (down 17.7 percent in yuan terms, compared to 14.3 percent in August and 8.1 percent in July) has added to worries about the government's plans to boost domestic spending.
ANZ's Liu noted that the decline in the value of imports had been partly exacerbated by the fall in global commodity prices, but added that it did "not bode well for industrial production and fixed asset investment." (Liu did however note that the fall in imports has boosted China's trade surplus, which stood at $60.3 billion, and will therefore reduce capital outflow pressure.)
Asian stock markets were in generally negative territory following the release of the figures: in Tokyo the Nikkei was down 1.1 percent, while in Hong Kong the Hang Seng Index fell 0.45 percent. In Singapore the Straits Times Index was down 0.82 percent, while South Korea's Kospi Index was trading 0.13 percent lower. In Australia the ASX200 Index was down 0.57 percent. China's main Shanghai Composite Index also fell in morning trading, before rising in the afternoon to close 0.17 percent higher. And in a day marked by volatile trading, the secondary Shenzhen Composite Index and the Nasdaq-like ChiNext Index both finished the day up just over 1 percent.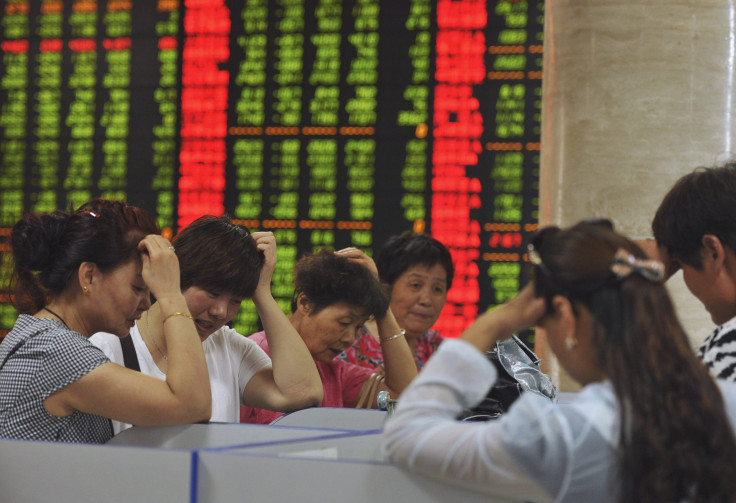 Chinese officials have argued that the country's economy is showing signs of stabilizing following an anxious summer, when the sharp decline in China's exports in July sent shock-waves around the world, particularly after it was followed by an unexpected devaluation of the Chinese currency, the yuan, in August, and by massive falls on China's stock markets. The deputy governor of China's central bank said at the weekend that the correction in the markets and currency was basically complete, and a spokesman for the General Administration of Customs said Tuesday that exports were likely to grow in the final quarter of the year, while predicting that the fall in imports would slow.
However, concern remains ahead of third quarter GDP figures due early next week. Slowing global demand and a plunge in the country's stock markets have led many analysts to predict that GDP growth will be sharply lower than the 7 percent in the first half of the year (already the country's lowest rate since 2009). ANZ Bank's Liu predicted 6.4 percent growth for the third quarter, while analysts at Nomura said this week they expected the figure to reach 6.7 percent.
Nevertheless, Liu also predicted an improvement in the final quarter of the year, amid signs of increased government spending in the past month. And there are hopes in China that a top-level government meeting later this month, which will plan economic policy for the next five years, will unveil further stimulus measures.
However, in a sign that the government is not likely to roll out a massive stimulus on the scale of 2009, during the global financial crisis, the country's finance minister Lou Jiwei said recently that "overreliance on government investment and real estate" was not sustainable -- and that "China needs structural transformation and a change in the development mode and a properly slower growth is a sound process."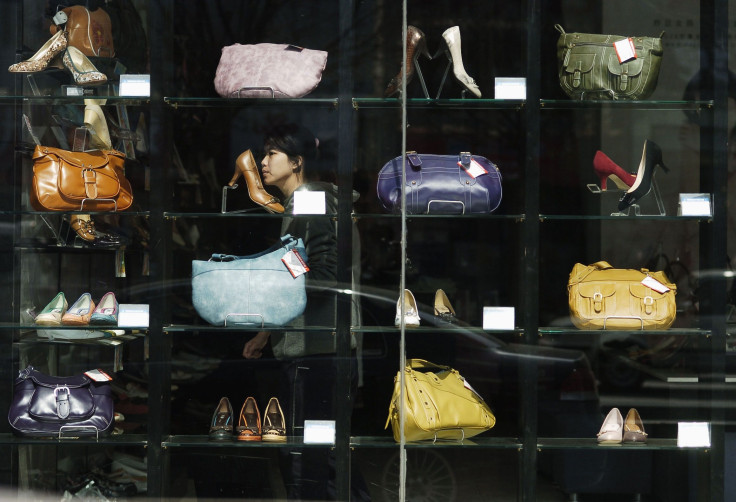 The Chinese government is hoping that domestic consumption -- one of the few bright spots in the economy this year -- will help compensate for the fall in export demand. However, an official survey of consumer confidence in the nation's financial capital Shanghai showed slightly weakening sentiment in the third quarter -- though the index remained in positive territory, and willingness to buy real estate rose slightly after a number of government measures made it easier to buy property.
Meanwhile figures from China's Ministry of Commerce on Monday showed evidence of slowing growth in foreign direct investment (FDI), with the number of new companies wanting to invest up 5.2 percent year-on-year, compared to 10.1 percent for the first nine months of the year. However the overall FDI figure for the year remains up 9.2 percent, and Asian Development Bank economist Zhuang Jian said that despite short-term fluctuations, inflows are likely to stay steady over the long run, according to the Global Times.
China became the world's largest recipient of capital for the first time in 2014, and has pledged to open more sectors of its economy to foreign investment in the coming years, following complaints from foreign businesses that it has been slow to dismantle restrictions. Analysts told IBT last week that the approval of the U.S. government-backed Trans-Pacific Partnership would add to pressure on the Chinese government to continue economic reform and opening its economy.
FOR FREE to continue reading
✔️ Unlock the full content of International Business Times UK for free
offer available for a limited time only
✔️ Easily manage your Newsletters subscriptions and save your favourite articles
✔️ No payment method required
Already have an account?
Log in
© Copyright IBTimes 2023. All rights reserved.