China's One-Child Policy Relaxed: 10 Million More Babies In 5 Years, $790 Billions More Spent On Them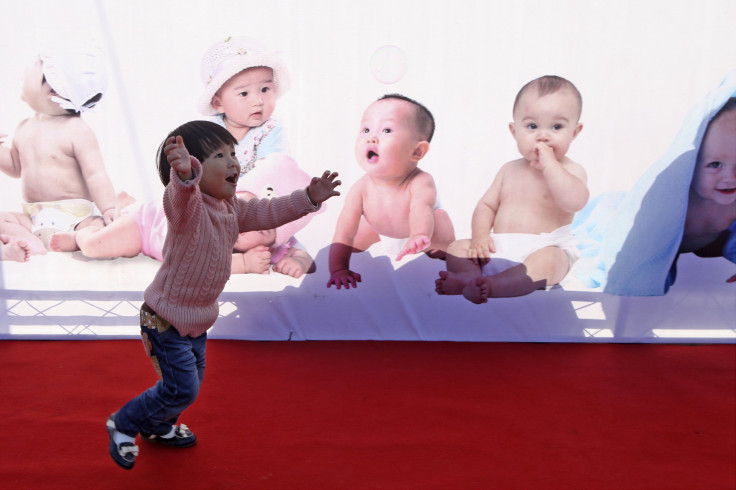 China will have an estimated 2 million to 3 million more babies each year, thanks to the latest relaxation of the country's long-standing one-child policy. And that means a lot of extra spending by doting parents -- good news for Beijing's objective to shift to a consumption-driven economy.
One of the biggest reforms to come out of the recent Third Plenum meeting is that families are allowed a second child if at least one of the parents is an only child. Currently, only families with two only-child parents are allowed to have two babies.
Merrill Lynch estimated that in urban China, more than half of the families with women of childbearing age will qualify to have another baby, and China can expect 2 million to 3 million extra births a year, with more in the first few years, according to James Liang, a Peking University economics professor, the Wall Street Journal reported on Friday. That's twice the total number of annual births in Japan, and half the total number in the U.S.
The so-called baby boomlet, while not enough to alleviate China's problems, including a shrinking workforce and strained pension and health care systems in the years ahead, will likely be a nice boost to the Chinese economy.
According to a 2005 survey from the Shanghai Social Science Academy, it costs 480,000 yuan ($79,000) to raise a child from birth to college, including costs of food, education and health care. While the costs have increased not insignificantly, that number can serve as a conservative estimate. If China adds an extra 10 million children in the next five years, the cost of raising them would be at least $790 billion in additional spending, by the Wall Street Journal's calculation.
Companies in industries like diaper manufacturing and baby formula are already benefiting from investors who expect their stocks to go up. Less immediately than diapers, a second baby may lead to a bigger family car and a bigger home, as well as driving up demand for insurance and will preparation.
"Expectations of future demand will lead to more investment in many industries now," Liang said.
And the families who qualify for a second child are likely to consider their children better investments than almost anything else.
"I'd rather have another child than buy another apartment," said Donna Wan, whose second child is due in two months, according to the Wall Street Journal. "Although we don't expect our children to support us financially when we are old, I think it is a great joy of life if we can raise children to be useful to the society."
© Copyright IBTimes 2023. All rights reserved.