China's Property Market Outlook 2014: Home Price Growth To Slow To 5% - BofA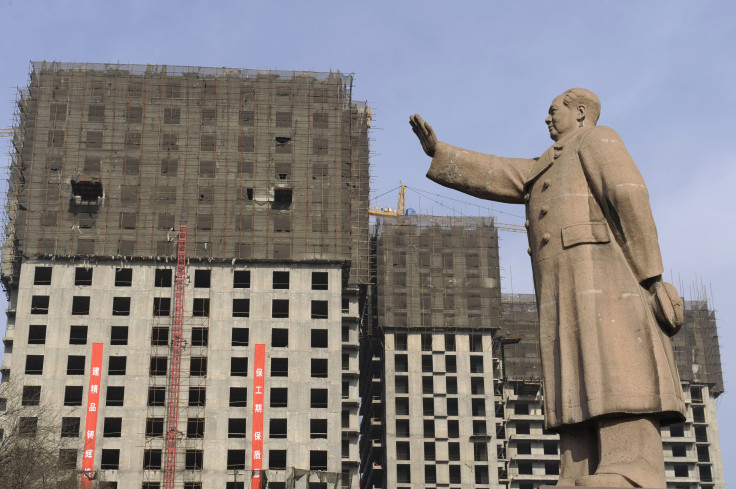 China's red-hot property market, while still strong, is expected to moderate in 2014.
Because of stringent tightening measures taken in 2011-12 and the burst of pent-up demand in 2013, home sales and home prices grew at their fastest paces in 2013 since 2009.
"The previous government led by the former Premier Wen Jiabao rushed out tightening measures right before it left office in March 2013, but the new government decided not to implement those measures, partially contributing to the release of pent-up demand," economists led by Ting Lu at Bank of America Merrill Lynch said in a note.
Bank of America Merrill Lynch expects national average new home prices to have risen 9.5 percent in 2013. For 2014, however, the pace will moderate to just 5.0 percent. This is mainly due to a natural tapering of pent-up demand and increased new home supply as a result of rising land sales and improved cash position of developers.
Residential land supply jumped 28.4 percent percent year-over-year in the first three quarters of 2013 after contracting by 18.5 percent in 2012. Bank of America Merrill Lynch expects growth of 28.0 percent for the whole year of 2013.
China's leaders have been walking a fine line regarding the real estate market. While rapid price growth is putting home ownership farther out of reach for most Chinese and fueling social discontent, the government doesn't want to cool the market too dramatically. The property sector accounts for about 15 percent of gross domestic product, and heavily indebted local governments rely on land sales to fund costly infrastructure projects.
According to the National Bureau of Statistics, national new home sales, measured by gross floor area, surged 20.5 percent year-over-year in the first 11 months in 2013, the fastest pace since 2009. By November 2013, the NBS' national average sale prices of new homes rose by 9.3 percent year-over-year and Soufun's 100-city average home price went up by 11.0 percent during the same period.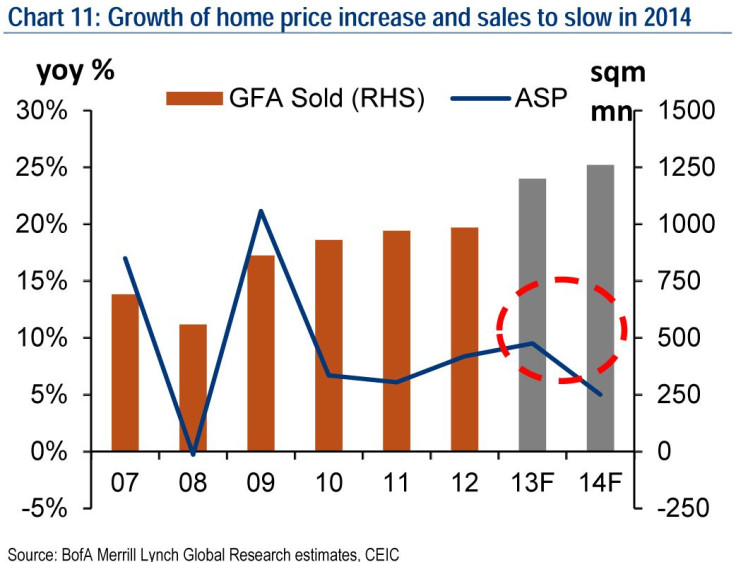 Unlike in previous years, the pace of home price increase greatly diverged across China, with home prices in Tier-1 cities like Beijing and Shanghai surging at 23 percent year-over-year and home prices in some low-tier cities like Wenzhou even falling.
This year is likely to be another period of differentiation, with home prices in Tier-1 cities rising faster than the national average and Tier-3/4 cities falling behind, Lu predicted.
"Though the Chinese government publicly vows to strictly control the size of the big cities with its special Hukou system, China's political structure will unavoidably concentrate national resources in a selected few big cities to which people struggle to relocate, so home prices in those top-tier cities, and to some extent in most of those provincial capitals, likely will continue gaining," Lu said. "By contrast, home prices in some lower tier cities with falling population could face much pressure."
Property fixed-asset investment growth has been relatively stable at around 20 percent year-over-year in 2013, roughly in line with overall FAI growth. In 2014, Lu expects property FAI growth to remain around 20 percent and home starts to hit 1,624 million square meters, or 13 percent growth.
Finally, introduction of the two-child policy and rural land reforms are likely to boost housing demand. Bank of America Merrill Lynch's property team estimates that the two-child policy will increase annual housing demand by around 62 million square meters, in addition to the 932 million square meters of rigid demand estimated by the team.
© Copyright IBTimes 2023. All rights reserved.