China's State-Backed Plane Maker Delivers Nation's First Indigenous Aircraft To Chengdu Airlines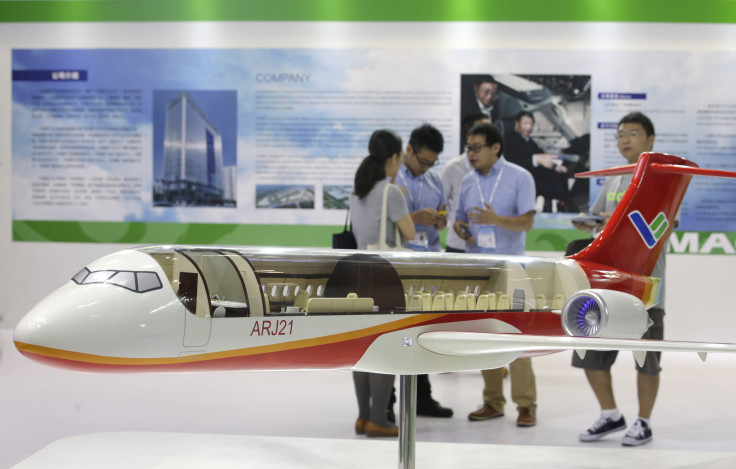 Chinese plane maker Commercial Aircraft Corp of China (Comac) delivered its first indigenously built commercial jet ARJ21 to domestic carrier Chengdu Airlines, according to Chinese media reports. The move is a key step in the country's plan to become a major aircraft manufacturer.
The aircraft, dubbed the "Flying Phoenix," will enter service after three months of trial operations, Comac reportedly said, in a statement. The ARJ21 has little hope of breaking out of its home market amid stiff competition in a regional-jet market dominated by Canada's Bombardier and Brazil's Embraer, the Wall Street Journal reported, citing industry experts.
"Internationalizing the ARJ21 and the C919 isn't realistic at this point," Gao Yuanyang, an associate professor at Beihang University who studies China's aviation industry, told the Journal. "Comac must first focus on the domestic market and gain acceptance from airlines and passengers, in terms of performance, maintenance and comfort."
China is also separately developing a large passenger aircraft, called C919, which was unveiled at a ceremony in Shanghai last week. According to state media, the C919 will undergo ground tests before making its maiden flight next year.
Sunday's delivery marks the first of more than 300 orders for the ARJ21, most of them placed by Chinese airlines whose aircraft purchases are controlled by the government.
The ARJ21 -- short for Advance Regional Jet for the 21st century according to the manufacturer's website -- is a 90-seater, twin-engine jet with a range of about 1,400 miles. The plane, originally set to debut in 2006, was pushed back several times due to production setbacks, according to the Journal. The plane has been cleared by China's aviation watchdog but is yet to receive U.S. and European certification.
Chengdu Airlines has ordered five more ARJ21s to be delivered by the end of 2016 and plans to operate them on busy routes linking the city of Chengdu to Shanghai and Qingdao, according to reports.
The ARJ21 is China's first attempt at building commercial aircraft after Beijing scrapped the Y-10 project in the early 1980s. While the current list price of the ARJ21 wasn't immediately clear, Chinese aerospace officials have reportedly given the ARJ21's list price as $30.5 million, cheaper compared to many of its rivals.
© Copyright IBTimes 2023. All rights reserved.