China's World War II Victory Parade Highlights Xi's Power, Wider Tensions [PHOTOS]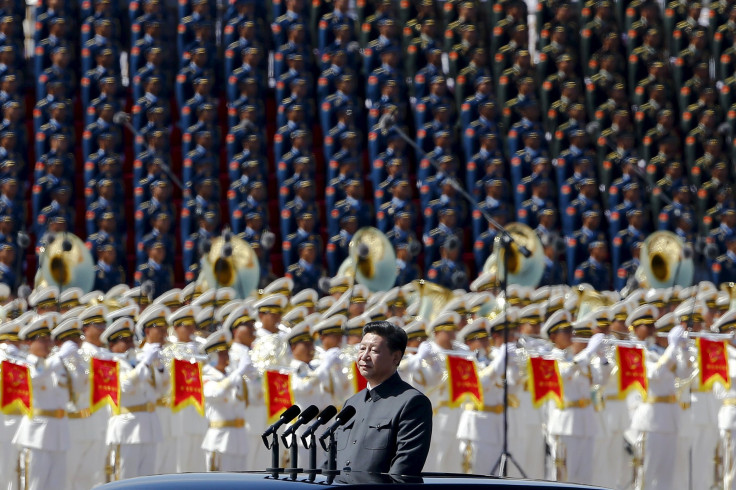 SHANGHAI -- China showcased its military strength in a huge parade in Beijing's Tiananmen Square Thursday, to mark the 70th anniversary of the end of its war with Japan in 1945. The event, billed as a celebration of victory in the "anti-Fascist" war, was attended by Russian President Vladimir Putin and U.N. Secretary General Ban Ki-moon, as well as leaders of South Korea, Pakistan and South Africa.
However controversy over the event, which some critics said was designed to boost Chinese President Xi Jinping's status domestically, and to showcase China's increasingly assertive international role, prevented many leaders of World War II Allied Powers from attending -- while Japan itself refused an invitation to attend, highlighting continuing tension between the two former foes.
Some 12,000 Chinese troops took part in the 70-minute parade, displaying some of China's latest weaponry, including intercontinental ballistic missiles capable of delivering a nuclear strike, and China's latest fighters and bombers, which performed a series of fly-pasts.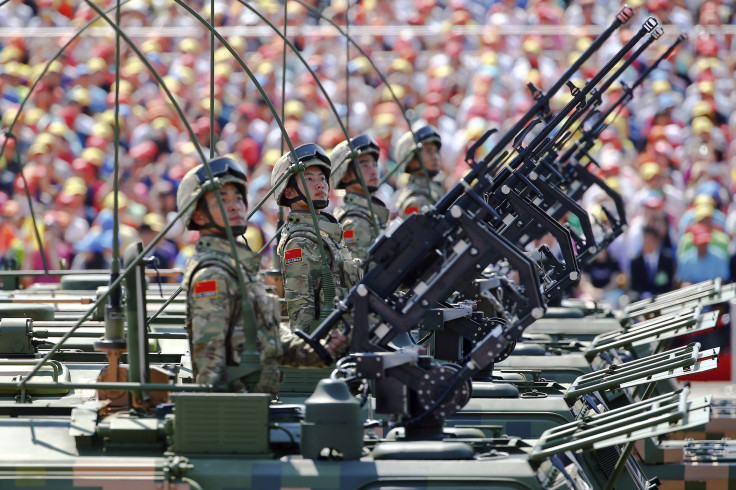 Xi presided over the parade reviewing troops and -- in keeping with Communist tradition at such events -- wearing a somber gray Mao-suit drove in an open-topped, Chinese-made Red Flag Limousine along Beijing's Chang'an Avenue, periodically calling out "Hello comrades" and "Sorry for troubling you, comrades" through a microphone, while the troops chanted "Hello, commander in chief," and "We will serve the people," in response.
Troops from other countries, including Fiji, Vanuatu, Pakistan and several central Asian states, also took part in the parade. With the exception of Russia, which sent the largest contingent, some analysts said these nations' decisions to participate were more linked to contemporary international relations than to any previous wartime role. Even Cambodia, a country devastated by the brutal reign of the Chinese-backed Khmer Rouge in the 1970s, sent a small delegation of troops.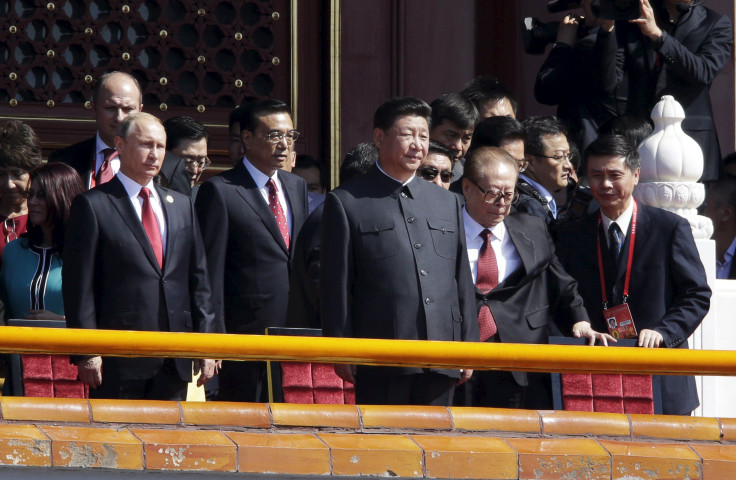 Officials said the event was appropriate since China had never formally commemorated the end of the war. And Chinese scholars have argued that China's role in resisting the Japanese -- and preventing them from threatening the "Middle East and the Soviet Union," as state television put it -- has been underplayed, partly due to ideological reasons.
Xi certainly sought to put that right in his opening speech to the parade, stressing China's sacrifices in the eight-year conflict, from 1937 to 1945, which he said left some 35 million Chinese citizens dead or injured. Of all the battles of the World War II era, "the Chinese People's War of Resistance Against Japanese Aggression started the earliest and lasted the longest," he said.
Xi also stressed that China's "great triumph ended China's national humiliation of suffering successive defeats at the hands of foreign aggressors in modern times," and helped the nation win worldwide respect, setting it on the path to what he called its current "great revival."
However he rejected suggestions that China was becoming more assertive, saying: "We must learn the lessons of history and dedicate ourselves to peace. No matter how much stronger it may become, China will never seek hegemony or expansion. It will never force any other nation to undergo the suffering it experienced in the past."
The official People's Daily newspaper also "forcefully repudiated suggestions that China is showing off its military muscle," according to other Chinese media reports. An official commentary in the paper said the parade would give a "tremendous fillip to the confidence of 1.3 billion" people but argued that it demonstrated China's "determination and capability of safeguarding justice and peace."
Xi also took the opportunity of the parade to announce a reduction in the size of China's military, saying that 300,000 troops would be cut. Nevertheless, not everyone will have been reassured by the presence of new truck-launched missiles, which experts say are capable of hitting Guam, along with bombers capable of striking Australia, and nuclear missiles, which Chinese TV commentators said provided a "a strong shield for protecting national sovereignty and national respect."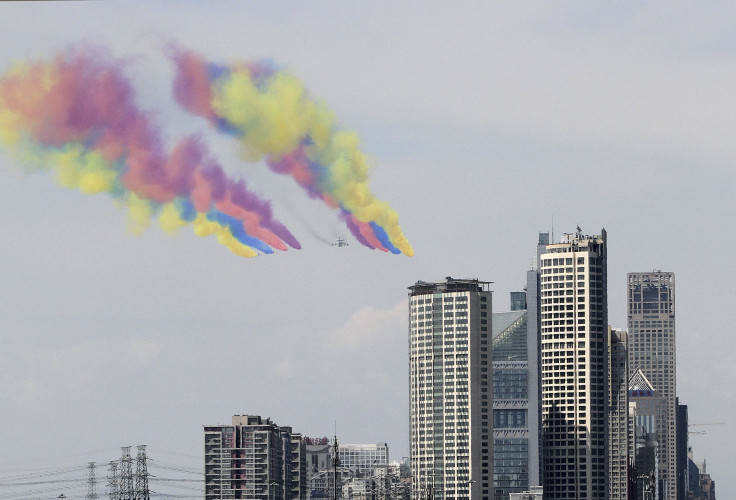 And critics have accused Xi of using the event for his own purposes, to solidify his position as China's most powerful leader of the past two decades.
"The event will boost his status as China's 'new emperor,' and as an international statesman," Willy Lam, a professor at the Chinese University of Hong Kong and author of the book 'Chinese Politics in the Era of Xi Jinping,' told International Business Times.
"The announcement of the military cuts is also a symbol of his control over the military," Lam added, noting that Xi has presided over a major reshuffle of the army's top leadership, in moves designed to root out corruption, and create a more modern fighting force.
At the same time, Lam said, Xi, whose father was a veteran general, has "encouraged respect for the People's Liberation Army -- and a growing militarization of life" in China, with banners in cities encouraging people to respect the military and to volunteer for military service. The government recently published a new defense white paper, stressing the need for a more modern military.
Lam said the cuts announced at the parade had been discussed for a decade, and were aimed at "reducing China's bloated ground forces -- since the border situation with its neighbors is manageable. Instead the authorities plan to boost the navy, which has been understrength. I expect it will see a record expansion in naval personnel of some 50,000 in the next four to five years," Lam said.
Nevertheless the scale of the cuts was "aggressive" and could be "challenging" to implement, according to one military source quoted by the South China Morning Post.
And while the image of Xi shaking his fist and shouting "The people will prevail" at the end of the parade seemed designed to help his populist credentials, continuing official nervousness about public opinion was displayed in the tight security in Beijing, with much of the city center shut since Wednesday, and residents on streets overlooking the parade told not to look out of the window or to take photographs. Controls on media and the Internet were also stepped up -- news organizations and websites are reported to have been told to avoid or block negative comment about the parade until the weekend.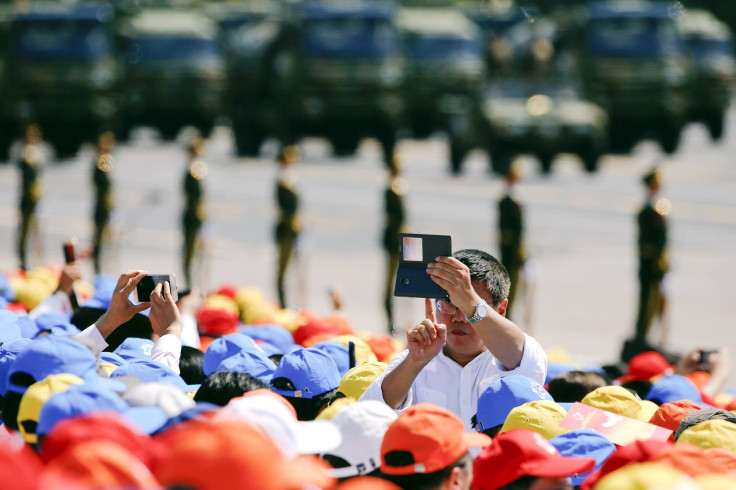 The People's Daily also felt it necessary to reject criticisms that the parade was a waste of money, saying "the parade is prepared under the rule of austerity" and "soldiers live in renovated old barracks and are trained with existing weapons and equipment."
Yet some controversy has continued, especially on China's periphery. In Taiwan, for example, there has been criticism that the Communist Party is taking most of the credit for a fight that actually involved millions of troops of the nationalist KMT party. (The KMT led China until it was defeated by the Communists in a civil war in 1949, when its leaders fled to Taiwan, where the party remains in power.)
China did invite KMT veterans to the parade, though Taiwanese officials refused to take part. But Chinese television emphasized that many of military units taking part in today's parade were the successors of communist guerilla groups, which had played a heroic role in fighting the Japanese, and TV commentary emphasized that "the Chinese Communist Party played a key role in the fight against Japan from start to finish."
And in further signs of continuing historical tensions, Chinese media criticized Japan's failure to attend. With islands in the East China Sea being claimed by both countries and Japanese Prime Minister Shinzo Abe's moves to revise Japan's post-war "pacifist" constitution -- so that it no longer limits Japan's military to "self-defense" operations -- the official Xinhua news agency warned that Japan, which China says has never fully apologized for its wartime actions, was seeking "to gloss over the atrocities" it had committed and "may already be on the dangerous path toward future warfare."
Japan's embassy in China sought to smooth over the tensions, thanking the Chinese people for looking after Japanese orphans who were left in China at the end of the war. On its official Chinese social media account, it reportedly said: "At this crucial moment, we thank again the Chinese people for their tolerance, and we will continue to contribute to further development of the Japan-China relations."
© Copyright IBTimes 2023. All rights reserved.