China Military Expansion And Stock Market Meltdown: Economy Won't Stifle Beijing's Record Defense Spending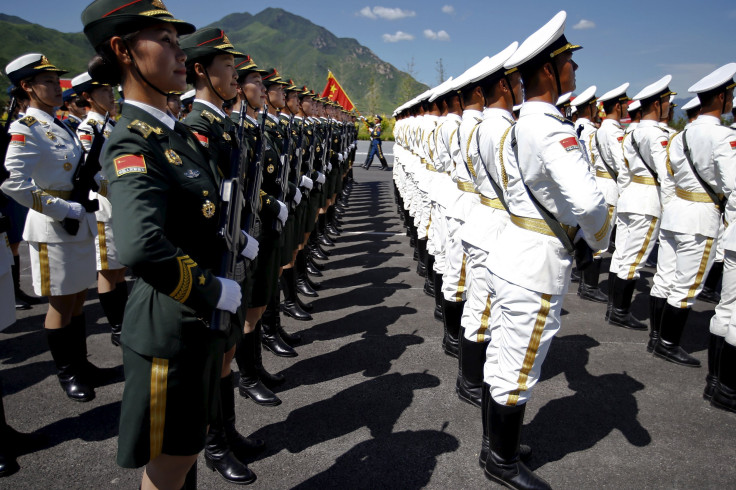 China saw the biggest one-day fall in its stock market in eight years Monday. But it's unlikely the country's weakening economy will affect its record defense spending or its ambitions to expand into the South China Sea, military analysts predicted.
"If the Chinese economy were to collapse, we would probably see a military slowdown, but let's remember that the economy is still growing," said Bonnie Glaser, an expert on Chinese foreign and security policy at the Center for Strategic and International Studies, a think tank in Washington, D.C. "The amount of money they have been putting into the military has been so substantial. The rate at which they have been producing ships for use in the South China Sea, for example, really demonstrates the ramping up of its capabilities and should dispel any belief that they are about to cut back."
While Monday's stock market slide -- which initially knocked more than 1,000 points from the Dow Jones Industrial Average, before a rebound later in the day, and lopped 8.5 percent from the Shanghai Composite Index -- could be seen as indicative of an economy headed for collapse, China has not shown any signs of slowing its military modernization and expansionist plans. China's defense budget now stands at more than $200 billion, placing it behind the United States ($610 billion), but ahead of Russia ($80 billion).
China recently finished the first stage of a project to build fake islands in the South China Sea. The fake islands are designed to give the country a military base to bolster its claims for a number of disputed island chains in the region, while also helping it monitor its military rivals in Asia. In July, China sent more than 100 Chinese ships to the South China Sea for military drills.
Chinese Military Expenditure Over Time | FindTheData
China's 2015 military budget represents an increase of around 10 percent over 2014, and around 2.1 percent of its gross domestic product (GDP), a report by the Stockholm International Peace Research Institute says. While that level of spending represents a significant decrease in GDP defense spending since the mid-1990s, China's economy has grown at such a pace in the last two decades that it's now spending far more on defense than ever before. For example, the country spent a similar percentage of its GDP on defense in 1997, but that figure amounted to only about $7 billion.
China has also grown its defense industry by shipping weapons to other nations. Since the mid-1990s, China has been the world's No. 3 exporter of weapons, the Stockholm International Peace Research Institute says. In all, China supplied major arms to 35 different states between 2010 and 2014. Around 68 percent of those exports went to three countries: Pakistan, Bangladesh and Myanmar. China also exported major arms to 18 African states.
Most recently, Pakistan agreed to buy eight Chinese submarines for around $5 billion. The deal will represent the biggest defense contract ever signed by Beijing. China has also looked at Iran as a major area where it can make future defense deals.
© Copyright IBTimes 2023. All rights reserved.
FOLLOW MORE IBT NEWS ON THE BELOW CHANNELS