Chinese Citizens Hang Out In Bomb Shelters As World Experiences Hottest Week Ever Recorded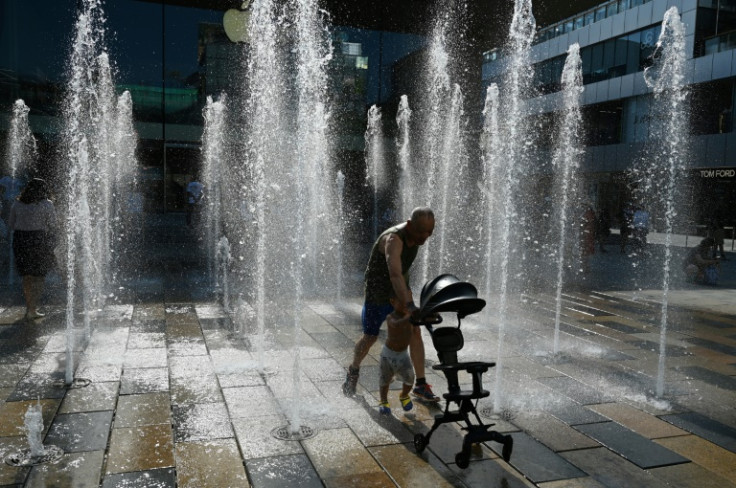 KEY POINTS
Some Chinese cities opened their air raid shelters to keep residents away from extreme heat
Two people in Beijing reportedly died as the Chinese capital experienced nine days of high temperatures
The World Meteorological Organization announced that July 3 to 9 was the hottest week ever recorded
Chinese cities have turned their air raid shelters into public cooling centers for residents seeking respite from the extreme heat as China and most of the world sizzled due to unusually high temperatures.
Chinese cities such as Hangzhou, Wuhan and Shijiazhuang announced opening their air raid shelters to residents looking for relief from the scorching heat, the Associated Press reported last week.
Chongqing, a southwestern Chinese metropolis known for its sweltering summers, has been using its air raid tunnels as public cooling centers for years.
These bomb shelters are now often equipped with seating areas while offering access to water, refreshments, and anti-heat stroke medicine.
The spaces also look like shopping malls after the Chinese authorities outfitted them with Wi-Fi, restaurants, televisions, and air conditioning.
Most air raid shelters were constructed during the Japanese invasion in the 1930s. Some of them were also built when China feared a nuclear attack after its relationship with the then-Soviet Union began to sour in the 1950s.
Meanwhile, China's capital Beijing reported more than nine straight days with temperatures exceeding 35 degrees Celsius (95 degrees Fahrenheit), a streak unseen since 1961, according to the country's National Climate Center.
The oppressive summer heat in Beijing has reportedly killed two people, including a tour guide who collapsed and died of heat stroke while giving a tour of the Summer Palace.
The extreme heat is not only felt in China but also in most parts of the world after the planet recorded the hottest week on record.
Preliminary data from the World Meteorological Organization (WMO) showed record-breaking temperatures from July 3 to 9.
On July 7, the WMO recorded an average global temperature of 17.24 degrees Celsius (63 degrees Fahrenheit), which is 0.3 degrees Celsius above the previous record of 16.94 degrees Celsius (62 degrees Fahrenheit) on Aug. 16, 2016.
This comes after June 2023 became the hottest on record, smashing the previous record of June 2019.
"The exceptional warmth in June and at the start of July occurred at the onset of the development of El Niño, which is expected to further fuel the heat both on land and in the oceans and lead to more extreme temperatures and marine heatwaves," professor Christopher Hewitt, WMO director of climate services, said.
"We are in uncharted territory and we can expect more records to fall as El Niño develops further and these impacts will extend into 2024," he added.
An infographic by Statista showed selected countries that experienced their worst heat records during the last six years.
This year, Thailand and Vietnam suffered from record-high temperatures of 45.4 degrees Celsius (113.7 degrees Fahrenheit) and 44.2 degrees Celsius (111.6 degrees Fahrenheit), respectively.
Some European countries, like the U.K., France, and Spain., experienced temperatures above 40 degrees Celsius (104 degrees Fahrenheit) in previous years.
In 2017, Pakistan suffered from a stifling temperature of 51.3 degrees Celsius (124 degrees Fahrenheit).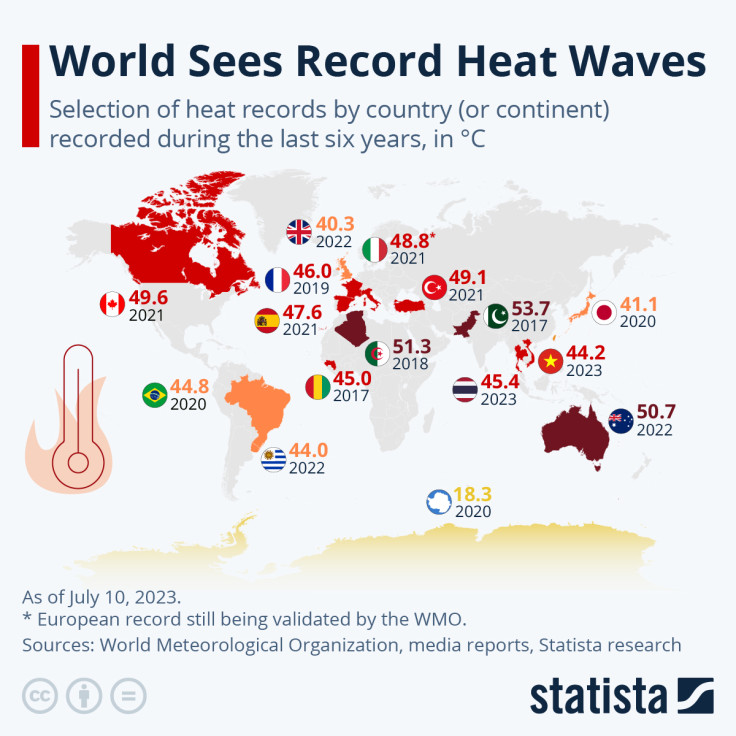 © Copyright IBTimes 2023. All rights reserved.