Chinese Construction Workers In Israel: Plan To Bring 20,000 From China Criticized By Opponents Who Warn Of Labor Exploitation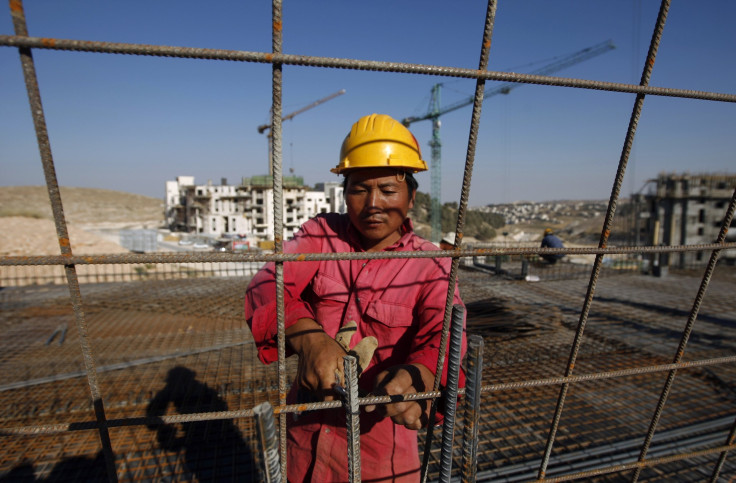 An Israeli plan to bring 20,000 Chinese construction workers to the Middle Eastern state has come under criticism from opponents warning the laborers will hurt the local economy and be susceptible to exploitation. Unlike laborers from other countries with bilateral agreements with Israel, Chinese workers come into Israel through contracts between Israeli and Chinese companies, often paying middlemen to secure their permits.
"Importing workers like this will seriously hurt employment, reduce the wages of poor workers in Israel and perpetuate the technological lag in the construction industry," Zionist Union Knesset member Shelly Yacimovich said, adding also that Chinese workers in Israel have often been exploited by the agencies that arranged their employment, the Israeli newspaper Ha'aretz reported Sunday.
The Israeli construction sector already consists of about 6,000 foreign workers, including about 3,700 from China. The two countries have sought to reach a bilateral labor agreement in the past few years but have disagreed over a number of employment issues. The Chinese government has said it will not allow its workers to build housing in controversial West Bank settlements, where about 600,000 Israelis live, ynetnews reported. Building in the West Bank accounts for some 3 percent of all new Israeli construction.
Israel Overview | FindTheData
Bringing in new workers was urgent, as Israel lacked skilled construction workers to help bring down the cost and expedite the construction of new housing, the Finance Ministry said in a statement. Employing Palestinians from the West Bank was not seen as a viable option, because their permits can be revoked for security reasons. The ministry added that it would ensure the mechanisms were in place to prevent foreign workers from being exploited by their employers.
"In my view, this is a necessary and important step to lower housing prices," Israeli Prime Minister Benjamin Netanyahu said.
Chinese laborers worked at a pace 50 percent faster than that of Israelis, Palestinians or others, the ministry also said.
© Copyright IBTimes 2023. All rights reserved.