Chinese Documentary Shows Army's Readiness For Taiwan Attack; Invasion Could Change Status Quo In Region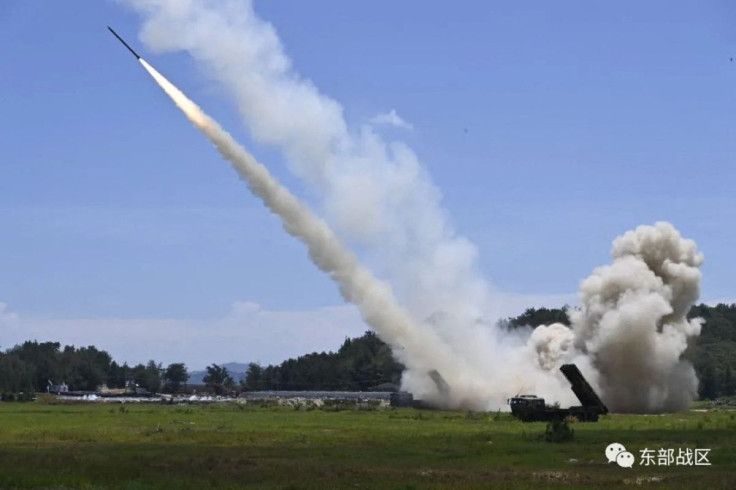 A new documentary released by China appears to have put the country's military prowess on display with soldiers from the People Liberation Army (PLA) pledging to give up their lives in case of a forceful takeover of Taiwan.
The eight-episode documentary series, titled "Zhu Meng" or "Chasing Dreams," was aired on state broadcaster CCTV in honor of the PLA's 96th anniversary.
The docuseries — one of several media tools Beijing has released to stimulate Chinese nationalism and send signals to the rest of the world about its military superiority — showcased military drills and testimonials from PLA soldiers, many of whom pledged to give up their lives in a potential strike against Taiwan.
"If war broke out and the conditions were too difficult to safely remove the naval mines in actual combat, we would use our own bodies to clear a safe pathway for our (landing) forces," Zuo Feng, a frogman with the PLA Navy's minesweeper unit, said in the documentary.
"[My] fighter jet would be the last missile rushing towards the enemy if, in a real battle, I had used up all my ammunition," Li Peng, a pilot from Wang Hai Squadron under the PLA Air Force, said.
The documentary does not amount to military "confidence," but "there is clearly a willingness on the Chinese side to discourage both Taiwan to resist as well as the U.S. to intervene by demonstrating a military superiority and the inevitability of China's success," Frédéric Grare, a senior policy fellow with the Asia Programme at the European Council on Foreign Relations, told the International Business Times.
"In reality, the risk for China would be extremely high and the current propaganda campaign aims at reducing it," he added.
The status of Taiwan, a self-ruled democracy, has long aggravated its tensions with China, which claims the island as its own territory.
China has been pushing for the unification of Taiwan with the Chinese mainland and has vowed to use force if necessary. This has pushed the U.S. to pledge assistance to Taiwan in case of a hostile Chinese takeover, thus fanning tensions between Washington and Beijing.
"Biden is perhaps the only U.S. president who has stated publicly that the U.S. will come in the defense of Taiwan militarily, even if erringly so," Vivek Mishra, a fellow with Observer Research Foundation's Strategic Studies Program, told IBT.
U.S.-Taiwan ties have grown in recent years with Washington supplying weapons and military aid to Taipei while Taiwan remains one of the top chip suppliers to Apple and other American companies and is also important to U.S. foreign policy.
"A forced military integration of a self-governed Taiwan would not go down well with Washington. Such a move will reflect a breach of rules-based order in the region, and increase vulnerability for the U.S. and allies like Japan and Australia," Akash Sahu, an analyst in Indo-Pacific geopolitics and independent policy consultant, said.
While the U.S.-Taiwan ties are being nurtured, Beijing has shown increasing resistance to the U.S.'s interference in Indo-Pacific matters and has urged Washington not to aid Taiwan.
The situation also reflects the U.S. and China grappling for bigger stakes in the region.
"China's rise in power, and influence across the Pacific, has coincided with the Biden administration's efforts to reassure its allies in the Pacific theater. This has led to an unprecedented contestation between the two great powers," Mishra said.
"The message that China wants to send across to Taiwan is that China has all the power and influence to overtake Taiwan militarily. To the U.S., it wants to obviously signal that Washington should not interfere and that such a goal is on the radar for China," he said about the recent documentary.
A Chinese invasion of Taiwan could become a flashpoint for U.S.-China relations, as the balance of power would drastically change in the Indo-Pacific region.
"It would diminish U.S. credibility, and create a psychological shock for many countries around China's periphery," Grare said. "It would potentially cut off the sea lines of communications between these countries and therefore impede mutual and in some cases U.S. support. It would also increase global polarization."
While the U.S. and China fight for their stakes in the region, it is possible that Western allies also put up a consolidated front against China in response to any possible invasion of Taiwan.
"If China goes on to invade Taiwan militarily, it can be predictable to assume that you will have a Western consolidation against China, helped by Japan and Australia playing out both in the economic and strategic domains very openly," Mishra said.
"In many ways, it could be a very long-drawn war between the U.S. and China with a set of Western countries supporting the United States technologically, politically and strategically. More importantly, you could see institutional countering of China's invasion of Taiwan led by some of the leading institutions and leading alliance members of the United States in the Pacific, particularly the Quad, AUKUS and Five Eyes members," he added.
Among other issues plaguing the Indo-Pacific region, the "hotly contested issue" of the South China Sea dispute" is another potential flashpoint that could further increase aggression in the region, Sahu added. This may not only compel the U.S. to increase military involvement in the region but also force other large and growing powers to interfere as well.
"An invasion of Taiwan will inevitably change the status quo and greatly reduce the maneuvering space for Southeast Asian nations, many of which are claimants in the dispute alongside China. As a result, not choosing between the U.S. and China would become close to impossible," Sahu said. "This can translate into possibilities of sustained military conflict in the region with the potential to draw in most large and middle powers of the world."
© Copyright IBTimes 2023. All rights reserved.