John Kerry's Visit To China Overshadowed By Rising Tensions Over South China Sea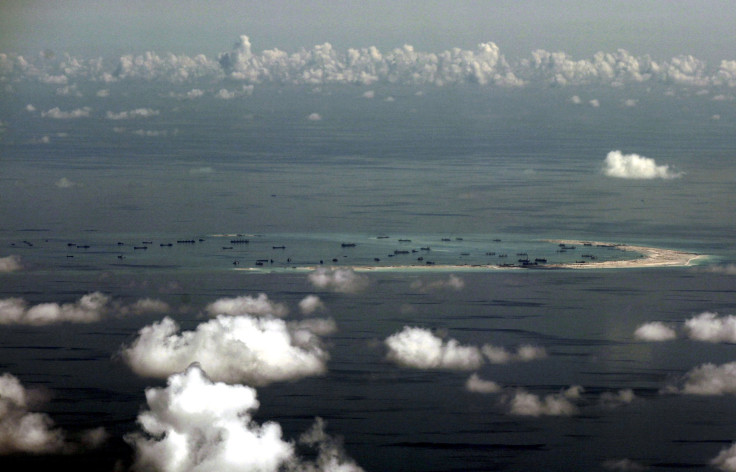 SHANGHAI -- The U.S. Secretary of State John Kerry's visit to Beijing for talks with Chinese leaders this weekend was supposed to be a routine one. However, a developing row over China's ambitions in the South China Sea now looks set to overshadow the planned focus on preparations for President Xi Jinping's trip to the U.S. in September, and for the annual U.S.-China Strategic and Economic Dialogue in June.
Beijing has aroused regional suspicions with its reclamation of some 800 hectares of land to build several artificial islands on what were once submerged reefs in the area of the disputed Spratly Islands -- which China says within its territory, but which are also claimed in part or in whole by several Southeast Asian nations, including the Philippines, Malaysia and Vietnam. Beijing has also built an airstrip on one of them, prompting fears it could use it for military purposes.
Alarmed by what is seen as China's growing assertiveness in the region, U.S. officials said this week that Washington might consider sending ships and planes into waters close to the islands to assert the right to freedom of navigation in what it says are international waters, close to some of the world's busiest shipping lanes, as reported by the Wall Street Journal.
However, China has reasserted its claim to the islands -- and thus the waters around them, too. "Freedom of navigation does not give one country's military aircraft and ships free access to another country's territorial waters and airspace," a representative of China's Foreign Ministry said early in the week, adding that "China will resolutely safeguard its territorial sovereignty."
She reiterated Friday that "China's determination to defend national sovereignty and its legitimate rights and interests is unswerving," and said the country would "adopt stern measures to counter any acts that will pose provocations and threats against China."
Meanwhile, China's ambassador to the U.S., Cui Tiankai, has accused Washington of adopting a "Cold War" mentality, and repeated China's argument that other countries were also making "improvements" on their own islands (according to the U.S.-funded Voice of America, China actually is one of the last countries to build airstrips in the region).
A commentary in China's Global Times newspaper Thursday insisted the reclamation was legitimate because it was on land under de facto Chinese control, and said the U.S. was "cynical" in asserting that China had military intentions for the islands: It said the constructions were for peaceful purpose, "such as offering humanitarian shelter for passing ships in the typhoon season, including U.S. vessels." And a Chinese academic told the paper the facilities had played a part in the search for the missing Malaysia Airlines Flight 370 since last year.
The Global Times said Beijing was seeking to avoid escalation, but added that if the U.S. sent ships close to the islands, it could expect "potent countermeasures" and, potentially, "a showdown" -- and suggested that the U.S. "should keep in mind that China is a major power with nuclear weapons."
Ambassador Cui suggested he thought the dispute would be resolved peacefully, saying that "through negotiations and consultations, the two countries would have "more cooperations than differences in the end." But he also called on the Philippines to abandon plans to open up more of its bases to the U.S. military, in an attempt to deter Beijing from taking an overly assertive role in terms of its ambitions in the region.
And veteran Beijing-based foreign-policy expert Jin Canrong said that if the U.S. sent ships close to the islands, this "would definitely force the People's Liberation Army to seriously consider military action to defend China's territorial sovereignty in the South China Sea," according to the South China Morning Post.
Despite China's tough statements, a senior U.S. State Department official was quoted by Reuters as saying Kerry would leave Beijing "in absolutely no doubt that the United States remains committed to maintaining freedom of navigation and to exercise our legitimate rights as pertaining to over flight and movement on the high seas."
The official said that building on top of a reef or shoal would not enhance China's territorial claims in the region, adding, "You can't build sovereignty."
One U.S. combat ship, the USS Fort Worth, has already conducted exercises close to the region this month. And David Zweig, a chair professor of social science at the Hong Kong University of Science and Technology who specializes in Chinese politics, told International Business Times that the U.S. was "always willing [to take action] when it comes to freedom of the seas. They have to do it in part to calm down the Japanese -- they owe it to their treaty partners to keep the seas open."
He said China's construction of airstrips was "making people a little nervous," and added that Washington's strongly worded response was motivated partly by a perception that "China is being more assertive globally."
However, Zweig said the tough stance taken by the U.S. would certainly make for awkward meetings during Kerry's visit to Beijing -- and some analysts have warned the U.S. could risk being sucked further into China's disputes with other countries in the South China Sea, although some Chinese analysts have said they do not believe the U.S. will really take significant action, and that its comments on the issue are partly an attempt to put pressure on Beijing.
The talks this weekend are also expected to cover the newly established Beijing-backed Asian Infrastructure Investment Bank (AIIB): The U.S. has urged a boycott of the institution, but many of its allies have joined. According to Zweig, the "U.S. got egg all over [its] face over the AIIB -- everyone thinks they've made a huge mistake." And he noted that Washington's preferred alternative, namely, for countries to get involved in its proposed Trans-Pacific Partnership (TPP), is looking to be on increasingly shaky ground, with the U.S. Senate initially voting this week to block President Barack Obama's right to fast-track approval of the accord.
Beijing continues to invite the U.S. to join the AIIB, but Zweig said Washington was "certainly not going to do that." All in all, it looks like negotiators for the two countries could be in for a challenging weekend.
© Copyright IBTimes 2022. All rights reserved.
FOLLOW MORE IBT NEWS ON THE BELOW CHANNELS