Chinese Solar Panel Companies, Faced With Overcapacity, Low Demand And EU Tariffs, Are Facing A Painful Future
China's solar panel manufacturers, after producing at excess capacity and driving global prices down for the last few years, are now facing an uncertain future, at best, as demand plummets and the EU imposes a tariff on their products.
Consider Suntech Power Holdings Co. (NYSE:STP). Founded in 2001, it was one of the first Chinese companies to get into the solar power industry. Since then, it has become the biggest solar panel producer in the world and one of China's most successful companies, according to a report by Knowledge@Wharton, the online business journal of the Wharton School of the University of Pennsylvania. Following Suntech's success, the Chinese government made the solar panel sector a priority and has provided heavy incentives for other companies to follow suit.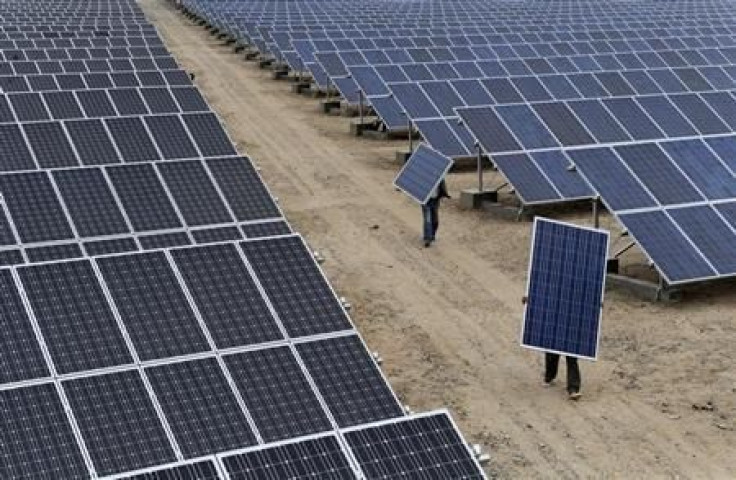 As more Chinese companies entered the industry, global solar panel production skyrocketed, and prices plunged. Chinese production of solar panels quadrupled between 2009 and 2011. Then, demand from major European buyers contracted in the wake of recession.
Chinese manufacturers like Suntech, already at overcapacity, are reeling from the recent collapse of demand. As of 2012, China's 10 largest solar panel companies had a cumulative debt of $27.7 billion, according to a recent research note from Yuanta Financial Holdings (TPE:2885), a Taiwan-based firm. Their average debt ratio -- debt as a percentage of total assets -- was an eye-popping 75.8 percent, Quartz reported.
In March, Suntech declared its main business unit bankrupt.
In many ways, however, overcapacity is not new to China. Historically, China's steel, aluminum and, most recently, coal industries, have all faced similar woes, according to Knowledge@Wharton.
"This is just the latest example of a long list of industries that have run through these peaks and valleys," said Louis Schwartz, president of China Strategies LLC, a China trade and investment consulting firm based in Pittsburgh. "It starts with government incentives. In an incredibly short period, [the industry] develops enormous capacity, helped in large measure by the banking system, and the desire of towns, villages or provinces to foster a new industry for employment purposes. Once they get started, they have a hard time stopping."
In fact, government incentives and subsidies were precisely what the EU objected to. On June 5, an 11.8 percent tariff went into effect on Chinese solar panels. If China and the EU cannot reach an agreement in the next 60 days, the tariff will increase to 47 percent in August, according to the AP. The EU's legal basis for the action is that the Chinese are selling solar panels at less than it costs to produce them, an activity known as "dumping."
China is disputing the charge, but its solar panel producers' numbers suggest a different story. One of its biggest solar producers, Trina Solar Limited (NYSE:TSL), which sells about 48 percent of its panels to Europe, has a current earnings per share of minus $4.50, and its profit margin is a negative 24.89 percent, according to Market Intelligence Center, a business news and insight research center.
At the start of China's solar panel saga, when companies made as much as 33 percent annual profit, it made sense to get into the business. In 2009, China's central government rolled out an incentive called Golden Sun, further sweetening the deal. Under the program, the government paid for half of solar developers' costs, according to Quartz.
In 2011, the feverish expansion of China's solar panel rush hit a wall. There was such an oversupply of panels that prices dropped 40 percent in that year alone, Quartz reported. Now, following Suntech's bankruptcy, China's government is pushing for consolidations, and is cutting back on subsidies and loans. Dozens of small solar panel producers have closed.
Unlike the steel, aluminum and coal industries, the fate of China's solar panel industry, a dominant global player, will shape the future of the global solar-panel industry as well, Quartz reported.
"The lesson learned is that government support needs to be very business-driven and rational," said Jiang Guoxiong, the chairman of Wuxi Industry Development Group Co., an economic-development arm of the city of Wuxi, which is home to Suntech, among other technology-based corporations.
© Copyright IBTimes 2023. All rights reserved.