Chinese Speakers In US Jump 360 Percent In 30 Years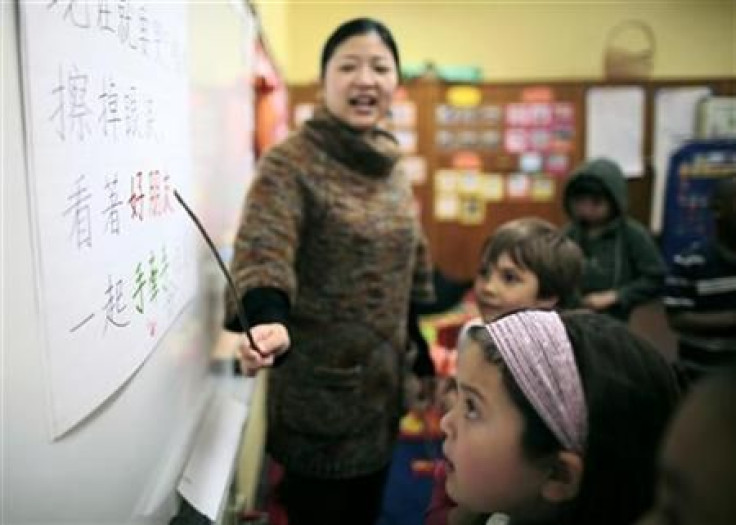 As China continues to be a huge economic and political player on a global scale, the nation's soft power, in the form of cultural exports, has gained traction in America. The Chinese language in particular has seen a rise in the U.S., increasing almost 360 percent over the past three decades, government data revealed.
The US Census Bureau released a report on Tuesday that shows nearly 2.9 million people speaking Chinese in 2011, which is a 360 percent increases from statistics in 1980. Chinese has become the third most spoken language in the country, following English and Spanish as the first and second most spoken languages respectively.
The Census Bureau said that Chinese speakers included more local dialects, in addition to the predominantly spoken Mandarin Chinese. Aside from Chinese languages, several other Asian languages have seen an increase. As of 2011, Tagalog, the national language of the Philippines, Vietnamese, and Korean had all seen increases, each of them adding over a million people that spoke the language and earning a spot as one of the top 10 most commonly spoken languages in the U.S..
The Census Bureau says that the growing number of Chinese speakers stateside is mostly reflective of a shift in immigration trends, with most people now emigrating from Asian countries while immigration numbers from Europe decline.
Still it isn't just immigrants who speak the language in the U.S.; many non-native speakers have begun trying to pick up Chinese, banking on it becoming a valuable skill set for the future. In New York, an elite private school located on Manhattan's Upper East Side, the Dalton School, is just one of many schools in the U.S. that have introduced Mandarin Chinese into the language curriculum. Though the Chinese program is still not the most popular language at the school, students are quickly gaining interest. "It's one of the smaller programs [at the school], but it's growing. Every year, our classes get bigger and bigger," Lori Langer de Ramirez, Dalton's language director, said. "This year, in fact, our Mandarin teachers have huge classes compared to our other languages, it's certainly growing interest."
As the United States population continues to get more diverse, particularly with increased emigration from Asia, the U.S. Census Bureau expects to see this trend to continue in the future. "As the nation continues to be a destination for people from other lands, this pattern of language diversity will also likely continue," Camille Ryan, the author of the Census report, said.
© Copyright IBTimes 2023. All rights reserved.