Chip Shortage Update: Big Production Cuts At Ford, GM Amid Supply Disruptions
Chip shortages continue to create a backlog for the auto industry, and General Motors (GM) and Ford (F) are feeling the pinch as both automakers are making big cuts to their production schedules in North America in the near term.
General Motors said on Thursday that it is extending or adding downtimes at eight plants located in the U.S., Canada, and Mexico for at least two weeks, CNBC reported.
Production cuts will affect its Chevrolet and GMC midsize pickup trucks and vans in Missouri, the Chevrolet Trailblazer in Mexico, and crossover vehicles across North America, as well as its Chevy Silverado 1500 and Sierra 1500 full-size pickup trucks in Indiana and Mexico, which is expected to resume operation on Sept. 13, CNBC said.
In a statement obtained by the news outlet, GM said, "Although the situation remains complex and very fluid, we remain confident in our team's ability to continue finding creative solutions to minimize the impact on our highest-demand and capacity-constrained vehicles."
Ford is also cutting production because of the shortage of semiconductor chips, which will impact its popular F-150 Series pickup trucks, Super Duty pickup trucks, and Expedition SUVs, CNBC also reported.
Production of the F-150 will be suspended through the week of Sept. 6 at Ford's Kansas City, Missouri, plant, which has been down since last week because of the chip disruption, according to the news outlet.
Ford's F-150 plant in Dearborn, Michigan, will reduce from three shifts to one for the second week in a row, while the automaker's Louisville, Kentucky, plant, where the Super Duty trucks and Expedition and Navigator SUVs are built, will cut one shift from Monday through Sept. 13.
Ford and GM have previously acknowledged the challenges of the chip supply shortage. Ford has said the chip disruption will cost it $2.5 billion in earnings this year, while GM said the plant shutdowns will reduce its operating costs by $1.5 billion to $2 billion.
As of Thursday at 11:26 a.m. ET, shares of Ford were trading at $13.18, up 7 cents, or 0.57%, while shares of GM were trading at $49.35, up 24 cents, or 0.48%.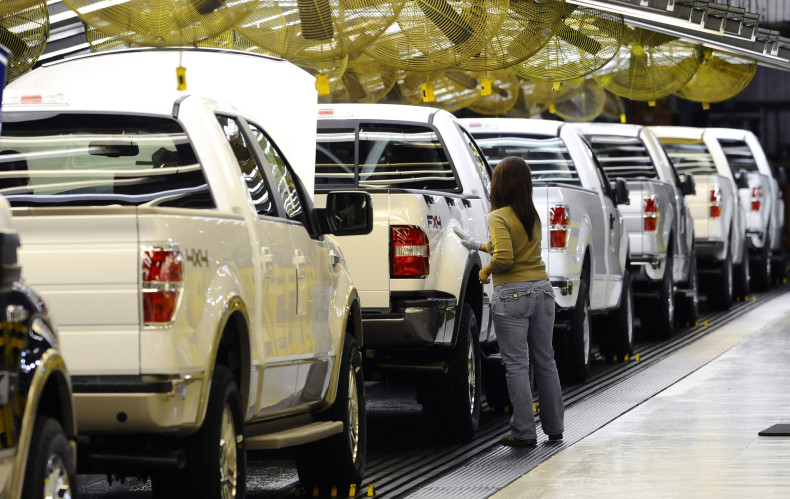 © Copyright IBTimes 2022. All rights reserved.