Electric Pickup Trucks Compared: Ford F-150 Lightning Vs. GMC Hummer EV Vs. Tesla Cybertruck
The electric truck wars heated up on Wednesday evening when Ford (F) unveiled its fully electric F-150 Lightning pickup truck in a live streaming event. The truck, which was first teased by the automaker back in July 2019, will go head-to-head against GM's (GM) GMC Hummer EV and Telsa's (TSLA) Cybertruck – also electrified trucks. Here's a comparison of the three trucks, as they compete with each other for buyers.
Ford's F-150 Lightning pickup truck has the benefits of sitting in the automaker's F-Series line, which has been the best-selling truck in the U.S. for the last 44 years. General Motor's Hummer EV is being sold under the GMC brand as it brings back the Hummer name after it first launched in 1992.
According to Ford, the Lightning truck will deliver 563 horsepower with 775 pounds per foot of torque, which it said was more torque than any F-150 truck it ever produced. The GMC Hummer EV will produce 1,000 horsepower and 11,500 pounds per foot of torque.
Tesla has not published its horsepower and torque ratings at the time of writings.
The Ford electric truck also will have a 2,000-pound payload and 10,000-pound towing capacity. Tesla's Cybertruck has a 7,500 to 14,000-pound towing capacity, depending on the motor configuration.
The Lightning can hit zero to 60 mph in the mid-four second range when equipped with the extended-range battery. Ford said it is targeting a standard battery range of 230 miles and an extended battery range of 300 miles.
The GMC Hummer EV is expected to have 350 miles or more of driving range on a full charge, GM said. The Cybertuck's driving range is anticipated to reach 250 to 500 miles or more, depending on the configuration.
Charge time for the Lightning F-150 is targeted at 54 miles of range in 10 minutes and 15% to 80% in about 41 minutes, Ford said. GM said it is targeting 100 miles of range in 10 minutes of charging for the Hummer EV truck.
The Lightning truck also has a power front truck or frunk with 400 L of volume. It also allows for over-the-air software updates and has Ford's BlueCruise hands-free driving feature. The GMC Hummer has Super Cruise for hands-free driving. Tesla also offers an autopilot driving system.
Starting price on the Lightning F-150 is $39,974, with the mid-series XLT model starting at $52,974, Ford said. GM's GMC Hummer EV has a starting price tag of $112,595, while Tesla's Cybertruck has a price tag of $39,900 to $69,900.
Ford will build the truck at its Rouge facility in Dearborn, Michigan, next year, while the GMC Hummer EV will begin production in 2021 at its Detroit-Hamtramck Assembly Center in Michigan. Tesla is expected to begin production of the Cybertruck in late 2021.
Shares of Ford were trading at $12.39 as of 2:38 p.m. EDT on Thursday, up 28 cents, or 2.31%, while shares of GM were trading at $55.50, down 3 cents, or 0.05% at the same time. Shares of Tesla were trading at $582.13, up $18.67, or 3.31% also at the same time.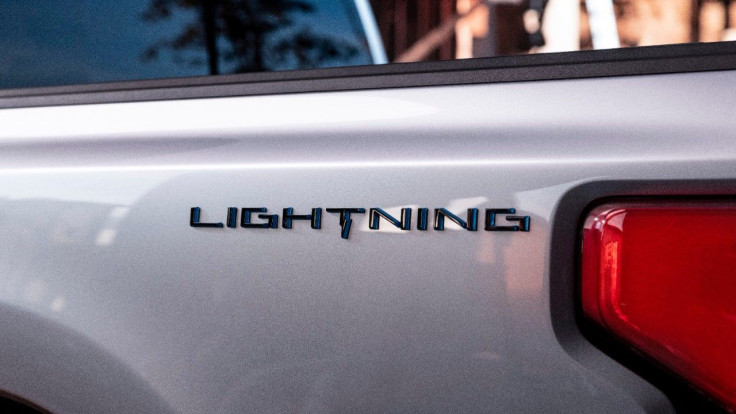 © Copyright IBTimes 2023. All rights reserved.