Chris Bosh Returning For 2016-17 Season? Heat Owner's Letter To Season Ticket-Holders Leaves Door Open For Comeback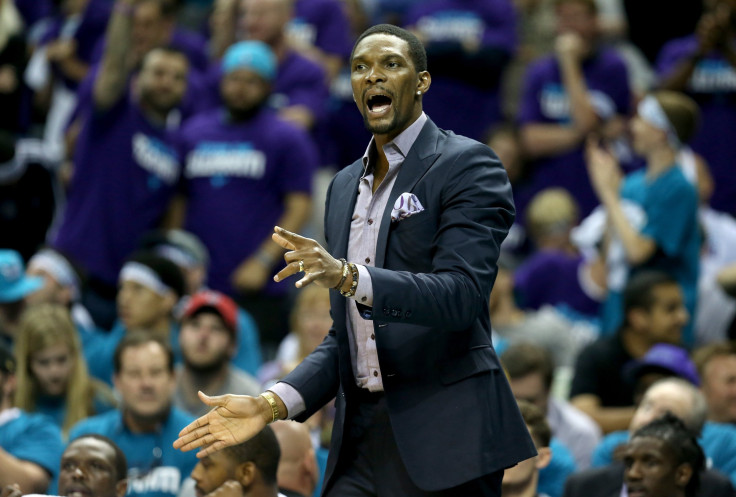 Miami Heat All-Star power forward Chris Bosh has missed the second-half of each of the last two NBA seasons due to blood clots. According to reports last season, the 32-year-old and two-time NBA champion, as well as the NBA Players Association, has gone back and forth with the Heat and their medical staff over whether he can return at all or potentially face retirement.
On Thursday night, however, Heat owner Micky Arison reportedly seemed to hint at Bosh's return for the upcoming 2016-17 season. Arison penned a letter to season ticket-holders and towards the end he listed Bosh as a key veteran returning to the Heat, according to the Florida Sun-Sentinel.
An excerpt of the letter reads: "What won't change is the culture of this organization. The Miami HEAT is a Championship organization. I fully expect this team, from Pat Riley to Head Coach Erik Spoelstra, to our veterans Chris Bosh, Udonis Haslem, Goran Dragic and Josh McRoberts, to our returning young core of Hassan Whiteside, Justise Winslow, Josh Richardson and Tyler Johnson, to the fresh faces joining the HEAT Family to continue our mantra of being the 'hardest working, best conditioned, most professional, unselfish, toughest, meanest, nastiest team in the NBA.' "
By including Bosh in the letter, Arison is clearly attempting to ensure season ticket-holders that Miami will still be a contender in the Eastern Conference despite the loss of franchise leading scorer Dwyane Wade to the Chicago Bulls in free agency last month.
The letter did not explicitly state Bosh will return, but team president Pat Riley told reporters in July the Heat would make a decision either this month or before training camp opens in September.
Back in May, sources told ESPN that the Heat feared Bosh's condition, which has never been publicly named or addressed, may never be cleared by team doctors. That has led to increasing speculation Bosh may be forced to retire.
A blood clot was reportedly discovered in Bosh's lungs at roughly the midway point of the 2014-15 season, only a handful of months after he signed a five-year $118.7 million extension with the Heat. Then last season a new clot was found in his leg and Miami ended Bosh's season once again.
Bosh reportedly wanted to return during Miami's playoff run, but team doctors wouldn't clear him and there are some concerns about blood thinners, which Bosh may have to take to help his condition and could have serious consequences for a contact-sport player.
Bosh has spent the last six seasons in Miami, averaging 18.0 points and 7.3 rebounds while shooting 49.6 percent from the floor. He's made the All-Star team every season with the Heat and, along with Wade and former Miami star LeBron James, helped the franchise appear in four NBA Finals and win two titles.
© Copyright IBTimes 2023. All rights reserved.