Christine O'Donnell Book 'Troublemaker' Not Selling Well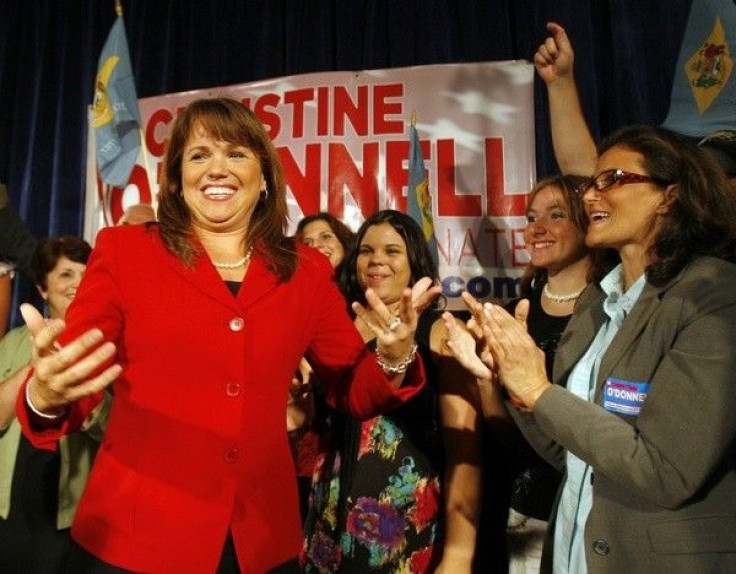 If former Delaware U.S. Senate candidate Christine O'Donnell is trying to create a stir for her new book Troublemaker by walking off the Piers Morgan show and accusing the CNN host of sexism the next day -- it isn't working.
In the first week, sales of O'Donnell's new book are slow, despite the publicity from her set walk-off and ensuing comments.
O'Donnell stormed off Morgan's show on Wednesday after she became upset when he asked for her views on abstinence and gay marriage. In the early hours following her walk out, O'Donnell's new book from St. Martin's press -- Troublemaker: Let's Do What It Takes to Make America Great Again -- was ranked 2,228 on Amazon's bestseller list.
Since then, however, sales have slowed.
On Thursday, O'Donnell said during an interview that her appearance on the Piers Morgan show took a decidedly creepy turn when he asked her about comments she had previously made about sex.
Can you imagine if he was sitting there asking Bill Clinton, you know, 'Do you still hang around with interns? Still like cigars?' she said, reportedly laughing. It was inappropriate.
But while she's still making news headlines, her book, released on Tuesday, isn't selling any better. Friday morning, Troublemaker was ranked 3,105 on Amazon's Bestsellers Rank, a drop from the previous day when news broke that she had walked off Morgan's show.
TROUBLEMAKER SALES SLOW
Readers have given her book a two star out of a possible five star rating in 27 reviews at Amazon.
Christine is merely a self promoting individual who looks attractive, speaks pretty well, but has no real intellect, wrote one reviewer on Amazon.
Since the book, priced at $25.99 in hardcover, was just released, full-week numbers aren't yet available from Nielsen Bookscan, which tracks industry sales at most bookstores. But numbers from inventory at Ingram, the largest wholesaler to bookstores, indicate that O'Donnell's book is barely selling at all.
On Monday, Ingram's four warehouses spread across the country had 925 units in total on hand -- the most being 429 at the company's Pennsylvania warehouse. By Friday morning, almost two days after the publicity, Ingram warehouses still had a total of 895 on hand.
The Ingram warehouse number is typically an indicator of book demand since many independent stores and even some chain stores order initial stock from the company, and also reorder books with high demand from Ingram. But the most demand for O'Donnell's book from one region this week was 11 units from Ingram's Indiana warehouse.
Also, a hardcover book ranked in the number 3,000 range of Amazon bestsellers often sells 100 or fewer copies per day.
It's not from a lack of trying, however. On Thursday, the battle between O'Donnell and Morgan moved from the studio to Twitter, where the two are carrying the controversy back and forth in tweets.
TWITTER WAR OF WORDS
Do you think Christine O'Donnell is going to put a witch's curse on me now? tweeted Morgan.
O'Donnell is tweeting too: I only agreed to go on the Piers Morgan Show because he promised not to hack my cell phone.
That tweet was followed by another: Piers, thanks for the invite. Schedule is already packed, maybe another night. No hard feelings, you cheeky bugger.
The interview began quite amicably with O'Donnell talking about her views on the Tea Party and the debt ceiling. Things turned sour when Morgan began questioning O'Donnell on her position on gay marriage. O'Donnell kept beating about the bush and evading his questions. This prompted Morgan to ask her why she was being so weird about this?
I'm not being weird about this, Piers. I'm not running for office, I'm not promoting a legislative agenda. I'm promoting the policies that I lay out in the book that are mostly fiscal, that are mostly constitutional. That's why I agreed to come on your show. That's what I want to talk about. I'm not being weird; you're being a little rude, O'Donnell replied.
O'DONNELL CALLED MORGAN 'RUDE'
Morgan said that he was being charming and respectful in response to O'Donnell's cry that he was being rude. He disagreed with O'Donnell when she said that he should only talk about the topics she agrees to: the ones in her book.
These issues are in your book, Morgan says. An O'Donnell aide then stood in front of the camera and O'Donnell abruptly ended the interview saying, yeah, OK, I'm being pulled away. We turned down another interview for this.
Where are you going? You're leaving? a baffled Morgan asked.
Trying his best to suppress a chuckle, Morgan then wrapped up the show, saying that the interview had just ended because he had the audacity to ask questions based on stuff that's in this book.
Ms. O'Donnell wasn't happy about me quizzing her views on withcraft (sic) and sex. But really flipped at gay marriage Qs. Ripped mike and fled, Morgan tweeted shortly after the taping.
My first ever walk-out in 25 years of interviews, Morgan continued. I guess viewers can decide if I was 'rude' or not tonight at 9pm ET. #CNN
The former Tea Party candidate garnered widespread media attention for her infamous I'm You campaign ad, where she denied accusations of witchcraft. During a Good Morning America appearance on Tuesday morning to promote her book, Troublemaker, O'Donnell admitted she regretted the ad.
O'Donnell's book was released on Tuesday, and covers her 2010 campaign.
© Copyright IBTimes 2022. All rights reserved.
FOLLOW MORE IBT NEWS ON THE BELOW CHANNELS