Christmas Shopping 2014: Millennials Most Likely To Spend More On Holiday Shopping This Year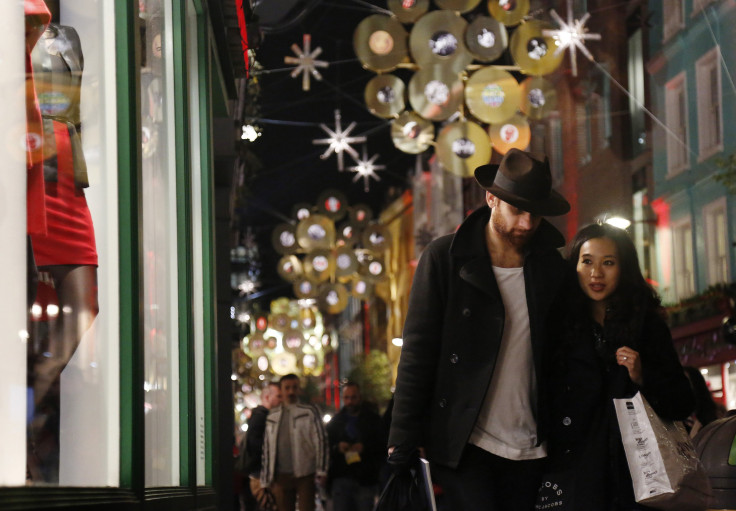 Rachel Gall has a small reason for her big spending this winter, her almost-4-year-old son. "He's at that point in life when he's going to be developing memories, so we're making sure that his Christmas counts more," Gall said.
Gall, who runs the So-Called Millennial blog out of Riverside, California, said she's spent about $300 so far on holiday shopping for her sons, siblings and in-laws. The 30-year-old and her husband are also buying more gifts than last year because they paid off a large loan in October. "We actually are letting ourselves spend a little bit more," she said. "It's like, 'OK, let's just get all the presents that we need to and we want to.'"
Gall is one of 87 million U.S. millennials expected to buck yet another trend this December. While 82 percent of Americans want to spend less this Christmas, millennials comprise the demographic most likely to up their spending this year, according to a recent Bankrate.com report.
"[Millennials] keep throwing us a curve, don't they?" National Foundation for Credit Counseling spokeswoman Gail Cunningham said in a press release. "I hope that these folks have a job and are responsibly paying back their student loan debt and they're not letting the emotion of the holiday season carry them away into a financial disaster zone."
The rise in spending can only partly be attributed to falling gas prices, as one-fifth of the millennials surveyed said they'd be buying more regardless. The Bankrate study found millennials were twice as likely as people 50 and over to say they felt "more comfortable" with their savings now than they did a year ago. The report was based on phone surveys with 1,001 adults in the U.S. last week.
The National Retail Federation determined that the average American celebrating Christmas, Kwanzaa or Hanukkah planned to spend about $596.53 on gifts this year. But people between ages 18 and 24 averaged about $350.56 -- about $25 more than last year. The data came from about 7,500 interviews in October.
This could be linked to youth employment levels, which U.S. Bureau of Labor Statistics' data show are returning to their 2008 prerecession levels. Although the ages don't exactly align -- Bankrate's study defined millennials as young adults between 18 and 29, and the Bureau of Labor Statistics looks at 16- to -24-year-olds -- an increasing number of young people have jobs.
That's part of the reason why Erin Lowry, the 25-year-old founder of BrokeMillennial.com in New York, is purchasing pricier gifts this year. She said she's spent about $600 on gifts for her family, friends and bosses. "I feel like I'm in a place where I can afford it," she said.
Still, Lowry is judicious with her holiday shopping. She plans it weeks ahead, taking on more freelance work, cutting her movie theater trips and earmarking funds for December spending. She also adheres to a budget. "People are assigned dollar numbers," Lowry said. "My parents and my sister typically receive more and more expensive presents than, say, my best friend."
Lowry's friends stick to strict budgets, many of them donating time and creating do-it-yourself presents. They have student loans to pay off, and "I think debt will always impact your ability to spend money on nonessentials," she said.
Julie Roye of Miami said she hasn't exchanged gifts with friends in years. Instead, they throw a holiday dinner party, the 28-year-old behind personal finance blog Millennial Cents said.
But, she is spending more this year. Roye is getting gifts for her husband, mom and brother on whom she's spending about $100, $80 and $60, respectively. "I'm only buying, like, three presents, so I'm buying them nicer things," she said.
Roye keeps her budget in check by keeping her Christmas list short, and nobody's getting added. The sole exception? Babies. "I would never buy my friends a present, but all of a sudden they have a kid, and now I'm buying their kid a present," she said.
© Copyright IBTimes 2022. All rights reserved.
FOLLOW MORE IBT NEWS ON THE BELOW CHANNELS