Millennial Trends 2014: Wedding Industry Sees Shift To Older Customers As Fewer Young People Marry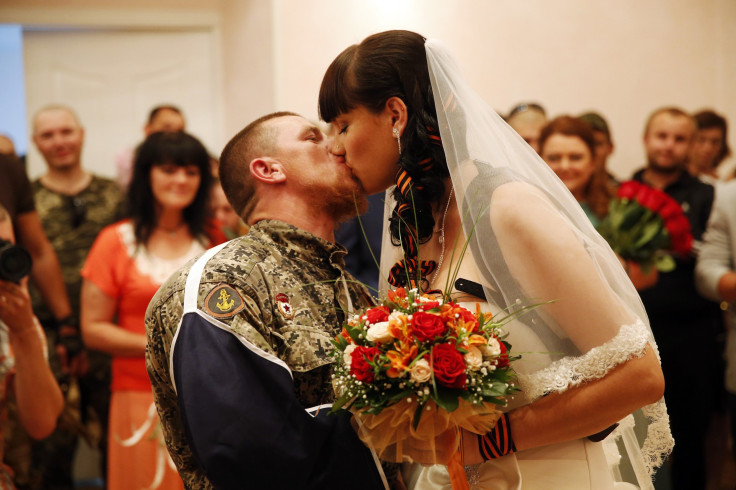 Hundreds of thousands of caterers, graphic designers and others who work in the wedding business are waiting to see what will happen as the U.S. recovers from its recession and deals with a new generation that doesn't care about husband-wife labels. For decades, the $55 billion industry has hinged on Americans young and in love, but millennials are changing that.
Only three in 10 young people have been married, according to U.S. Census data released Thursday. About 66 percent of Americans aged 18 to 34 have not married -- an increase of 13.4 percentage points from 2000 – and if they never do, the economy could take a hit.
Event planners are seeing a general shift in the client demographic, but so far, there's no significant loss in revenue, said David Wood, president of the Association of Bridal Consultants in New Milford, Conn. "We find they certainly are getting married," he said. "They're just getting married later."
Census data from 2010 shows the average age at which people are first married has been climbing since the 1950s. Now, most men are about 29 at their first wedding, and most women are about 27. Fifty years ago, they were 23 and 21, respectively.
People simply aren't rushing to tie the knot. "We've certainly lost, for better or worse, the taboo of living together," Wood said. "A lot of it is driven by focus on career and basic economics."
Marriage numbers overall are slowly declining, according to the Centers for Disease Control and Prevention. In 2000, the marriage rate was 8.2 per 1,000 people. By 2005 it had fallen to 7.6, and in 2011 it was 6.8. Clark County, home to Las Vegas' world-famous wedding industry, issued about 6,000 fewer marriage licenses in 2013 than 2012. Cook County, where brides flock for Chicago weddings, issued about 1,300 fewer.
The trend tends to vary based on region, said Saundra Hadley, owner of Planning Forever Events in Evansville, Ind. In the Midwest, many of her customers are 30 and above. They've gone to college, worked for a few years and returned to their hometowns for family ceremonies.
Because they're more established, Hadley said, older customers tend to be decisive. "When people wait a long time, they're going to know exactly what they want, " she said. "The difference is that they're having smaller weddings, but still upgrading on food and decor and potentially gifts."
The average wedding in 2013 cost $29,858 -- the highest sum theknot.com has ever found in its annual study. Older couples tend to share the cost of the wedding instead of asking parents to pay, which Hadley actually cites as the overarching reason she predicts millennials won't stay single forever.
"They're going to still get married," she said. "At some point, their parents are going to go, 'What are you doing?'"
© Copyright IBTimes 2023. All rights reserved.