Chuck Hagel For Secretary Of Defense: Opponents Focus On Baggage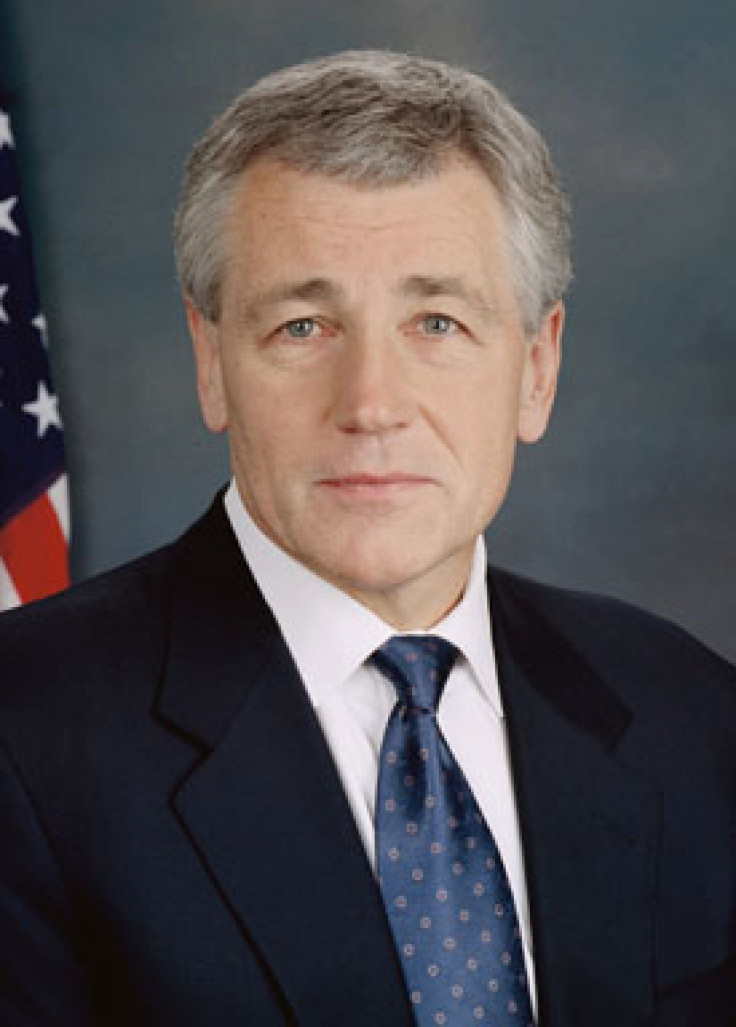 President Barack Obama nominated former Sen. Chuck Hagel, a Republican, to be the secretary of defense, on Monday. However, the bipartisan gesture isn't being so warmly received -- and paradoxically, many Republicans are not pleased that their own party member could get the nod.
Having Hagel, a Vietnam veteran, in Obama's cabinet would be on the face of it a plus for the GOP, which badly lost the 2012 presidential election and also lost some seats in Congress. A Hagel addition to the Democratic administration would be a step toward closing the partisan gap in Washington, which grew even wider during the fiscal cliff talks last month. And it would continue in the tradition of Obama's openness toward Republicans at the Pentagon: The predecessor of outgoing Defense Secretary Leon Panetta was Robert Gates, a holdover from the Bush administration.
But confirmation for Hagel to succeed current Defense Secretary Leon Panetta could result in a politically charged fight on the Senate floor, where there have been promises to mount opposition.
Late last year, when Hagel's name began circulating as a possible candidate for Defense, both Republicans and few Democrats voiced concerns.
Republicans took issue with Hagel over controversial comments he made in 2007, which some believe were anti-Jewish. They are also concerned that the former senator opposed sanctions against Iran and wasn't in favor of designating that country's Revolutionary Guards as a terrorist group. The GOP is also displeased that Hagel opposed former President George W. Bush's war in Iraq (although he voted to authorize it).
And there also are some Democrats who take issue with Hagel on some of the same points.
Here's what experts and enemies have to say about Hagel:
Mackenzie Eaglen, resident fellow for national security at the American Enterprise Institute: "It seems President Obama is prepared to expend time, effort and some political capital in nominating Hagel as Sec Def. In the end, however, I expect the president will get his way. The president seems to think he needs a political heavyweight to run the Pentagon and wage budget and other battles in his second term. That portends bad news for the military, already hampered by budget cuts since Obama took office and the specter of sequestration still overhanging the force. But for liberals and libertarians, this nomination may mean good news in that it will achieve one of President Obama's stated goals to reduce U.S. military activity around the world. When there are still 90,000 U.S. forces fighting in Afghanistan and many more U.S. civilians and contractors, it is not a signal of strength to have the next secretary of defense barely confirmed by the U.S. Senate. But it seems up to one-quarter of members may vote against him. That may weaken Hagel once he is in the job, but at the end of the day the executive branch is in charge on foreign policy while Congress tries to keep up."
Richard C. Bush III, senior fellow and foreign policy expert at the Brookings Institution: "This is a smart nomination. It's good to have a Republican in the Obama cabinet, particularly one with a strong national security background. The fact that he was a decorated Vietnam veteran doesn't hurt either."
Bush points out that Hagel's national security background is a plus. So is his skepticism towards committing American troops to combat. Among the drawbacks for Hagel, Bush said, are "allegations that he is problematic on Israel and Iran. The greatest difficulties may come from those who are strong supporters of Israel, but that's not certain. The confirmation process allows for controversies to be dealt with."
Gary J. Schmitt, co-director of the Marilyn Ware Center for Security Studies: "Chuck Hagel is the perfect choice for secretary of defense for a president who would like nothing better than to lessen American leadership abroad and is willing to see the defense budget cut once again in order to avoid any cuts in domestic or entitlement spending. When it comes to most security issues, past and present, Chuck Hagel does bring a bipartisan color to the post of secretary of defense. He will appeal both to the far left and the libertarian right when it comes to exercise of American power."
Senate Republicans: South Carolina Sen. Lindsey Graham told CNN's State of the Union on Sunday, "Chuck Hagel, if confirmed to be secretary of defense, would be the most antagonistic secretary of defense toward the state of Israel in our nation's history. Not only has he said you should directly negotiate with Iran, sanctions won't work, that Israel must negotiate with Hamas, an organization, terrorist group that lobs thousands of rockets into Israel. He also was one of 12 senators who refused to sign a letter to the European Union trying to designate Hezbollah as a terrorist organization. He has long severed his ties with the Republican Party. This is an in-your-face nomination by the president to all of us who are supportive of Israel. I don't know what his management experience is regarding the Pentagon, little, if any, so I think it's an incredibly controversial choice."
Opposition from pro-Israel groups: The Jewish Week reported Sunday that American Jewish Committee chapters are preparing a letter to be sent to senators urging them to ask Obama to nominate someone else as defense secretary. The committee is particularly concerned about "Hagel's postures on Iran and terrorist groups but also his resistance to joining in letters and non-binding resolutions favored by Jewish and pro-Israel groups."
But other Jewish groups like the progressive-leaning J Street are supporting the Hagel nomination. J Street has released an article titled "The Facts on Chuck Hagel," stating specifically it supports him and is "defending him against an outrageous smear campaign based on a distorted view of his record."
Gay rights advocates: In 1998, Hagel make controversial remarks about James Hormel, a nominee for U.S. ambassador who was openly gay. Hagel referred to Hormel as an "openly, aggressively gay" man. Hagel's apology for the statement came in late December, 14 years after the fact. "I apologize to Ambassador Hormel and any LGBT (lesbian, gay, bisexual, transgender) Americans who may question my commitment to their civil rights. I am fully supportive of 'open service' and committed to LGBT military families."
© Copyright IBTimes 2023. All rights reserved.