Chuck Hagel's Confirmation Hearing Highlights: Butting Heads With McCain Over Iraq Surge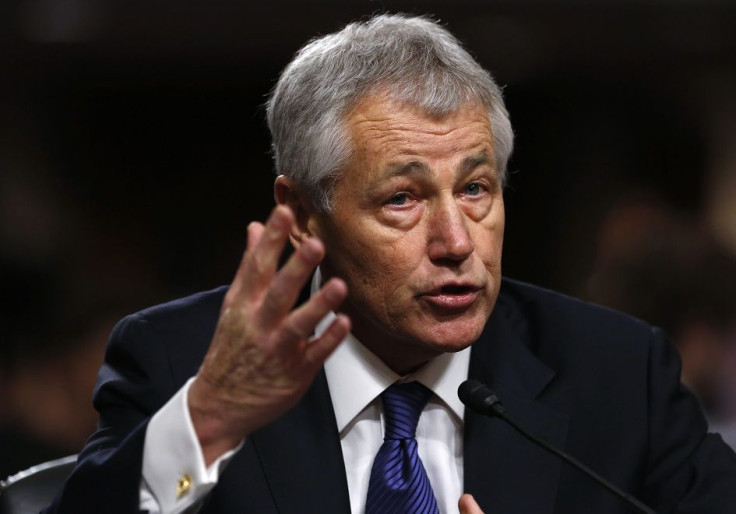 Defense Secretary nominee Chuck Hagel, a former Republican senator from Nebraska and Vietnam veteran, appeared Thursday before the Senate's Armed Forces Committee for a confirmation hearing on his nomination as secretary of defense. If confirmed, he will be the first former enlisted man and first veteran to serve in the position.
Hagel's appointment would come at a time when the Department of Defense is facing budget cuts and the government is running on continuing resolutions rather than an actual budget. Though undoubtedly qualified for the job, Hagel has been a controversial choice because of past comments he made, which struck a nerve with some of his former Senate colleagues now seeking clarification.
Here are some of the highlights from the hearing:
'No One Individual Vote, Quote Or Statement Defines Me'
Hagel set the tone in his opening remarks by defending his record. Hagel told lawmakers that with his 12-year record in the Senate he has cast more than 3,000 votes and given hundreds of interviews and speeches. Some of those speeches have been labeled as controversial. But Hagel countered by telling his old colleagues:
"So, as you all know, I am on the record on many issues. But no one individual vote, quote or statement defines me, my beliefs, or my record. My overall worldview has never changed: that America has and must maintain the strongest military in the world; that we must lead the international community to confront threats and challenges together; and that we must use all tools of American power to protect our citizens and our interests. I believe, and always have, that America must engage – not retreat – in the world. My record is consistent on these points."
Opposing Iran Sanctions Wasn't Disagreeing With Applying Pressure
When the committee chairman, Sen. Carl Levin, asked Hagel about his past opposition to sanctions on Iran, Hagel said he did so not because he was against applying pressure on the Middle Eastern country, but because he thought there were other methods that could be used.
Also, "when I voted against some of those unilateral sanctions on Iran it was a different time. We were at a different place with Iran during that time," Hagel said.
McCain-Hagel Face Off Over Iraq Surge
Arizona Republican Sen. John McCain jumped right into the major differences of opinion he and Hagel -- a Republican, but not in the party's mainstream -- have had. The major point of contention was the 2007 Iraq surge, which essentially ended the friendship between the two Vietnam veterans. Hagel expressed his thoughts in a Washington Post piece that outlined a different approach from McCain's, and later said the surge would be "the most dangerous foreign policy blunder since Vietnam," ideas which, of course, McCain disagreed with. McCain has withheld endorsement of Hagel, saying he will decide after the hearing.
McCain: "On the surge in Iraq, do you stand by those comments?"
Hagel: "Senator, I stand by them because I made them."
McCain: "Were you right? Were you correct in your assessment?"
Hagel: "I would defer to the judgment of history to sort that out. But I'll explain why I made those comments."
McCain interrupted by saying a direct question deserves a direct answer.
McCain: "Will you please answer the question?"
Hagel: "I am not going to give you a yes or no answer on a lot of things today. ... If you would like me to explain why…"
McCain: "I actually want a direct answer."
"Well, I am not going to give you a 'yes' or 'no'. I think it's far more complicated than that. My answer is, 'I will defer that judgment to history."
McCain threatened a No vote and warned Hagel that refusing to answer the question would affect his judgment. McCain also said he thinks history has already made a judgment on the surge, and "You're on the wrong side of it."
Hagel later pointed out that hundreds of Americans died in the surge and while McCain thought the necessary action was taken, Hagel said his personal uncertainty "doesn't mean I am right."
Cruz Argues With Hagel Over Semantics
Ted Cruz, a freshman senator from Texas, was also among the very few senators to have testy exchanges with Hagel. The Republican, who is openly critical of Hagel, share a 2009 clip of an interview Hagel did with Al Jazeera and said he had some concerns over the statement made.
During the 2009 interview, the host read an email from a viewer who asked if the rest of the world can be persuaded to give up their arsenal when the image of the U.S. is that of a bully? She also asked if a change in the perception and the reality is needed before asking others to put down their nuclear and other arms. Hagel responded, saying the writer's "observation is a good one and is relevant. Yes, to her question and again I think that is all a part of leadership."
An argument over semantics and the context of the video soon followed, with Cruz telling Hagel his actions were "not the conduct one would expect of a secretary of defense."
Cruz also tackled Hagel over comments a caller made on the same program, suggesting Israel had committed war crimes. Hagel didn't refute that during the interview, so Cruz asked if Hagel's thoughts are that Israel had committed such crimes. Hagel responded with a 'no' and suggested the full context of the video should be looked at.
Here's a portion of that interview.
FOR FREE to continue reading
✔️ Unlock the full content of International Business Times UK for free
offer available for a limited time only
✔️ Easily manage your Newsletters subscriptions and save your favourite articles
✔️ No payment method required
Already have an account? Log in
© Copyright IBTimes 2023. All rights reserved.