Circassians Protest Winter Olympics Being Held At Sochi Genocide Site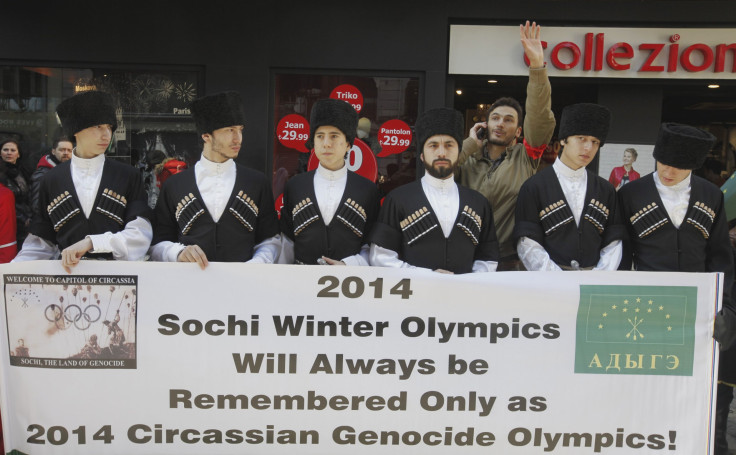 KFAR KAMA, Israel – The news from Sochi, Russia, and the Winter Olympics is rife with ugly images: Overflowing toilets, filthy hotels, out-of-control budgets, unfinished athletic facilities, legions of prostitutes and violent anti-gay hooliganism.
But what about the mass graves?
That is the question on the minds of Circassian activists whose ancestors were exiled from Sochi 150 years ago, as the rest of the world marvels at the Winter Games' bewildering mix of bureaucratic corruption and stunning athletic displays, including Alpine skiing, luge and team figure-skating competitions.
"It is a shame to hold the Olympics there," said David Schawgen, who is among a few thousand Israelis of Circassian descent who trace their provenance to Sochi but now live in this small city in northern Israel. "Would you host a world sports event in Auschwitz? Of course not."
Schawgen, 32, is among about 4,000 Circassians living in Kfar Kama and Rehaniya, another village a few kilometers to the north, who still yearn for their motherland in the Russian Caucasus 150 years after their ancestors' forced diaspora. For them, hosting the Olympics on a sacred ancestral site is both an insult to their memory and an opportunity to bring renewed attention to a longstanding yet largely ineffective movement to reclaim their homeland.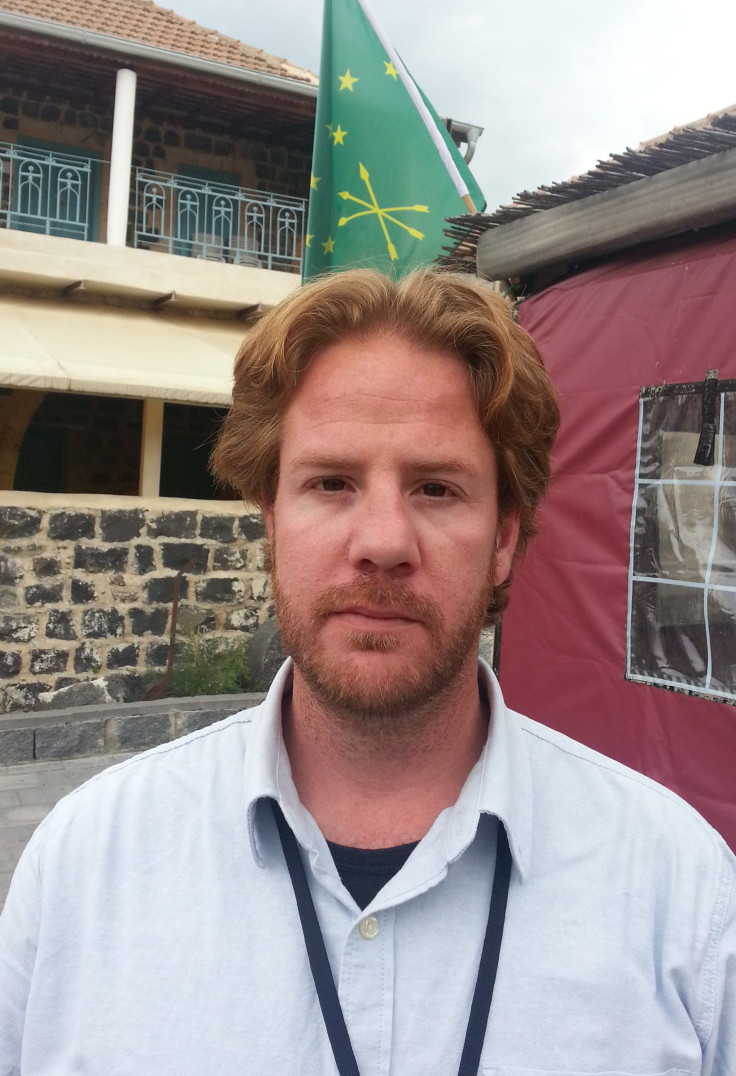 According to Schawgen, an archivist at a museum in Kfar Kama, the Olympics-designated Mountain Cluster at Krasnaya Polyana -- among five competition venues – is a painful reminder for the people whose ancestors lived in the formerly independent country known as Circassia and who were exiled following their conquest by Russia in 1864. The descendants, who remain defiantly devoted to their long-lost country, still rankle at the very mention of Sochi, where an infamous massacre took place. The mass graves were allegedly defiled by the Russian occupiers, and their exact location in Krasnaya Polyana is unknown.
Krasnaya Polyana, whose mountains rise to 6,600 feet, is now a glitzy ski resort and favorite getaway for Russian President Vladimir Putin. These days it is crowded with tourists, Olympic officials and athletic competitors. For the Winter Games, its slopes provide venues for luge, bobsled, cross-country and Alpine skiing and snowboarding competitions.
Beneath the overlay of commercial development, the history of Krasnaya Polyana runs deep, encompassing the ruins of 20 medieval forts and, somewhere in there, the graves of the Circassians who died during the mid-19th century conquest and ethnic cleansing. As one Russian Circassian, Muhammed Cherkesov, told Reuters during a previous push to recognize the site's significance in October 2011, the tragedy still reverberates for his people. "We're talking about holding the Olympics over a mass grave of Circassians," said Cherkesov, a leader of the minority in the predominantly Muslim Karachay-Cherkessia region in the North Caucasus.
The people known as Circassians are believed to have inhabited the region from prehistoric times, and over the centuries were invaded by the Huns, the Mongols and eventually the Russians, who, according to historical accounts, drove them from their homeland in an ethnic cleansing that reportedly killed as many as 1.5 million people.
Israel's Circassians are among an estimated 4 million to 5 million people who identify themselves as Circassian across more than 50 countries, including about 5,000 in the United States, and many reacted angrily at Olympic coverage that began this week, particularly concerning Krasnaya Polyana, which is Russian for "Red Glade." For the Circassians, the Red Glade is remembered as a mass grave, its name attributed to the blood of thousands spilled by the czar's armies during the hundred-year Russian-Circassian war that finally ended in 1864.
By contrast, Kfar Kama, though home, represents a kind of way station. In the late 19th century, Kfar Kama was a village at the periphery of the Ottoman Empire where a few hundred exiled Circassians were resettled as border guards, far from the shores of their native Black Sea. Today, Israel's Circassians are mostly Sunni Muslims, and though all serve in the Israeli military (unlike Arab Muslims), some have protested what they see as their second-class status in the country -- protests that have in the past resulted in confrontations with Israeli police.
Kfar Kama is today a sleepy town dominated by a black and white minaret a half-hour's drive from the Sea of Galilee. Here, as well as in Rehaniya, two dates are circled on the 2014 calendar: Feb. 7, the opening day of the Olympic Games in Sochi, and May 21, a day of remembrance for the Circassian diaspora – the 150th anniversary of the genocide, as Circassians call the mass killings, deaths from starvation and deportations that took place during and after their ancestors' "101 Years' War" against the Russians.
"According to several estimates, between 650,000 and 2 million Circassians lost their lives," observed Schawgen, who defines himself as an activist. "Most of the survivors were deported to the Ottoman Empire after 1864."
Schawgen has not visited Kabardino-Balkaria – one of three autonomous republics within Russia, along with Adygea and Karachay-Cherkessia, where an estimated 700,000 Circassians currently live – in a decade because he fears reprisals from Russian authorities due to his successful campaign for recognition of the Circassian genocide by the Georgian Parliament in 2011.
"Circassian people fit all the requirements for self-determination set by the United Nations, but Circassia ceased to exist after 1864," Schawgen said. "Only Georgia has officially acknowledged that the Russian Empire's actions constituted genocide. Our genocide, sadly, was prior even to the Armenian and the Jewish ones, which happened in the 20th century. But world leaders won't go against Putin and his dream of a Russian Caucasus."
Putin has received his share of criticism over the Winter Olympics, and Schawgen and other Circassian activists would like to see his perceived insensitivity toward their ancestors' plight added to the list. The Russian president has spared no effort or money to make the Winter Games a symbol of Russian pride, though based on most Western media accounts, that has been an uphill battle. Infrastructure remains incomplete even after the Games have started, and much of what is complete is shoddy. The initial budget for the Games -- $12 billion USD, ballooned in seven years to more than $50 billion, an Olympic record.
Putin has meanwhile been roundly criticized for human rights violations in Russia, such as discrimination against lesbian, gay, bisexual and transgender people. Some believe a global campaign against Russia's LGBT rights record in 2013, backed by international athletes and politicians, was behind the decisions of several foreign dignitaries, including U.S. President Barack Obama, not to attend the Games.
The Games are also troubled by terrorist threats from Chechen and Dagestani groups who claimed responsibility for several suicide bombings in Russia last year. And there is the current, unresolved confrontation in neighboring Ukraine, which erupted into violence after the Kiev government bowed to Russian pressure and abandoned an economic cooperation agreement with Europe.
Then there is the matter of Sochi's subtropical climate, which rarely results in snow at lower elevations. A reported 230 million gallons of water have been used to make snow for skiing and snowboarding competitions at Sochi, and machine-made and natural snow differ in consistency, which matters to competitors.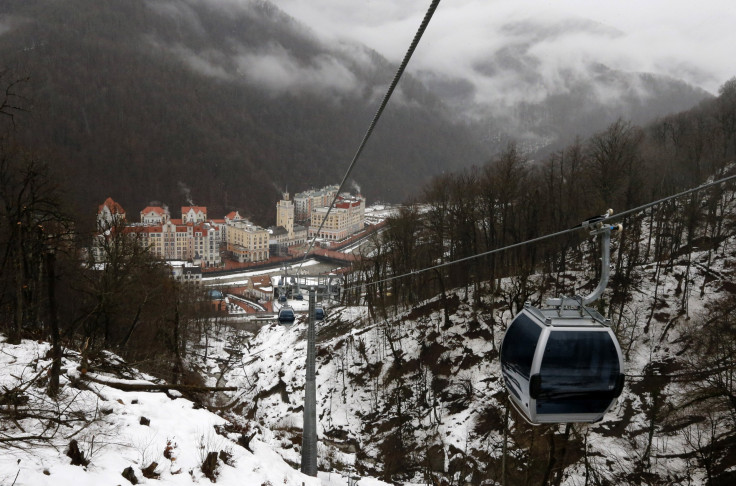 All of those concerns have overshadowed the other opposition to the Games – what's known as the "No Sochi 2014" campaign led by the Circassian community, which started in Turkey, where most of the surviving Circassians – 3 million of them -- live. Using the Games as a springboard, demonstrators around the world have repeatedly called for international recognition of the genocide and for support for a "free Circassia" and the right of Circassians to return to their homeland. The movement, whose name is technically moot now that the Games have begun, seeks to counter Putin's push for further Russification of the Caucasus, exemplified, they say, by his reference in an International Olympic Committee speech to the ancient Greek presence in Sochi while ignoring centuries of Circassian residence there.
During the last winter Olympics, in Vancouver in 2010, Circassians from New Jersey and California undertook a preemptive protest of the planned 2014 event over what they saw as the desecration of a sacred ancestral spot. Four years later, the re-energized movement remains largely peripheral, hampered by numerous factors, including that Circassians are widely dispersed. Other than in Kabardino-Balkaria -- the only place where Circassians are a majority, and in Israel, where Adyghe – the traditional Circassian language -- is one of three languages taught in the Circassian villages' primary schools, very few people worldwide speak the hissing and slightly onomatopoeic language of the Circassian tribes, which has several dialects. It has only been through the Internet, the use of English as a lingua franca, and a passionate nationalism spurred by Sochi that the community has achieved what little recognition it has.
In Kfar Kama, the nationalist spirit is still evident in the privately owned Circassian Heritage Center, where Schawgen works as an archive manager. The center, which opened in 2010, is visited primarily by tourists and curious locals, according to its director, Zoher Thawcho.
"We came up with the idea of collecting our memories in 2006, but it was hard to overcome the resistance of the elders and to collect their old items," Thawcho recalled. "They insisted on not waking the dead." He added, "They believe that memories and roots must stay harbored deep inside us, together with the dream of going back one day to the land we belong to."
Despite sporadic protests and news releases sent out by activist groups, no Circassians in Kfar Kama aside from Schawgen and Thawcho were willing to talk to IBTimes about the issue, and such reticence poses an additional challenge to the Circassian nationalist movement, despite the community's long historical backdrop. As Thawcho observed, "I have never heard a word about the genocide from my grandfather or anybody. They were shy. To understand how to build and preserve our collective memory, I had to learn from those around us, from the Jewish experience."
Meanwhile, the hidden burial ground at Krasnaya Polyana is this week shrouded in snow, over which Olympic hopefuls are performing their athletic feats, largely unaware.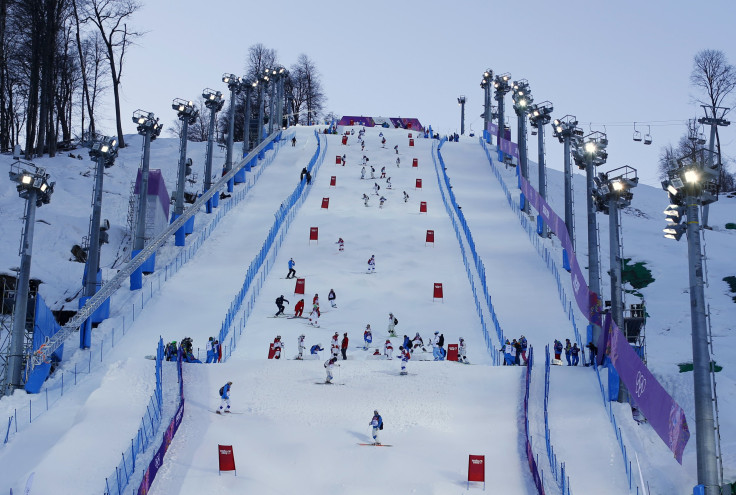 © Copyright IBTimes 2023. All rights reserved.
FOLLOW MORE IBT NEWS ON THE BELOW CHANNELS