Clashes Expose Communal Divide as Elections Loom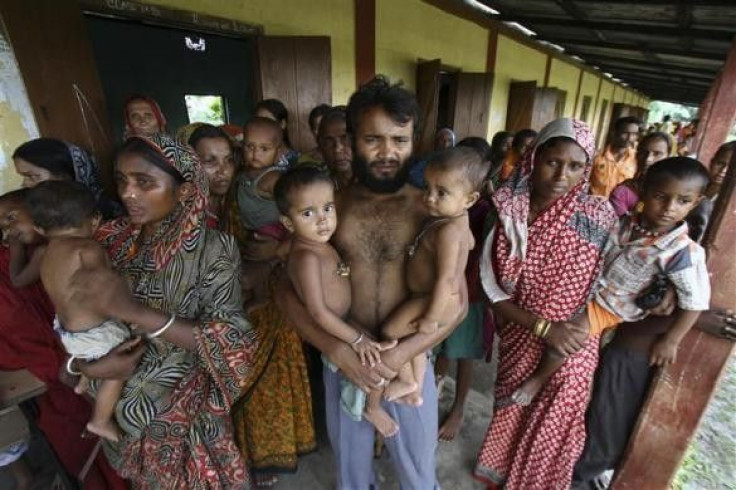 The anonymous text message on Bhumidhar Das' mobile phone was chilling: "Muslims will attack and kill our people after Ramadan. Return home."
Within hours, Das, a Hindu working at a car factory in the city of Pune, joined tens of thousands of fellow migrant workers returning to hometowns in the remote northeast after getting or hearing of similar messages.
Nearly 80 people have been killed and 400,000 displaced in fighting between Muslims and mostly Hindu Bodo tribesmen in Assam in recent weeks. The mass flight was sparked by rumours that Muslims, a big minority in predominantly Hindu India, were seeking revenge for the Assam violence.
Normally, there is little fallout in the rest of India from bouts of violence in Assam, which borders Bangladesh and is one of seven states connected to the main bulk of the country by a 'chicken neck' of land. This time, however, the grisly scenes unfolding in the far-flung northeast may fan communal politics in a country where simmering tensions between Hindus and Muslims have often been exploited for electoral gain.
As India heads for national elections in 2014 amid a sharp slowdown in growth, religious politics, along with a loss of jobs and wealth, could be a key issue.
"The conflict in Assam is getting communalised," said Zoya Hasan, a political scientist at New Delhi's Jawaharlal Nehru University and former member of the National Commission for Minorities.
"Right-wing nationalist parties are cashing in on this by calling Assam's Muslims 'foreigners' and 'illegal Bangladeshi migrants' who threaten the fabric of Indian society. They are not going to let this go so easily, especially with elections coming up and will try to make this a Hindu-Muslim issue."
The state and other parts of the northeast are home to hundreds of tribes and ethnic groups. Violence usually stems from tribal rivalries, anger against Muslim settlers from Bangladesh or from insurgencies.
While religion-driven politics has taken a backseat in the last decade of India's economic boom, there are signs Muslim discontent over the violence is spreading. While parties across the political spectrum have condemned the recent bloodshed in Assam, divisive rhetoric has come from all sides.
In India's financial capital, Mumbai, massive protests by Muslims against events in Assam turned violent earlier this month, killing two people and wounding dozens. In Pune, the city where Das was working, students from the northeast were beaten. Unrest has also been reported in Lucknow and Allahabad.
Rumours of Muslim retaliation at the end of the holy month of Ramadan this week have swirled, with threats of attacks on northeast Indians carried on social media and phone text messages.
As a result, more than 30,000 migrants from the northeast working in cities such as Mumbai, Pune, Bangalore, Chennai and Hyderabad rushed in terror back to their homes. How safe they will be there is open to question - two of those fleeing were killed and nine were injured on Sunday after they were pushed from a moving train.
The Interior Ministry said on Saturday most of the text messages and website images originated in Pakistan, an Islamic state and India's arch-rival. Islamabad rejected the suggestion as "baseless and unfounded".
MASSACRES
In Assam, conflict between Bodo tribes and Muslims is not new. Decades of feuding over land rights and political power has often erupted into blood-letting, the worst of which was in 1983 when nearly 3,000 people were massacred.
Bodos say Muslims are illegal settlers from neighbouring Bangladesh who take their land, reducing them to a minority.
They point to a surge in the Muslim population, which is now better organised politically under influential leaders such as Badruddin Ajmal, whose party is the main opposition in the state of tea plantations and oilfields.
Muslims say they are not illegal immigrants and that they are being marginalised by Bodos, who are economically and politically stronger.
Over time, the two main political parties - the secular Congress, which rules the state as well as in New Delhi, and the main opposition Bharatiya Janata Party (BJP) - have sought to benefit from conflict.
The BJP has often been accused of fomenting Hindu-Muslim violence. It supports the Bodos' claims and accuses Congress of allowing illegal immigration for electoral gains.
"The Congress Party ... does not have to import illegal immigrants to increase its votebank," Arun Jaitley, a senior BJP leader told parliament. "The government must stop this illegal immigration, the entire border must be fenced, the detection and deportation (of illegal migrants) must begin forthwith."
Congress says most Muslims in Assam are Indian citizens.
In Assam's squalid displacement camps, hundreds of thousands of Bodos and Muslims languish, too fearful to return home after seeing their villages razed, possessions looted or neighbours shot or hacked to death.
Weeks after clashes broke out, convoys of paramilitary trucks still drive through the main roads in this lush rice-growing region. A night curfew remains in place.
IDENTITY POLITICS
Fathoming what happened in Assam is critical for India, whose history is scarred with episodes of slaughter by citizens divided by ethnicity and religion.
Centuries of rule by medieval Muslim invaders drove a wedge between Hindus and Muslims, a suspicion that has only grown since the bloody birth of Pakistan, which was carved from Muslim-majority areas of India in 1947.
Up to one million people were killed in Hindu-Muslim violence when Pakistan was created, which many Indians still refer to as "Partition".
About 170 million Muslims live in India. Many are disenchanted, their alienation partly fueled by the demolition of the 16th-century Babri mosque by Hindu zealots in 1992 and communal riots in Gujarat state in 2002, when around 2,500 people, mostly Muslims, were hacked and burnt to death.
The BJP rose to prominence in the early 1990s on the back of a Hindu revivalist movement. Its leaders led the demolition of the Babri Mosque.
"The BJP is known to play up the communal issue on a much larger scale than Congress. They have an upper caste Hindu agenda," said Asghar Ali Engineer, chairman of the Centre for Study of Society and Secularism.
This has not automatically translated into Muslim support for Congress, which had enjoyed the Muslim vote in the years after independence from Britain.
Congress has often been accused of failing to protect Muslims, and a substantial portion of that vote has waned, going to new regional parties instead.
The Gujarat riots, however, saw the tide turn again in favour of Congress in the 2004 elections, as Muslims saw the party as the only one capable of stopping the BJP and its "Hindutva" or Hindu nationalist agenda.
Making up about 14 percent of India's 1.2 billion people, Muslims are the biggest minority group. Their vote is critical in key swing states such as Assam, Uttar Pradesh, Bihar, West Bengal and Kerala.
With a large chunk of middle class moderate Hindus put off by the Gujarat riots, the BJP has tried to reinvent itself - balancing the need for a softer Hindutva plank with a broader agenda of development and good governance.
Its leaders such as Narendra Modi, chief minister of Gujarat, under whose watch the 2002 riots took place, have in recent years adopted a softer line as they jostle to become the party's prime ministerial candidate in the 2014 elections.
ASSAM IMPACT
Just how the Assam violence is dealt with could be a deciding factor in votes in certain states.
"Incidents such as what we have witnessed in Assam are read very keenly by the Indian voter. He watches how things are managed or, in this case, mismanaged and exploited," said M.J. Akbar, editorial director of India Today magazine.
There is likely to be a return to anti-Muslim rhetoric and issues such as illegal migration as right-wing parties struggle to form vote-winning policies with an electorate fed up with an opposition that is seen as keener to bash the government than work with it as the economy slows sharply.
For Congress, the issue will be much more complicated, analysts said.
The party will have to consolidate Muslim votes won in the last elections in 2009, while at the same time reassure moderate Hindus who have been angered by the handling of the Assam violence.
"The way this violence took place, the killings and the massive displacement as well as the exodus of northeast people, is likely to lead to more polarisation between Hindu and Muslims," said Sabyasachi Basu Ray Chaudhury, political scientist at Kolkata's Rabindra Bharati University.
On Friday, Prime Minister Manmohan Singh told migrants from the northeast they were safe, while adding that India's "communal harmony" was at stake.
Many from the northeast say they need more than just words of reassurance.
Two trains from Bangalore packed with around 4,000 people arrived in Guwahati, Assam's main city, over the weekend.
"I have left due to fear. My job is important, but my life and that of my family is more precious," said security guard Binod Boro, 30, who got down from a train onto an overcrowded platform, followed by his wife and their two-year-old daughter.
© Copyright Thomson Reuters 2023. All rights reserved.
FOLLOW MORE IBT NEWS ON THE BELOW CHANNELS