Cleveland Cavaliers vs. Toronto Raptors Game 6: Prediction, Betting Odds, Preview For Elimination Game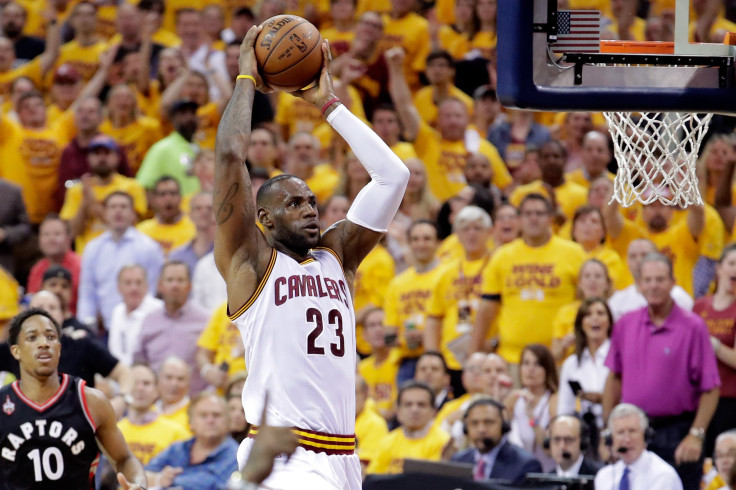 All talk of the Cleveland Cavaliers making the NBA Finals for the third time in franchise history and before forward LeBron James receives heaps of adulation for making the league's championship round six straight times, the Cavs must first dispense of a Toronto Raptors squad that's looked quite shaky but responded to adversity time and again this postseason.
Cleveland will have its first shot at eliminating Toronto Friday night in Game 6 of the Eastern Conference finals, two days removed from a complete evisceration of the Raptors in Game 5.
Forward Kevin Love, who struggled mightily in Games 3 and 4 (both Cleveland losses), powered a 116-78 victory. He totaled 25 points off only 10 shot attempts, while James tallied 23 points, six rebounds, and eight assists as Cleveland improved to 7-0 at home during the postseason. Together, the Cavs have won at home by an average of 20.9 points per contest.
It was a redemption of sorts for Love. The 27-year-old, appearing in his first conference finals, responded to criticism by score 12 points in fourth quarter to help Cleveland build a 37-19 lead after the first 12 minutes, a hole the Raptors never began to dig themselves out of.
Love and James, with Kyrie Irving chipping in 23 points and shooting guard J.R. Smith smothering Toronto's Kyle Lowry and DeMar DeRozan for four steals, turned in a stellar performance but the victory hinged more on Cleveland's defense.
Cleveland force 18 Toronto turnovers, one less than it generated in Games 3 and 4 combined, and the Raptors shot a dismal 39.1 percent from the field overall, including 3-for-17 from three-point range. Toronto's confidence was shot, leading to a 21-for-35 night from the free throw line as well.
According to DeRozan, Toronto failed to find an offensive groove all game.
"I only took eight shots," he said. "I didn't come out as aggressive like I wanted to. Eight shots throughout the whole game, that's not me.
"We didn't get into a rhythm. We didn't have a rhythm all game."
Still, head coach Dwane Casey's squad has dealt with difficult losses several times this postseason only to climb back into the series. There were Games 1 and 2 of this series, with Toronto losing by 50 total points and Lowry and DeRozan neutralized, but the Raptors returned home and shocked Cleveland with two straight victories behind their pair of All-Star guards.
Going back two series, Toronto endured a 17-point letdown to Indiana in Game 4 and then a difficult 18-point loss in Game 6, before winning an 89-84 slugfest in Game 7. In each of those victories, DeRozan exploded for 30 or more points in front of a roaring Toronto crowd.
Now the Raptors can head back home to try and force a decisive Game 7. Toronto's 8-2 at Air Canada Centre during these playoffs, and only Cleveland (by one game) had a better home mark during the regular season.
Betting Odds: Cleveland -6.5 points
Over/Under: 196 points
Prediction: Cleveland over Toronto, 110-94
© Copyright IBTimes 2023. All rights reserved.