Cleveland Is Ready To Rock: Are You?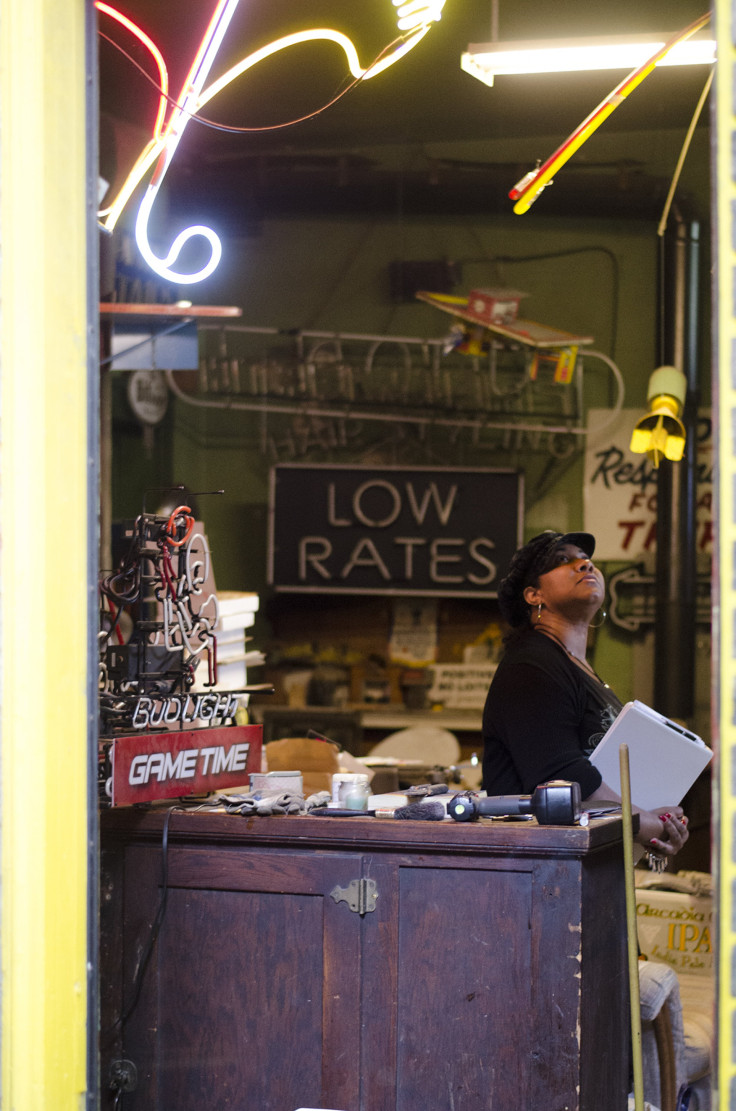 On a depressed stretch of Broadway on Cleveland's formerly resplendent east end, an old Woolworth's building with sky-high ceilings and staggering square footage sat dusty and mostly vacant, save the assorted merchandising debris scattered about. Our group of five -- me, three visiting artists and our guide -- was being led on an abbreviated tour of the recession-battered neighborhood by Susan Gordon, director of Community Building at Slavic Village Development, one of more than two dozen community development groups dedicated to aggressively revitalizing and repopulating fledgling city neighborhoods. Among the myriad things I observed in my short time in Cleveland that reminded me I wasn't in New York, it took at least five minutes for someone -- it might have been me -- to ask Susan about the rent.
"About 800, maybe 1,000." Per square foot?
No, per month. I caught the eye of another woman visiting from Brooklyn and we gasped in disbelief. Startled, Susan looked at us and asked, in earnest, "Is that a lot?""
"Welcome to Cleveland Weekend," which took place in early August, was a self-described experiment spearheaded by the Community Partnership for Arts and Culture, or CPAC, a well-endowed nonprofit dedicated to strengthening Cleveland's artist community. The clear objective of the event, the first of its kind, was to persuade these artists from other, often bigger and more expensive cities, to make Cleveland their home base. In all, 10 artists -- a filmmaker, a jewelry designer and a poet among them -- from as far away as Atlanta, Ga., spent three nights at the Hyatt Regency Arcade and were given a guided tour of Cleveland's artist-friendly neighborhoods before being shown post-foreclosed homes spared from demolition by the Northeast Shores Community Development Corp. -- and available for purchase for a low as $6,500.
CPAC and Northeast Shores covered the hotel, local transportation and several meals; the artists paid their own way to Cleveland. (Disclosure: My hotel and travel costs were paid for by the nonprofits; I was the only out-of-town reporter covering the event.) The guests were divided into three groups and shuttled around the city in rented minivans; there was minimal downtime and sometimes rushed visits to participating businesses and community spaces. Everyone had something to sell: namely, Cleveland. Which, as it turns out, is a pretty good deal.
The description might recall the notorious time-share marketing practices popularly associated with coastal Florida, where prospects are put up at a resort and given all manner of high-pressure incentives to sign the papers. Indeed, Lori Kella, a longtime Cleveland artist who, along with her husband, Michael Loderstedt, has been a recipient of a generous CPAC artist grant, joked about how the event might be perceived one evening when I visited their home. "Come to our pancake breakfast, and we can show you some swampland," she said. "Get in on the ground floor!"
But it really wasn't like that. While the packed schedule sometimes felt overwhelming, the event organizers weren't looking to shake anyone down. What they envision is a win-win for both the city and the artists who might take advantage of the low cost of living and the community support. And they understand that artists from cities like New York are probably not going to seek out a struggling Rust Belt city without a bit of an incentive.
"This happens all the time, in the recruitment of CEOs, or a city will bring in a group of travel reporters, or a group of meeting planners, or human resources professionals," said Seth Beattie, CPAC's strategic initiative director. "But we could not find a single example of a city that was aggressively going out and marketing to individual artists."
Brian Friedman, the director of Northeast Shores, agreed that there was no exact prototype for the welcome weekend, but referred to an artist relocation program that began in 2000 in Paducah, Ky. The program offered blighted properties for as low as $1, along with a renovation stipend of up to $2,500. The Paducah Renaissance Alliance says that there has been more than $30 million invested in the community since the program began. That program "wasn't nearly as in-depth as what we are doing," Friedman said. "But I have to admit that it influenced us."
"The good, the bad and the ugly"
Beattie estimated that CPAC and Northeast Shores spent about $1,000 on each artist who participated in "Welcome to Cleveland Weekend."
"Even if people don't ultimately move here, to generate new thoughts about this underdog city and begin to ascribe value to something that has been undervalued for decades is really worthwhile," Beattie said.
CPAC President and CEO Tom Schorgl felt that the involvement of established artists in Cleveland -- like Kella, Loderstedt and Justin Glanville, all who have received a CPAC grant, was key to the success, and authenticity, of the "Welcome to Cleveland Weekend."
"The turnout in terms of the artist community who had received fellowships was very positive and helped the visitors to get a real sense of what living in Cleveland is all about," Schorgl said. "The good, the bad and the ugly."
CPAC awards a $20,000 grant annually to 20 working artists in Cleveland, which is funded by a cigarette tax passed in 2006.
Generally speaking, community development initiatives in Cleveland receive relatively generous public and private support – through rather complicated funding channels. As a consequence, groups like CPAC and Northeast Shores can afford to take a somewhat long view in their revitalization approaches.
"Gentrification and rejuvenation here happen very slowly, sometimes over the course of decades," said Glanville, a former Brooklynite and author of "New to Cleveland: A Guide to (Re)Discovering the City." "In some ways it's easy to be impatient about it; like 'come on people, we've got all this space, let's fill it up!"
The Artists in Residence program, a joint initiative between CPAC and Northeast Shores, intends to do just that. The main draw of the "Welcome to Cleveland Weekend," at least in the eyes of the event organizers, were the salvaged homes in the North Collinwood neighborhood on the east side, which can be loosely compared to the Gowanus/Red Hook area of Brooklyn -- an artist and musician-friendly community that stands as a less-gentrified, less-expensive alternative to the more established "hipster" neighborhoods. Northeast Shores services North Collinwood exclusively; so it was no surprise that the visiting artists spent more time in that neighborhood than any other.
"Even if you can get just one person to move in and become a steward of a [foreclosed] property it immediately begins to have a financial return at the city level," Beattie said.
Beattie explained that it costs the city of Cleveland $10,000 to demolish a blighted house, and the city must continue to pay taxes on the resulting vacant land. The AIR program allows the city to redirect demolition costs to the most distressed properties and neighborhoods; a salvaged home, once purchased, will generate property taxes rather than costing the city to maintain the vacancy. "Beyond that," Beattie said, "I think there's a less easily measurable economic impact on the surrounding neighborhood in terms of improving the sense of momentum and positive trajectory.
"All things being equal," he continued, "seeing artists move into properties and rehab them and get involved in the neighborhood creates more sense of optimism and enthusiasm for others in the neighborhood than would seeing those properties demolished."
Most foreclosed properties in the Artists in Residence program are acquired by the Cuyahoga County Land bank, a central clearinghouse that gives community development groups a priority rate, but whose properties are available to any buyer with the means. If a North Collinwood structure is deemed salvageable, Northeast Shores will buy it at a low cost – usually under $10,000, but will put additional resources into rehabilitating the home before selling it again, almost always at a loss. Friedman explained that these rehabs are made possible through the U.S. Department of Housing and Urban Development, or HUD. "It's a very flexible funding source," he said. "It's not very prescriptive."
As of early November, two of the 13 North Collinwood properties that had been on offer during the welcome weekend had been sold; meaning that the event had achieved its goal. But in what sounded like an unexpected turn, several of those properties available via the land bank had been acquired by private buyers outside of the Artists in Residence program. Depending on who -- and where -- these buyers are, this could represent a setback for Northeast Shores, as it means that a house could be more easily "flipped": The AIR program requires that a home be owner-occupied for three years or the deed reverts to the non-profit.
Beattie pointed out that North Collinwood has relatively low vacancy levels compared to other parts of the city, and believes that the CPAC and Northeast Shores programs are helping to create "a sense of positive momentum in the neighborhood," perhaps contributing to an uptick in interest.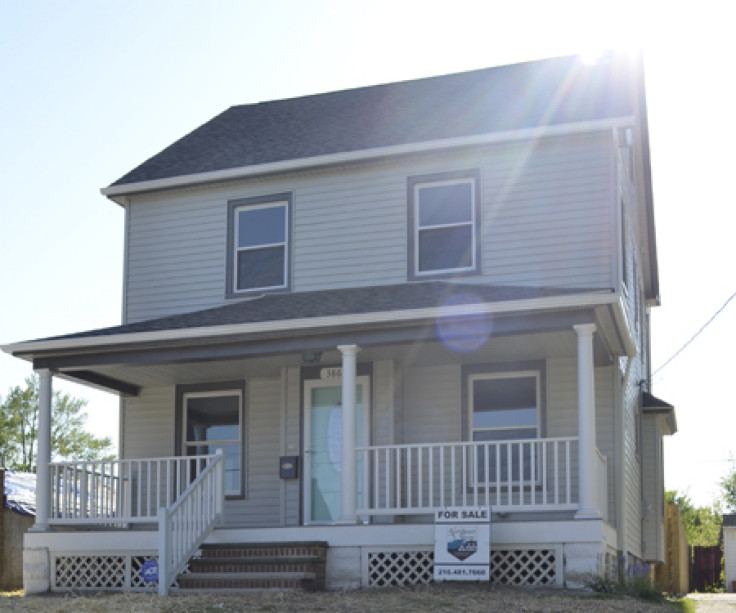 My City Was Gone
The city of Cleveland is built for a million people, but its population now hovers just under 400,000. Both of those tallies might sound small. The figures don't include the greater metropolitan area -- neighborhoods like Shaker Heights are technically considered suburbs of Cleveland, despite their relative proximity to the urban center. But Cleveland's population has been steadily dropping for more than half a century. In 1950, Cleveland was the fifth-largest city in the United States, and has lost half of its population since then.
"This is why you have this really weird juxtaposition of incredible affordability with all of this historic wealth that's built a big transit system and built a big cultural sector," Beattie said. "There are thousands and thousands of vacant properties in the city of Cleveland. It's a completely non-contested market."
It's easy to hear the word "crisis" and think immediately of deficiency. But in addition to the predatory lending practices that made Slavic Village the poster child of the country's mortgage crisis, Cleveland has faced a challenge of uncontrolled surplus. Foreclosed homes were snatched up by absentee buyers all over the country and, in some cases, overseas -- and were essentially left to rot.
"Some [loan] servicers decided they would en masse dump their foreclosed homes into eBay and sell them there, for anything, just to get them back into the universe," Friedman said. He described one scenario in which a buyer from France, who never had any intentions of visiting Cleveland, bought a Collinwood house for $1,000.
"People didn't take into account that this is a structure in somebody's neighborhood that you need to go check on," Friedman said. "Somebody needs to mow the lawn, pay the property tax." Because of the eyesores and the headaches this method of inventory disposal created, Friedman said the lenders and the Cuyahoga County Land Bank agreed that there needed to be more intervention to avoid the pitfalls of absentee homeownership, and now give priority to the community development groups.
The Artist in Residence program name notwithstanding, it is against the law to deny a potential buyer because he is not an artist. "I am not allowed to discriminate based on your self-definition with the public dollar," Friedman said. "But there is no requirement that I have to have a broad marketing pitch."
Artists or not, prospective buyers must meet an income qualification requirement -- their annual income must be below 80% of the average median income in the Cleveland metropolitan area, which is to say no more than $48,000. Those participating in the program are almost always first-time buyers, and may not be up to speed on the ins and outs of home ownership. AIR requires that all prospective buyers take a homeowner course before moving forward.
"Most of the people we are working with are low- to moderate-income households,' Beattie said. "And I think that's where the Collinwood program is really strong. It has built an incredible amount of knowledge about the challenges that face people who are in lower-income brackets and who are trying to own their own property."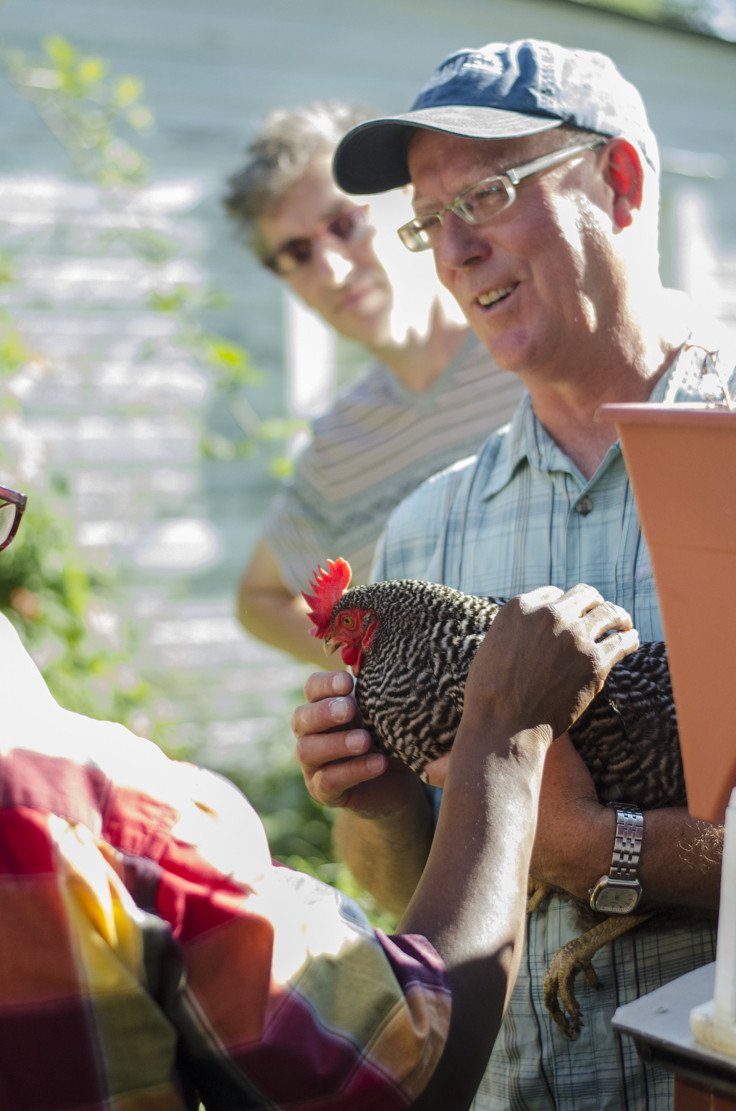 Flee to the Cleve
Michael Loderstedt and Lori Kella live at the far end of a quiet, waterfront street; Lake Erie is in their backyard. Michael bought the house 1996 for $65,000; he and Lori married in 2001 and now have a son, Ethan--– a brainy, bespectacled 10-year-old who is astonishingly skilled at the computer game Minecraft. They've put a lot of work into upgrading the home, including an addition that now houses Lori's studio, and believe they could sell for double that price now. "In four years we will be mortgage-free," Michael said, "which is kind of amazing."
Michael and Lori frequently entertain dinner guests with produce from their backyard garden. "It's hillbilly," Lori said, in reference to the parked sailboat and pleasantly plump hens who often hatch eggs nearly neon in their bright blues and greens. On a Friday evening with heavy clouds that would later erupt into a storm, they served me homemade pizza and Margaritas infused with freshly plucked basil. One of Lori's dioramas hung on the dining room wall; it wouldn't have looked out of place in a Chelsea gallery. In the misty mountain waterfall scene, Lori had created cloud cover with pillow stuffing, photographed out of focus. Lori said the work was, in part, about "what it would be like to discover Niagara Falls."
Michael and Lori both credited their CPAC grants with giving them the freedom to elevate their work.
"It's an incredible chunk of money," Lori said. "Being an artist is a more expensive endeavor than people realize. In terms of producing your work or having to travel, and shipping, there are so many expenses that people don't really think about.
"This grant gives you the opportunity to do something much more ambitious, and really expand what you've done," she said.
Still, both Lori and Michael rely financially on their teaching jobs at Kent State University, and Michael cautioned that a Cleveland-based artist shouldn't expect to "become an international star."
While the couple were giving me a tour of their studios, a neighbor popped in and mentioned that a house on the block was on sale for $20,000, and suggested that one of the visiting artists -- "someone cool" -- might be interested.
"These guys from New York, they'll just pull out their checkbook and buy the house," the neighbor said, to which Michael wryly responded, "yeah right."
"The people in New York who can just write a check are probably not thinking, 'Oh, maybe I'll live in Cleveland,'" Lori said.
One couple who did write a check for a house, as a direct result of the "Welcome To Cleveland Weekend," were relative locals: Emily Martin and Nathan Ehlers had been living in suburban Cleveland Heights for five years when Emily saw a notice about the weekend event on a friend's Facebook page. On a whim, they decided to check it out. Nathan, who had initially been skeptical based on his (correct) assumption that the event was targeted to out-of-state visitors, said the weekend "absolutely sold me on becoming more invested in Cleveland, and this particular neighborhood was of particular interest to us."
The couple bought a $6,500 dollar North Collinwood home -- a fixer-upper -- through the Artists in Residence program, and are putting $35,000 into a full renovation. They had been saving up for awhile and paid cash; Nathan admitted that much of the homeownership class instruction -- focused on credit and mortgage issues -- wasn't particularly relevant. But the couple is thrilled about working together on a DIY home, in an exciting "new" neighborhood.
"In my perspective, there wasn't a lot going on in terms or restaurants and galleries" on the east side, Nathan said. But "upon closer look at North Collinwood, we were surprised to find this entire entertainment district, and it has this up-and-coming feel to it."
You can't talk about Cleveland's art scene, particularly the Waterloo Arts district, without talking about Cindy Barber. A former journalist who took a buyout when the alternative newspaper she was working for was sold, she used the money to "create a destination location" in North Collinwood. In 2000, she transformed an old Croatian social hall into the Beachland Ballroom, an immensely popular music venue and restaurant that put North Collinwood on the map as an artist community.
According to Beattie, when Barber opened the Beachland, it was the only arts business on a street -- Waterloo -- that had a 40 percent commercial vacancy rate. Today, that vacancy rate is now down to 8 percent, but Barber thinks that Cleveland still has a way to go before the city itself is a destination for "known" musicians. Right now, the infrastructure just isn't there like it is in places like Nashville, where the Cleveland-based Black Keys -- frequent performers at the Beachland -- now live and work. (Barber found them their first booking agent and manager.)
"What we are hoping to do here is build a music center; we're behind Boston and Nashville as having a known music scene." As Barber sees it, the tipping point would be having a couple more Cleveland-based bands get national recognition -- and stay in Cleveland.
Friedman, who was born and raised in Ohio, believes that the artistic renaissance happening in Cleveland now is a natural extension of the kind of work ethic that allowed Cleveland to thrive as an industrial city.
"Cleveland is a city that used to make things, and was proud about it," Friedman said. "And we're still pretty keen in our core about people making things. If you can make something, you are effectively self-employed." Not only are artists less likely to be competing for other jobs, the "spinoff energy" artists produce can create more jobs, he said.
Indeed, an artist willing to take the plunge can expect a warm welcome in Cleveland. "You don't have to wait around to get recognized," Schorgl said. "You can roll up your sleeves and just do it."
FOR FREE to continue reading
✔️ Unlock the full content of International Business Times UK for free
offer available for a limited time only
✔️ Easily manage your Newsletters subscriptions and save your favourite articles
✔️ No payment method required
Already have an account? Log in
© Copyright IBTimes 2023. All rights reserved.