Cleveland Residents Call For Change After Tamir Rice Shooting And Department Of Justice Report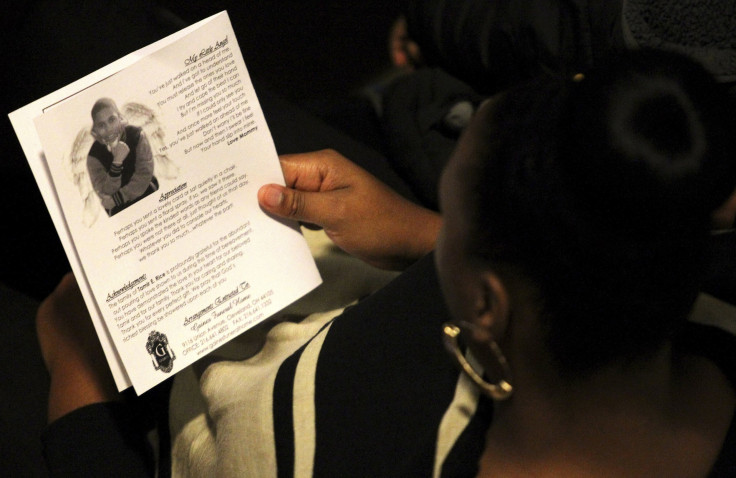 CLEVELAND -- The fatal shooting of Tamir Rice, a 12-year-old African-American boy, by a white police officer revived painful memories for local activist Yvonka M. Hall. Almost 30 years ago, her brother was killed by a white man at a local McDonald's.
Hall said her brother was riding in a car when its driver and a man in a van began arguing in the drive-through area at the fast-food restaurant. Hall's brother tried to avoid the squabble by leaving the car and joining other friends. He was crushed when the van's driver purposely sped into the group.
Hall and her family suspect race helped incite the argument -- and shielded the van's driver from punishment. "The gentleman who murdered him never served a day in jail. He was a Caucasian male who had a family in law enforcement," Hall told International Business Times.
Hall's personal experience inspired her response to a recent U.S. Justice Department report charging Cleveland's police department with widespread brutality. Hall heads the Northeast Ohio Black Health Coalition, and although her organization is concerned with neither police relations nor law enforcement per se, she's joined others calling for top-to-bottom police reform.
She has organized a local conversation on the Justice Department report for Dec. 27. But Hall doesn't want to collect stories: She plans to harvest comments and compile a report that will lead to policy changes to correct the police department's deficiencies.
"People are mad, but I don't want just their stories around anger," she said. "I want their solutions: What do we need to tell our police department? What do we need to tell our government officials in order for this change to be sustainable?"
Sustainable change is an issue because the Justice Department issued similar findings when it investigated the city's police department in 2004. "The voluntary reforms undertaken at that time did not create the systems of accountability necessary to ensure a long-term remedy to these issues," the latest report said.
Shakyra Diaz, a policy manager with the American Civil Liberties Union of Ohio, said the most recent findings also confirmed long-standing complaints about police actions in minority communities. "For many years, people of color have been talking about the abuses and the neglect they've experienced at the hands of police," Diaz told IBTimes. "And this report noted things that haven't gotten attention. [In] many ways, it was vindication. It's in black and white, it's thorough."
Stories in the 2014 report are stunning. In one incident, a police sergeant shot at a hostage who was escaping from armed assailants. "The sergeant believed 'Anthony' had a weapon because he elevated his arm and pointed his hand toward the sergeant," the report reads. "The sergeant had no reasonable belief that 'Anthony' posed an immediate danger. The man fleeing the home was wearing only boxer shorts, making it extremely unlikely that he was one of the hostage takers."
The 59-page report found systemic failures throughout the department in four areas: insufficient accountability; inadequate training and equipment; ineffective policies; and inadequate engagement with the community. The city and the Justice Department will enter a consent decree that includes having an independent monitor oversee departmental reforms.
Although the findings were announced the day after Rice's funeral, the Justice Department investigation began well before his death. Cleveland Mayor Frank Jackson called the federal government in 2012, after Cleveland police fired 137 rounds and killed Timothy Russell and Malissa Williams. More than 100 department members -- more than one-third of the force -- were involved in a chase after the couple that escalated when Russell's car backfired near police headquarters in downtown Cleveland. Officers mistook the noise for gunshots. Neither weapons nor gunshot residue was found in Russell's car. In July, the city and the victims' families settled a lawsuit for $3 million.
In the week since the report was issued, calls for police reform have echoed throughout the city amid continuous protests. Council members are pressuring the mayor to fire top law enforcement officials, while grassroots and civic groups organize to obtain changes in policies and procedures.
Demonstrators rallied Friday at Cudell Park where Rice was killed. Another rally is scheduled for Saturday morning to observe the "Ferguson Day of Resistance." Demonstrations began shortly after Rice's death in November when activists blocked entrances to the Shoreway, a major thoroughfare linking Cleveland and its suburbs, during rush hour. Those nonviolent actions moved to City Hall where 75 protesters gathered during a council meeting last Monday.
One of the city's most prominent ministers expects those calls to get louder -- and to be backed by action. "I think you can anticipate that protests will increase. I think you can anticipate more, nonviolent direct action," said the Rev. Jawanza Colvin, the minister of Olivet Institutional Baptist Church, one of Cleveland's leading African-American congregations.
Colvin said many complaints about the police department were aired about a year ago, when the Justice Department came to Olivet and heard from local residents. "I can tell you that the stories that we heard were in some cases what you anticipated and in some cases were extremely surprising," Colvin said. "We're not just talking about how people are treated in car chases, when they are fleeing the police. We're talking about how people are treated in routine stops in routine engagement with officers."
The city was reeling from Rice's death at the hands of Officer Timothy Loehmann when the Justice Department released the scathing report based on its 21-month investigation of the police department.
Immediately after the release of the report, City Councilman Jeff Johnson flipped from ardently supporting the city's top safety officials to calling for their ouster. Johnson demanded the removal of the Cleveland Safety Director Mike McGrath, Police Chief Calvin Williams and mayoral special assistant Martin Flask. McGrath and Flask led the police department when Russell and Williams were killed. "All of this occurred during their leadership," Johnson said. "Marty Flask and Michael McGrath have to step down. Immediately. Like, today," Johnson told an affiliate of the Plain Dealer.
Council member Brian Cummings added his voice Thursday. "The mayor should heed the calls from the public to have Safety Director Michael McGrath, Chief of Police Calvin Williams and Martin Flask, assistant to the mayor for special projects, step down from their posts," Cummings wrote in a letter to the Plain Dealer.
Council member Zack Reed had stronger words. He predicted violent protests if police practices don't change. "What happened in Ferguson is going to be a skirmish compared to what's going to happen here," Reed reportedly said during a council meeting Wednesday, the first of several listening sessions the council is holding.
The mayor is supporting the trio of officials, who have all refused to step down. But for them to stay, a number of other things will likely need to be retooled around Cleveland.
"You hear the stories, you hear the experiences, and people want to see a change," Olivet's Colvin said. "People want to see something different."
© Copyright IBTimes 2022. All rights reserved.
FOLLOW MORE IBT NEWS ON THE BELOW CHANNELS