Cleveland Police Used Excessive Force: Eric Holder, Justice Department Investigation Results Announced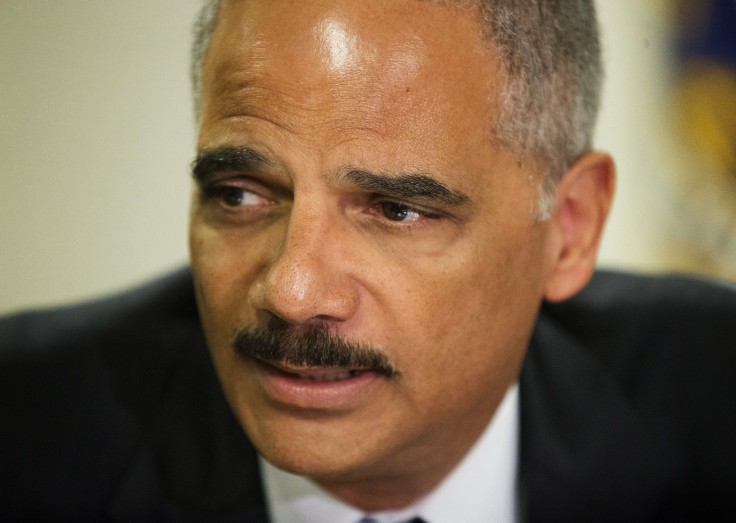 The Cleveland Division of Police engages in a pattern of excessive use of force, is badly trained in the use of firearms and is a danger to the people it serves, U.S. Attorney General Eric Holder declared Thursday, bringing to a close a 20-month investigation prompted by the shooting deaths of two black residents. The findings come a month after a Cleveland policeman shot dead a 12-year-old black boy playing with a toy gun and at a time of national outrage over police tactics after a spate of shootings of unarmed black civilians by police officers across the nation.
"Since March of 2013, the Justice Department has closely examined nearly 600 use of force incidents," Holder said. "The Department of Justice and the City of Cleveland have come together to set in motion a process that will remedy these issues."
As a result of the findings, Mayor Frank Jackson signed a statement of principles that will lead to a consent decree calling for new equipment and training for Cleveland police. The agreement between the city and the U.S. Department of Justice assigns no guilt, but lays out a set of tasks to complete and goals to attain that "will result in more effective and constitutional policing," Holder said.
The Department of Justice announced it was launching the investigation in March 2013 in the wake of a high-speed chase and shooting that saw Cleveland police officers fire 137 shots at Timothy Russell and Malissa Williams on Nov. 29, 2012, killing them both, according to ABC News 5 Cleveland. Six officers were charged in the incident. They claimed they only began firing after Russell's vehicle backfired, making a sound they mistook for gunshots, only to later determine that the victims were unarmed. In July, the city settled a federal lawsuit with the families of Russell and Williams for an undisclosed amount, according to the Cleveland Plain Dealer newspaper.
"We saw too many incidents in which officers accidentally shot someone either because they fired their guns accidentally or because they shot the wrong person," the Justice Department report said.
Now the Cleveland Police Department is under scrutiny for the shooting death of Tamir Rice, who was shot within seconds of police responding to a park where a 911 caller had reported "a guy" holding a gun that was "probably fake." It was later determined to be a pellet gun.
The recent police killings of Michael Brown in Ferguson, Missouri, and Eric Garner in Staten Island, New York, have also incited protest across the nation. Both black men were unarmed when they were killed by white police officers and local grand juries opted against bringing criminal charges against the officers. Demonstrators argue that police are not being held accountable for killing citizens.
"In recent days, millions of people throughout our nation have come together bound by grief and bound by anger," Holder said. The killings of Brown, Garner and Rice have spurred "urgent national questions and they have sparked an important national conversation," he added.
Holder's aim Thursday was "to improve relations between police departments and the communities that they serve," according to Steve Dettelbach, U.S. attorney for Cleveland.
© Copyright IBTimes 2023. All rights reserved.
FOLLOW MORE IBT NEWS ON THE BELOW CHANNELS